Point/Counterpoint: Why This Is Not a Make or Break Season for Phil Hughes
June 8, 2012

Leon Halip/Getty Images
Many in the media have deemed this a critical season in the career of the New York Yankees pitcher Phil Hughes. Some, as Jon Lane of the YESnetwork says in his "Point/Counterpoint" article on the subject, suggest this is a make or break season for the Yankee starter.
A closer look will reveal a different conclusion. 
Since he first set foot onto the diamond this season, the right-hander's performances have been scrutinized more than any other member of the starting rotation. Every misstep has provided fodder for those calling for Hughes's demotion.
Given that he is working under a microscope, why isn't this a pivotal year for him?
First, there's his age. Phil Hughes has not yet reached his 26th birthday and holds a 41-28 career record with a 4.52 ERA. Another hurler you may have heard of held a 19-23 record and a 4.06 ERA through the same point in his life.
That pitcher's name is Bob Gibson.
While I am not by any means saying that Phil Hughes is the next Gibson, it must be pointed out that patience can pay off with a player not yet to his prime. A little over two years ago, Hughes showed flashes of brilliance in going 18-8 before fizzling out at the end of the 2010 campaign. 
Someone that young is going to be inconsistent, and Mark Feinsand of the New York Daily News reports manager Joe Girardi has every intention to stick with him. Hughes put that theory to the test with a rough April (1-3 with a 7.88 ERA), which is evidence that the Yankees understand it is still early in Phil Hughes's career.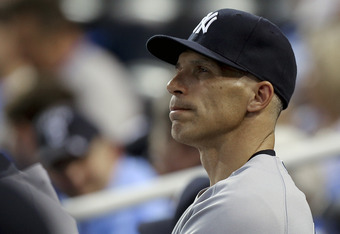 Ed Zurga/Getty Images
Sunday's complete game 5-1 win over the Detroit Tigers shows that New York's support of Hughes may finally be paying off.
If this was such a crucial season for Phil, wouldn't the team have cut their losses and shown him the door before May arrived?
Next, there is his array of pitches. Phil Hughes's arsenal includes a sharp 12-to-6 curveball, 4-seam fastball, changeup and a cutter. 
During his four-hit performance against the Tigers, he utilized all of his pitches to near perfection.
For a pitcher still on the upswing of his career, it is rare to have such a variety to call upon in getting batters out.
Much of the criticism of Hughes revolves around him not having an "out" pitch—the one pitch he can throw with confidence to get a batter out. He showed Sunday that when he properly locates his fastball and sets it up with his curve, his fastball can set even the best of hitters down. In that particular game, he struck out eight (including superstar Miguel Cabrera twice).
The third reason that this is not a make or break season for Phil Hughes is Ivan Nova. The inconsistency of the other young pitcher in the Yankees rotation certainly improves Hughes's chances of remaining a part of the starting five.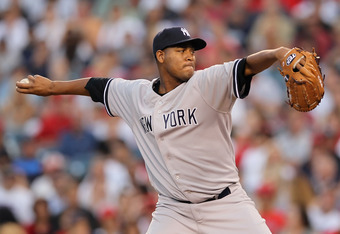 Jeff Gross/Getty Images
Like Hughes, Nova is 25 years old and working on a one-year contract with the club. Unlike Hughes, Ivan Nova has not shown improvement since the beginning of May (with the exception of his start on Wednesday when he threw eight innings of four-hit ball only proving just how erratic he can be).  
| | | |
| --- | --- | --- |
| Pitcher | ERA | WHIP |
| Nova | 4.73 | 1.28 |
| Hughes | 3.60 | 1.23 |
The statistics over their last six starts reveal the discrepancy between the two pitchers. In spite of this, it is Hughes who faces the constant pressure (in the media) of pitching to remain in the rotation. With both Dellin Betances and Manny Banuelos not yet close to being ready for the big leagues, it would seem that Hughes is the one pitcher of youth that New York can be comfortable with.
Given those numbers and the inconsistencies of other hurlers in the organization, why is Hughes the one who has to win to stay?
The next item to consider is the ages of Hiroki Kuroda and Andy Pettitte. The 37-year-old Kuroda came to the Yankees via free agency, signing a one-year, $10 million contract in January. One month later, Pettitte signed a one-year deal with the club at the ripe old age of 39. 
To date, both elder statesmen have pitched decently, but realistically how many more years do each of them have? It is likely that two years down the road, neither will be taking the mound in a Major League Baseball uniform. With the prospect of losing 40 percent of the starting rotation by 2014, wouldn't it make sense that Hughes is in the long-term plans for the New York Yankees without having to be perfect every time out in 2012?
Finally, it is Hughes's mental makeup that ensures he has nothing to worry about. What the Yankees see, and apparently the media do not, is how the pitcher doesn't let sticky situations get the best of him. Unlike AJ Burnett, a rough inning doesn't mean Phil Hughes will fall apart. 
In his May 28 start against the Los Angeles Angels, Hughes allowed four earned runs in the first inning.  In past seasons, had that been Burnett, Yankees fans could have expected a short-lived outing as the former "Bronx Bomber" often let things spiral out of control. Instead, Hughes followed that first inning with a scoreless second and eventually stretched his time to over five innings.
He was charged with seven earned runs in 5.1 innings after relievers allowed a runner who had reached on an infield single to score in the sixth. Admittedly, Hughes struggled, and as Marc Carig of the Star-Ledger reported, the young pitcher realized early on he had his hands full saying, "After the first inning, I knew it was going to be a battle."
What that quote indicates is Hughes's willingness to keep fighting after getting battered in the initial frame. It shows a maturity normally associated with veteran pitchers, and the fact that he kept the team in the ball game into the sixth inning reflects an ability to reach within during the toughest of times. 
That type of character isn't something the New York Yankees will just take for granted.  It is not indicative of the type of pitcher to which you say, "win this year or else."
Instead, it is the quality that you nurture and patiently wait to develop. 
Given Phil Hughes recent performances, it would seem their patience is paying off, and should he have a rough go of it in his start on Saturday, it is not the end of the line for him. 
He has already shown that he will be worth the wait.