Arsenal: Is It Time for Denilson to Move on from the Club?
June 5, 2012

Stanley Chou/Getty Images
I am a footballer and I want to play every week because I want the chance to play for Brazil. Look at Lucas [Leiva] at Liverpool. He's been playing regularly and he's in the Brazil team. That's where I want to be.

I would love to be able to do that at Arsenal but based on how things have gone this season, I think it's time for a change. So I am flying home to Brazil on Sunday and I'm hoping I can make a fresh start in Spain or maybe Italy.
That was the reason given by Denilson in May 2011, when the midfielder announced that he would be flying the proverbial Emirates coop in pursuit of more consistent first-team football opportunities.
Denilson's departure didn't exactly come as a surprise. Despite making 32 appearances in all competitions for the Gunners in 2010-11, Denilson had fallen into the equivalent of footballing purgatory.
More than a third of his appearances (11) had come in the FA and Carling Cups—hardly the mark of a fully-fledged first-teamer—while he'd made only 16 appearances in the Premier League.
It was a marked shift from 2008-09 season, when Denilson had appeared in 51 games for the Gunners, assuming the midfield enforcer duties alongside Abou Diaby and Alex Song in the wake of Mathieu Flamini and Gilberto Silva's departures the previous summer.
The Brazilian had an excellent technical cache and was more than willing to get stuck into challenges. Yet for all the flashes shown in that season in particular (not to mention the ensuing one), he never quite showed the requisite consistency needed in that position.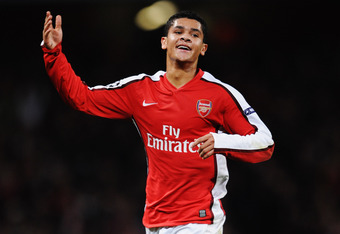 Shaun Botterill/Getty Images
Hence, the loan deal last summer that saw him depart for Sao Paulo. After an attempt to prolong his stay in Brazil six months fell through, Denilson will head back to London after his deal expires on June 30.
The 24-year-old is approaching the news with a professional demeanor, which should be applauded, but he doesn't exactly appear enthused about leaving Brazil.
Denilson told Soccernet, "I wish I could stay for six more months but that is Arsenal's decision as I am under contract with them. I will not be unhappy in London as I will be returning to one of the biggest clubs in the world."
The question now becomes whether the midfielder, whose contract is up in 2014, still has a place in the Arsenal midfield.
He was usurped in the 2010-11 season by the thrilling triumvirate of Alex Song, Cesc Fabregas (Samir Nasri when Fabregas was hurt) and Jack Wilshere, and last season saw Mikel Arteta and Tomas Rosicky throw their hats into that proverbial ring.
Denilson had missed the start of that season with a groin injury, which allowed Wilshere the opportunity to come in and make his mark, which he did with aplomb.
While Fabregas and Nasri have both left the club, there are still the likes of Diaby, Aaron Ramsey and youngsters Francis Coquelin and Emmanuel Frimpong vying for playing time. At this point, all might be considered ahead of the Brazilian on the depth chart.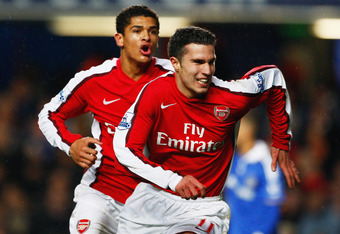 Clive Mason/Getty Images
With Wilshere set to return from injury for next season, it seems as if Denilson is at serious risk of being crowded out.
In fact, it's more than a risk at this point. It's a near certainty.
The question then becomes, should Denilson be sent out on loan once more, perhaps to a club in Europe? Or is it time to cut losses and let him make a full transfer.
His confidence may have been reborn with the move to his home country (it was a similar stroke to the loan move that saw Andrei Arshavin return to former club Zenit St. Petersburg on loan in February), but like Arshavin, Denilson seems to represent a bygone era at the north London club.
Wenger is embarking upon a new journey and has said that certain deadwood will be set adrift this offseason with some careful flourishes of his pen to contract papers.
Denilson was included in that particular article, and there's every reason to think he may not be wearing an Arsenal shirt come August and the start of the 2012-13 season.