John Tortorella and the 7 Angriest Coaches in the NHL Right Now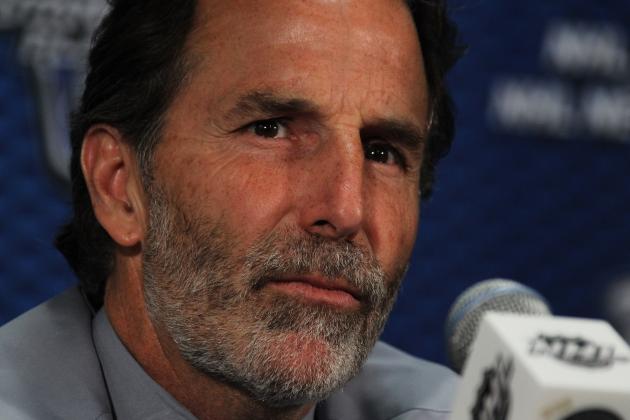 Bruce Bennett/Getty Images

With the Stanley Cup Finals in full swing (not for long), it's easy to see how much passion the Devils and Kings are putting into every moment of every game. In many cases, passion drives success but can also lead to emotional outbursts.
John Tortorella has had an outburst or two over the years but his tirade days may be over if he continues to keep it in the room.
With the hope that Tortorella and Larry Brooks regain their 2007 form this offseason, here are seven other active NHL coaches that let their passion get the best of them.
Begin Slideshow

»
Another memorable clip from 24/7. This time, Bruce Boudreau shows a limited vocabulary and a motivational approach that would be discouraged in today's elementary schools.
Boudreau was relieved of his duties in Washington in November 2011. He was hired as head coach of the Ducks two days later.
That's head coach of the Minnesota Wild, Mike Yeo.
In this rant, Yeo sounds Boudreau-esque. It's not just the profanity, but the rhetorical questions he asks in an attempt to get more effort out of his guys.
The Wild finished just a shade under .500 in Yeo's first year as a coach.
Lindy Ruff has been the head coach in Buffalo since 1997.
In this clip from 2010, he vents his frustration with his team in practice.
The Sabres haven't been to the Stanley Cup Finals since 1999, and maybe that's because the players can't understand what Ruff is yelling.
Apparently Lindy Ruff can irk opposing coaches as much as Sabres fans.
Now the coach of the Blues, Ken Hitchcock was the Flyers coach at the time of this video from the 2006 playoffs. Hitchcock hasn't taken a team to the Finals since he brought the Stars there in 2000.
The video is worth it for the last 5 seconds alone.
Joel Quenneville led the Blackhawks to their first Stanley Cup in 50 years back in 2010.
Maybe the frustration Quenneville shows in this video is because he still has Patrick Kane, Jonathan Toews, and Marian Hossa, but can't replicate the success they all had in 2010. The Blackhawks haven't made it out of the first round since winning the Cup.
Dan Bylsma isn't one of those angry coaches that issues a weekly rant, and his time on 24/7 reflected positively on his ability to motivate and inspire with a degree of self control.
Having said that, it's pretty cool you can watch a video of a current NHL coach fighting the current head disciplinarian of the NHL while they were both players.
In the video, Shanahan dishes out punishment to Bylsma like Rangers fans would've liked to see after this hit from Brooks Orpik. The hit sparked Tortorella to issue some strong words towards Pittsburgh.
Do you agree with what Torts said about Bylsma's employer?