Big Ten Football: Most Indispensable Players in Legends Division
June 4, 2012

Gregory Shamus/Getty Images
There are 85 players on a team, but let's face it, some are more important than others. Here's a look at the most indispensable player on each team in the Big Ten Legends Division.
Iowa: Quarterback James Vandenberg
The quarterback is the most important position on the field, but that goes even moreso for Vandenberg and Iowa, as the Hawkeyes are painfully thin in depth behind their senior signal-caller (and bear killer).
The only player on the roster with any college QB experience is John Wienke; you may also know him as the Hawkeyes punter.
Michigan: Offensive Tackle Taylor Lewan
Denard Robinson is obviously the most important player on the Wolverines, but if he went down, we do know what Michigan would do. Devin Gardner has backed Robinson up for two years, and Russell Bellomy looked fine as a backup at the 2012 spring game.
It's less obvious, however, what Michigan would do if Taylor Lewan went down for any amount of time. Michigan's offensive line depth isn't stellar to begin with, and Lewan has been instrumental in keeping opposing defenders away from Robinson. We've seen Michigan succeed without Robinson on the field. It's not so obvious that Michigan can succeed without Lewan.  
Michigan State: Linebacker Max Bullough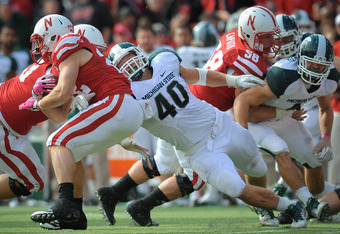 Eric Francis/Getty Images
The Spartans are loaded on defense, but for all the talent on that roster, the defense is still predicated first and foremost on the middle linebacker making plays, and that's Max Bullough's specialty.
Denicos Allen and Chris Norman are fine outside linebackers, but they can't play in the middle, and Bullough's backups (junior TyQuan Hammock and senior Steve Gardiner) are relatively undersized and haven't done much to move past special teams duty.
Minnesota: Linebacker Mike Rallis
Minnesota's defense badly needs a resurgence, and stepping into middle linebacker to lead that resurgence is senior Mike Rallis, who spent most of his career at OLB before shifting over to take the place of Gary Tinsley. If Rallis isn't there, it's not exactly clear what Minnesota would be doing at middle linebacker, and that's not good. 
Nebraska: Running Back Rex Burkhead
Nebraska may have worked to put as many players behind Burkhead on the depth chart as possible, but make no mistake, this Husker offense runs on Rex. Bo Pelini may try to limit Burkhead's workload early on, but when it's November and the winter winds are blowing, he's going to need to count on 25-plus carries a week for Burkhead. Anything less is, frankly, not an option. So stay up, Burkhead!
Northwestern: Center Brandon Vitabile
This could just as easily be tackle Patrick Ward, but Vitabile's downright irreplaceable at center and has been since he pushed four-year starter Ben Burkett to guard so Vitabile could start as a freshman in 2011.
He's the functioning brain of the offensive line, and with both Burkett and top backup center Colin Armstrong both gone after graduation, he's someone the Wildcats need to keep healthy for all 12-plus games.