WWE SmackDown: Should Alberto Del Rio Stop Bringing Cars to the Ring?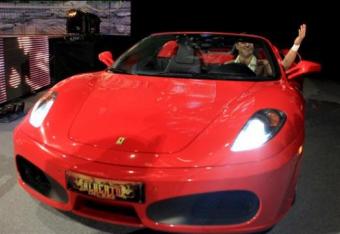 Photo: WWE.com

Does Alberto Del Rio impress you by bringing six-figure cars to the ring?
No? Me neither.
For one thing, the cars are rented—which sort of drops the impressiveness level down a few notches.
What? The cars are rented?
Yes, they are rented. In an interview with ESPN, Del Rio said the following when asked whether he's afraid of scratching or denting the cars and owing Mr. McMahon money for repairs:
Oh my God, I'm afraid that's something I have to live with every single day.
Well, that explains the seat covers.
Ultimately, it's a bit hard to take Del Rio's "aristocrat" gimmick seriously when the cars he drives to the ring are rented—by WWE nonetheless.
You might ask, what about the late, great Eddie Guerrero's rented lowriders? How did they make Guerrero's gimmick believable? Well, unlike Del Rio's six-figure rides, lowriders are cheaper and not known to be driven exclusively by the rich and famous.
Ultimately, it's hard for adult fans to take Del Rio seriously when the cars he drives to the ring are rented. However, does this mean he should stop bringing them to the ring?
In short, no.
Should Del Rio stop bringing cars to the ring?
While Del Rio might not fool adults into thinking he's wealthy enough to afford a new car every show, Del Rio probably fools the kids—just as the "Million Dollar Man" Ted DiBiase fooled me when I was a kid.
Growing up, I never questioned whether DiBiase was really a millionaire or whether he could really afford to stick hundred dollar bills into his opponents' mouths night after night. I bought everything, and it was great.
Growing up, I also never questioned the believability of over-the-top wrestlers like Papa Shango, The Ultimate Warrior or Razor Ramon. Today, I thankfully know better.
So what?
Del Rio should keep bringing rented cars to the ring. It may be hard for adults to buy into his "aristocrat" gimmick, but kids likely don't have that problem. Just because adult fans don't find something believable doesn't mean it should be dropped.
Ultimately, the WWE Universe doesn't just consist of adults. There are kids, too.
Adults shouldn't be selfish. They should think about the kids' happiness. They should let them have their "Million Dollar Man."
This article is
What is the duplicate article?
Why is this article offensive?
Where is this article plagiarized from?
Why is this article poorly edited?