Yankees Trade Talk: Latest Buzz Surrounding Bronx Bombers
June 4, 2012

Jim McIsaac/Getty Images
We are a little over two months into the 2012 baseball season, and it has already been a very up and down year for the boys in pinstripes.
Although the team is 29-24 and just 1.5 games behind the first place Tampa Bay Rays, I think most Yankees fans would consider this year to be a disappointment so far.
The offense is just now starting to come around behind the sudden resurgence of Alex Rodriguez and Mark Teixeira, and who knows where the Bronx Bombers would be if Derek Jeter wasn't having a career year at age 37.
The pitching has been consistently mediocre and the loss of Mariano Rivera has had a profound effect on the bullpen. I'm not sure how long Rafael Soriano can continue his success in the closer role, but he will need to do so if the Yankees want to contend in the increasingly difficult AL East.
The rotation has been relying way too heavily on Andy Pettite's surprising success right out of retirement, and CC Sabathia has been good, but not the dominant rotation anchor he has been in the past. Hiroki Kuroda has been solid in his past three starts but is no sure thing.
Until Phil Hughes' complete game gem against the Tigers on Sunday, he was looking like the first guy out of the rotation should a change be made. Now, perhaps it will be Ivan Nova, who, even with a 6-2 record, has a 5.60 ERA. Hitters are batting .313 off him.
With all that being said, you can bet that the Yankees will be right in the thick of the things when the trade deadline comes around in July, and moves will surely be made. Here is some of the trade buzz that has been floating around the Bronx lately.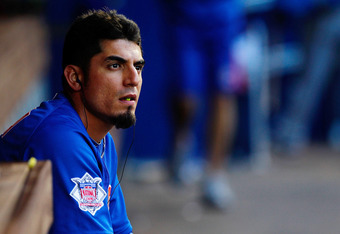 Mike Ehrmann/Getty Images
Yankees Prefer Cubs RHP Matt Garza Over Other Options
According to Jon Heyman over at CBS Sports, the Yankees would like to make a trade with Chicago for right-handed starter Matt Garza over some of the other options out there, such as fellow Cubbie Ryan Dempster, the Brewers' Zack Greinke and Shaun Marcum, or Astros lefty Wandy Rodriguez.
A Garza move makes perfect sense for New York, although I would be hesitant to include Phil Hughes in any deal. If GM Brian Cashman could center a deal around Dellin Betances or Manny Banuelos and keep Hughes, it would be a season-changing move.
Garza has proven he has what it takes to pitch in the tough AL East, and I'm sure he'd more than welcome a move out of last-place Chicago.
Of the other possibilities, I would say that Rodriguez is the next best option. He has been consistently good for a Houston team that has been consistently terrible, and would make a good No. 3 starter behind Sabathia and Kuroda. Meanwhile I can't see Greinke succeeding in New York's bright lights, and I don't think Dempster and Marcum have the stuff to get American League hitters out with regularity.
Pirates Closer Joel Hanrahan An Option With Rivera Out
A month ago, this article was published looking at Pittsburgh Pirates closer Joel Hanrahan as a potential trade candidate and mentioned the Yankees as a possible suitor for the right-hander. In particular, Tom Singer of MLB.com quoted Hanrahan joking about the possibility of heading to the Bronx.
Since then Rafael Soriano has been very good in the closer's role, with seven saves in as many opportunities. But that isn't necessarily a reason to completely dismiss Hanrahan as a trade option.
The Pirates closer has been one of the most dominant closers since 2011, and has a fastball that reaches the high 90s and a wipeout slider. While we saw how expensive closers can be at the deadline last year, if the Pirates fall out of contention like they usually do, their front office may be pressured to deal the arbitration-eligible Hanrahan while his value is high.
Until Soriano starts to falter, any talks of a Hanrahan should be filed away until July starts to roll around. But you can bet that the Yankees won't be the only team looking for bullpen help at the deadline, and Joel Hanrahan could be the best option out there.