4 Reasons New York Rangers Will Be the Stanley Cup Favorites in 2012-13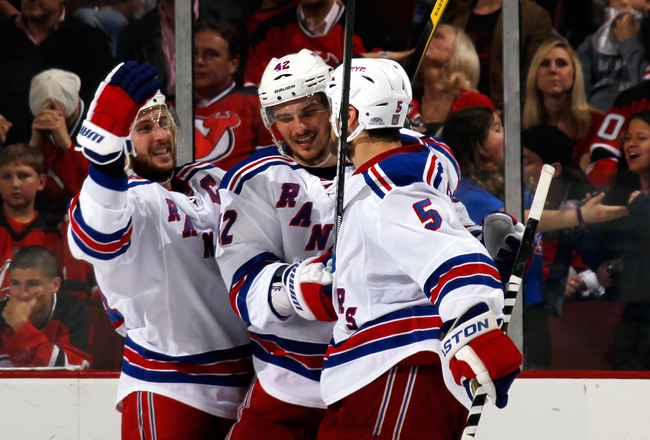 Bruce Bennett/Getty Images
The 2011-12 season for the New York Rangers can be described in many ways, but the one fitting adjective is eye-opening.
The Blueshirts made a quantum leap in development, from a team that barely made the playoffs a year before to a team that lead the Eastern Conference for half a season and ended up two victories away from their first Stanley Cup Final appearance since 1994.
The ending may have been of bitter heartbreak for New York fans who wanted the magical ride to continue, but the future is bright on Broadway and that's what fans need to keep in mind as the hockey season grows closer to ending.
Once that happens, experts and fans alike will start to examine which teams will be back in the postseason in 2012-13 with the best chance of winning Lord Stanley's prize.
Here are four reasons why the New York Rangers should be the Stanley Cup favorites next season.
Team Makeup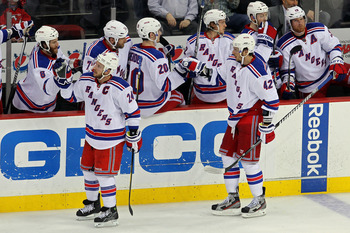 Jim McIsaac/Getty Images
Part of the reason the Rangers were so ahead of their development this season is due to the fact the players fit like a glove in the system in place.
New York likes to play an up-tempo, aggressive forecheck (usually a 2-1-2) and have their defenseman join the rush as much as possible to create offense.
The addition of Carl Hagelin midseason may be considered the ultimate turning point, as his blazing speed and forechecking abilities were the perfect compliment to a Rangers team in desperate need of both.
However, it goes deeper than that.
The Rangers have a great, young captain in Ryan Callahan, who is both vocal in the locker room and an exemplary player on the ice others look up to. Brad Richards provides quiet leadership along with Stanley Cup-winning experience from his Tampa Bay days. Complimentary leaders like Marc Staal, Dan Girardi, and even Ruslan Fedotenko all lend their advice to one of the youngest teams in the league.
The team was dealt a tough blow when Marian Gaborik revealed he needed shoulder surgery and would be out until December. It's a tough blow, and may alter the offseason plan for GM Glen Sather, who may feel he needs to replace the team's premiere goal scorer with another, either through trade or free agency.
With Gaborik on the shelf, New York still has a very good mix of quality veterans infused with excellent young players—the perfect recipe for sustainable success, not just a one-and-done team.
Along with Carl Hagelin, Chris Kreider, Derek Stepan, Ryan McDonagh and Michael Del Zotto are still kids, yet will be looked at as the next group of young talent to lead the way.
Solid Prospects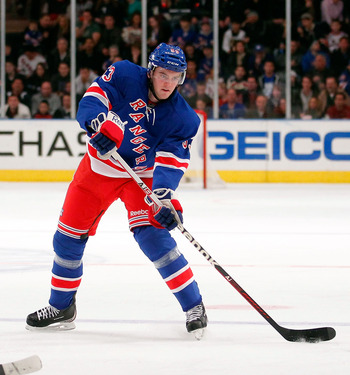 Paul Bereswill/Getty Images
According to Hockey's Future, the Rangers rank 11th overall in the NHL their prospect pool, which is a fairly respectable number.
What it fails to mention is how great a coaching staff the Rangers' AHL affiliate—the Connecticut Whale—has as they are led by coach Ken Gernander.
The Whale play the same style as the Rangers, easing the prospects into the pro game should their number get called to play with the big club. Having the ability to plug in players where needed is how teams are able to be good for seasons on end.
Going into training camp, the Rangers will be looking to add more youth to their lineup. Prospects such as Ryan Bourque, Christian Thomas, and Tim Erixon will all be looked at as contributors and could all see significant time with the Blueshirts if they have stand-out training camps.
The prospect depth continues as Dylan McIlrath, J.T. Miller, and Andrew Yogan will all be on the horizon for New York. Don't count out Jesper Fast, the 20-year-old Swede who recently signed an entry-level contract with New York, as a contributor for the Rangers next season. His speed and offensive ability could be used while sniper Marian Gaborik recovers from shoulder surgery.
Want a dark horse for next season? Michael St. Croix.
The Rangers fourth-round pick from 2011, St. Croix had an amazing season for the Edmonton Oil Kings, puttuing up 105 points (45 goals, 60 assists) in 72 games. At just 19 years old, St. Croix may be two to three years away, but will be someone to keep an eye on in September.
What New York's prospect pool lacks are a power play quarterback defenseman, top-six center and a future No. 1 goalie. However, the future still looks to be very good for New York and will be vital to their success in 2012-13.
The Right Coach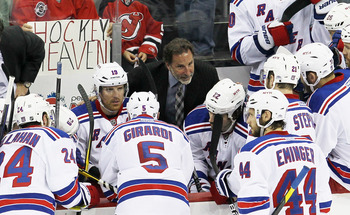 Jim McIsaac/Getty Images
Despite what your personal feelings are, the Rangers have the coach they will need to make it to the promise land in John Tortorella.
Postgame press conference antics aside, Tortorella demands everything from his players to maximize performance, and the players not only appreciate his straight-forward approach—they're extremely motivated by their fiery coach.
Skeptics will point to his constant line tinkering, non use of some players and poor attitude as reasons for Tortorella's so called "incompetence."
Tortorella just plays the cards he is dealt.
What skeptics fail to mention is John Tortorella is responsible for the youthful turnaround of the Rangers in just a couple seasons and the reason why the kids are asked and will be asked going forward to be the go-to players.
With another offseason and training camp to work with, Tortorella will find more players that fit his system and style of play. With his team on the cusp from making the Stanley Cup Final this past season, the right players in Tortorella's system will make all the difference in leading his team to victory in 2012-13.
Henrik Lundqvist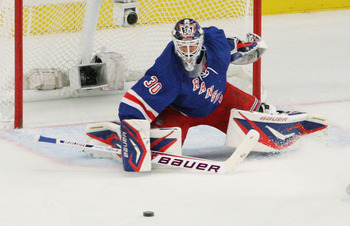 Bruce Bennett/Getty Images
In order to win in the NHL, you need an elite goaltender. Having a hot goalie in the playoffs can mask some of your team's deficiencies and, in the process, carry the team as far as they can go.
The Rangers have that goalie.
Henrik Lundqvist had a marvelous 2011-12 season from start to finish and may be worthy of some personal hardware come June 20 at the NHL Awards show.
His performance in the postseason was admirable, keeping his team in every game he played and, on most nights, was the best player on the ice. Lundqvist exorcized some personal playoff demons by winning two Game 7s—something he had never done in his career.
But the question still remains: Can Henrik Lundqvist win a Stanley Cup?
With another year of experience under his belt coupled with the sting of coming very close to his first Stanley Cup Final appearance, Lundqvist will be extra motivated coming into next season to raise his game even more to get his team, and himself, over the hump.
The answer to that question may come as early as 2012-13.
Keep Reading

New York Rangers: Like this team?