Chicago White Sox vs. Detroit Tigers: An AL Central Division Breakdown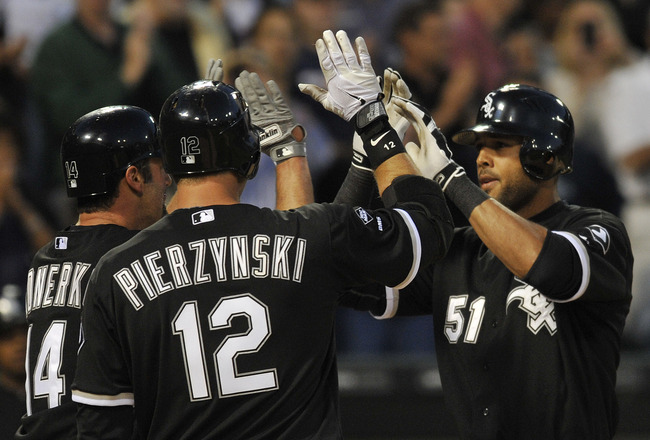 Three of the reasons the Sox have a division title in their sites
David Banks/Getty Images
The Chicago White Sox head into Tuesday's matchup against the Toronto Blue Jays with a record of 31-23. That's right Sox fans, exactly one-third of the way through baseball's regular season, the White Sox are eight games over .500 and two-and-a-half games in front of the second place Cleveland Indians.
More importantly, as head-to-head records against the division more often than not determine the champions, the White Sox lead the AL Central with a .577 winning percentage against division opponents.
In an effort to better understand the chances for the White Sox to make it to the postseason in a year in which expectations outside of the clubhouse were quite low, it is time to infuse some statistical analysis into the greater conversation of how the White Sox compare to the other teams in the AL Central.
Let's start by breaking down the White Sox and the Detroit Tigers.
Conversations around the water cooler at work, and comments from Tigers fans in past articles this column has written, seem to have the same theme: The Tigers are not playing up to their capabilities and the White Sox are far exceeding theirs.
Conventional baseball wisdom argues that a balanced lineup, solid fielding and quality pitching are surefire ways to win a division. The belief going into the season from nearly every prognosticator was that the Tigers had the most of all of these and should run away with the division crown.
Remember, Sports Illustrated picked the Tigers to win 93 games while predicting the Sox would win 67.
Jake Peavy thought that a bit incredulous.
With a new feeling permeating the clubhouse following the departure of Ozzie Guillen and several Sox players having career worst years last season, the only way for the franchise to go was up.
Position by position and pitcher by pitcher, the Sox match up very well against the reigning Central Division champions.
Paul Konerko vs. Prince Fielder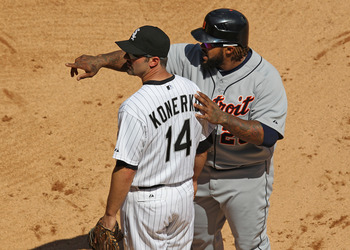 Paulie takes the crown
Jonathan Daniel/Getty Images
Prince Fielder has adjusted quite well to American League pitching, but can't hold a candle to White Sox captain Paul Konerko, and not just this year.
Batting .319 with an OPS of .899, nine home runs and 35 knocked in, Fielder is having a very nice year for Detroit. Hitting .366 with an OPS of 1.062 , 11 home runs and 34 RBI, Paulie is having a better year.
Toss in six errors for the Tigers first baseman and Konerko is, hands down, the more valuable player.
Edge to Chicago.
Gordon Beckham vs. Take Your Pick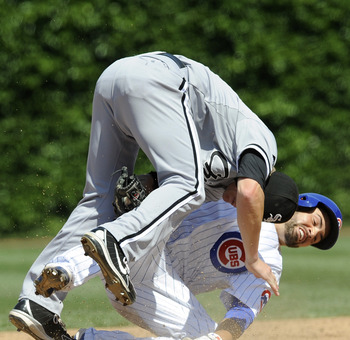 Free safety, er second baseman, Gordon Beckham
David Banks/Getty Images
When White Sox manager Robin Ventura moved Gordon Beckham from the eighth to the second spot in Chicago's lineup, many fans cringed. Turns out that the first-year manager was onto something. Beckham has responded very well to the move.
He is seeing better pitches with Adam Dunn batting behind him and is taking advantage of them. His average has climbed by 50 percentage points to .237, he has an OPS of .695 and has committed only three errors in 445 chances. Oh, he is on a 10-game hitting streak.
Detroit meanwhile has failed to find any consistency out of their second baseman du jour. Ramon Santiago (.198), Ryan Raburn (.146) and newly minted starter Danny Worth (.184) have been downright awful at the dish and have committed a combined five errors already.
Gordon Beckham has second locked up.
Edge to the Sox.
Alexei Ramirez vs. Jhonny Peralta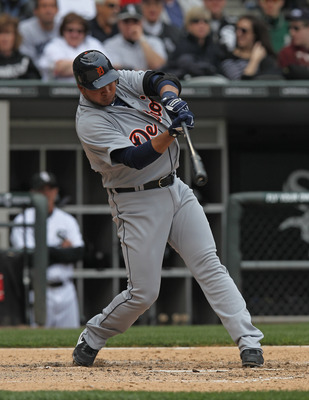 Detroit shortstop Jhonny Peralta
Jonathan Daniel/Getty Images
While Alexei "The Missile" Ramirez is a former Silver Slugger award winner and a Gold Glove caliber shortstop, Tigers shortstop Jhonny Peralta has the edge.
Not only is Peralta hitting for a higher average (.247) than Ramirez (.224) but he has more home runs, RBI and an OPS that is not even in the same ballpark as the White Sox shortstop.
To top it off, he has committed half the errors in nearly as many total chances.
The Sox expect Alexei to be a large part of their offense while Peralta is generally regarded as a compliment to the big boys in the lineup.
So far, Alexei is second fiddle at short.
Tigers take this one.
Brent Morel and Orlando Hudson vs. Miguel Cabrera
Best hitter in baseball?
Leon Halip/Getty Images
This slide is out of necessity.
The combination of Brent Morel and newly acquired Orlando Hudson cannot hold a candle to Miguel Cabrera, who may be the best pure hitter in baseball.
With an all-world line of .318, 11 home runs, 44 RBI, an OPS of .907 and 70 hits (good for second in the AL) Cabrera is the best third baseman in baseball and MVP for the Tigers.
On the South Side, the hapless duo (trio if you include super-sub Brent Lillibridge) can't hit their way out of a cardboard box. Hudson has brought energy and solid fielding to the position after getting claimed off waivers, but is still below the Mendoza Line along with Morel.
Definite edge to the Tigers.
Dayan Viciedo vs. Delmon Young and Andy Dirks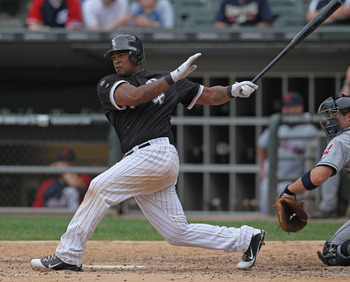 White Sox left fielder Dayn Viciedo
Jonathan Daniel/Getty Images
The battle for left field supremacy is too close to call, so why try.
White Sox left fielder Dayan Viciedo who is batting .277 with 12 homers and 29 RBI has an unabashed and unbridled swing with explosive power to all parts of the field. He can change a game in one swing as he did against Seattle Mariners phenom Stephen Pryor on Saturday. Surprisingly, his defense has been outstanding as well, which is nice considering this is his third position in the last three years.
Delmon Young is a headcase, but is solid at the plate, batting .267 with 4 homers and 19 RBI, and can hold his own in left.
Andy Dirks, who is banged up at the moment and has been for a little while now, is just a sweet swinging lefty (.328) who has power and a great eye at the plate. His defense is great and he can run the bases. Not bad.
Viciedo has Young by a mile in talent and effort, but when Dirks comes back at full strength, it is a dead heat.
Even.
Alejandro De Aza vs. Austin Jackson (or Quintin Berry)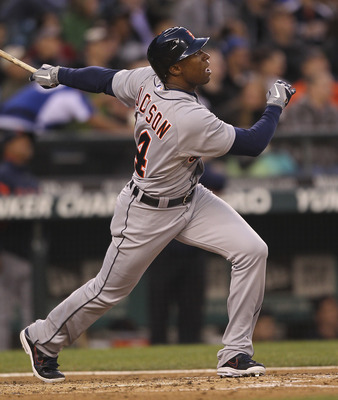 Otto Greule Jr/Getty Images
While Alejandro De Aza is playing better baseball than most expected at the beginning of the year, he is not the player that Austin Jackson is.
De Aza is hitting .298 compared to .331 for Jackson who is currently on the 15 day DL. But hitting is only part of the reason why Jackson is a better center fielder.
Jackson walks more, runs the bases better than De Aza and has a howitzer for an arm. Further, if intimidation were factored into the equation, the gap between the two gets even wider. Jackson is one heck of a baseball player.
Quentin Berry, who is playing stellar baseball right now with Jackson on the DL, continues to give the Tigers an edge over the White Sox at the position.
Center field edge goes to Detroit.
Alex Rios vs. Brennan Boesch
Alex Rios is having another odd numbered year resurgence
Jonathan Daniel/Getty Images
It's an odd numbered year, so chances were that Alex Rios was going to have a good season. So far, so good.
Not only has his offense improved, batting .289 with an OPS of .781 to go with five home runs and 29 RBI, but he has made a marked improvement on defense since returning to his natural position in right. He has turned into a very good five-hitter behind Paulie.
Brennan Boesch, on the other hand, seems to be regressing. Hitting a paltry .229 with virtually no power numbers and an OPS of .610, Boesch is not producing like the Tigers hoped he would. It is proving a drain on the offense, as Detroit had expected more from their former third-round pick.
Edge to the Sox in right.
A.J. Pierzynski vs. Alex Avila
The menace
Al Messerschmidt/Getty Images
White Sox catcher A.J. Pierzynski is always in the middle of the action. This year, the actions are speaking louder than words. More impressive than his .291 batting average are the 35 RBI he has to go with an OPS of .850. It would be a crime if A.J. was not an All-Star this year.
Alex Avila on the other hand seems to be having trouble building off of last year. Garnering MVP votes and an All-Star nod seemed to be the beginning of something special behind the plate for Detroit. So far this year Avila is batting .254 with five homers and only 20 RBI.
To add to the disparity at the dish, A.J. has dramatically improved in throwing runners out. With a new-found focus on getting rid of the ball, opponents are not free to range the basepaths as they have been in years past.
Edge to the South Siders behind the plate.
Adam Dunn vs. Leyland's Choice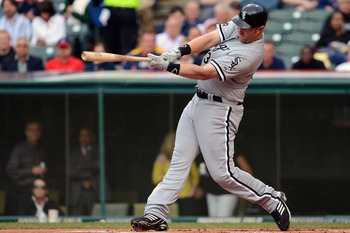 White Sox DH Adam Dunn
Jason Miller/Getty Images
Like Alex Rios and Gordon Beckham, Adam Dunn is having a bounce back year for the White Sox. He does two things: Knock the stitches off the baseball and miss it entirely.
Currently second in the AL with 17 home runs and fourth in RBI with 38, Dunn is as intimidating as a DH comes. It helps that he is hitting in front of Konerko, but Donkey is taking care of his business.
Like Viciedo, he can change a game in a swing or leave Sox fans heartbroken. Batting average and strikeouts aside, Dunn is earning his paycheck this year.
Detroit on the other hand has trotted out Young, Boesch and Gerald Laird (to name a few) at DH this year and none of them have found any sustained success. Leyland has begun to use the DH as a way to get position players a break from the field rather than rely on one man to do it full-time.
Ozzie tried the DH by committee thing a couple of years ago and it failed miserably. Seems to be a trend.
Edge to the Hitmen.
Pitching vs. Pitching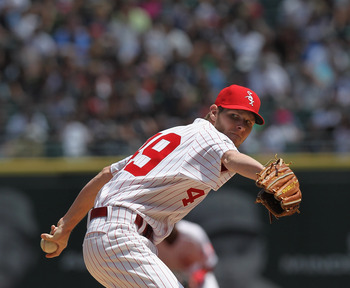 May pitcher of the month
Jonathan Daniel/Getty Images
And the Edge Goes To...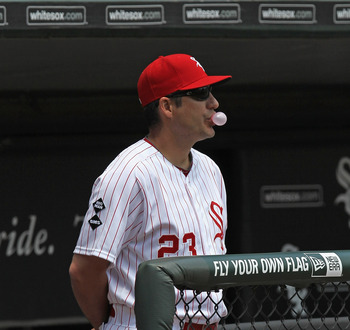 Robin Ventura
Jonathan Daniel/Getty Images
The White Sox!
They hold the edge in four position battles with one draw and have a definitive edge in pitching this year.
The Sox do not appear to be this years Cleveland Indians. That is to say, with the exception of Konerko and the efforts of the White Sox rookies, nobody is having a career year on the South Side.
Everyone is just playing the game of baseball and having fun doing it.
Nothing special, simply following the lead of their manager Robin and captain Paul.
Slow and steady.
Detroit is not going anywhere, but the White Sox are poised to take the division this year.
Keep Reading

Chicago White Sox: Like this team?