Grading the Strength of Every Position Heading into Green Bay Packers Camp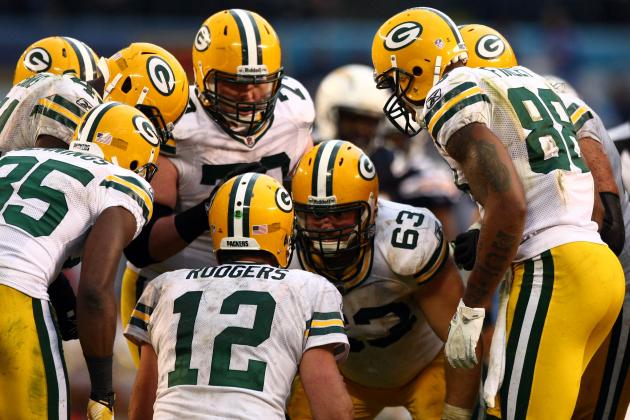 Donald Miralle/Getty Images

As a team coming off a season in which they compiled a 15-1 record and earned a bye in the playoffs, the Green Bay Packers have more talent than the average NFL team.
But the 2011 version wasn't the same team that won the Super Bowl the year before. Holes can be poked on the current Packers team.
The defense has its shortcomings, particularly the combination of the pass-rush and the pass coverage that gave up the most regular season passing yards in the history of the NFL last season.
On offense, the Green Bay running game is an afterthought.
With that in mind, every positional unit on the Packers roster is graded headed into training camp based upon how it's anticipated it will perform and not how it performed in the past.
Just like a report card, an "A" is considered exceptional, "C" is average and "F" is failing, all relative compared to position units on other NFL teams.
Begin Slideshow

»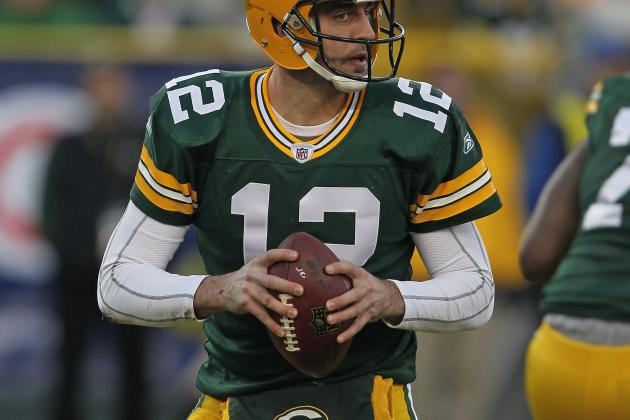 Jonathan Daniel/Getty Images
Aaron Rodgers
Unlike other positions, quarterback is one that can generally be graded on the performance of one player.
After all, as long as he's healthy, Aaron Rodgers will take every meaningful snap for the Green Bay Packers in 2012, and it would be unfair to assume injury.
Rodgers is coming off a season in which he was named the league's MVP in 2011, and his ascent into the elite stratosphere of NFL players has no end in sight.
From arm strength to accuracy to leadership to limiting turnovers to overall athleticism, Rodgers has just about every quality a professional football team looks for in its quarterback.
About the only thing Rodgers has to do is avoid the games in which he makes multiple mistakes, such as he did in the playoff loss to the New York Giants last season when he had both a fumble and an interception.
In the event Rodgers is injured, the Packers will turn to backups Graham Harrell or rookie B.J. Coleman.
Harrell hasn't taken a single snap in an NFL game outside of preseason action, but the Packers are hoping his practice experience has paid off now that he's entering his fourth season since his college career ended.
And at this point, Coleman is a complete unknown.
Even though the Packers have some of the most inexperienced backups in the entire league, it's not enough to lower their quarterbacks' grade as a whole.
GRADE: A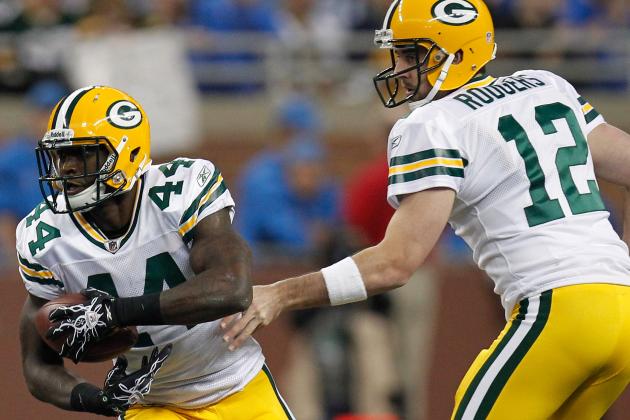 Gregory Shamus/Getty Images
James Starks
Running back is one of the weakest positional units on the Packers roster due to in part to inexperience and injury concerns, but also because it is little utilized in the team's offense.
In the past two seasons, one in which the Packers won a Super Bowl in 2010 and the other when they went 15-1 in 2011, the run-pass ratio was heavily skewed toward the pass.
It's hard to argue with the results. Sure, a better run game would help take pressure off quarterback Aaron Rodgers. But in terms of priorities, that's low on the list. The passing attack can be prolific with or without an effective ground game to complement it.
From all appearances, James Starks will be the primary ball carrier in 2012. He's shown flashes, such as his postseason success in 2010, when he led the NFL in playoff rushing yardage, but his injury history dating back to college makes him difficult to rely upon.
A pair of unproven players, Alex Green and Brandon Saine, are behind Starks on the team's depth chart.
Green is coming off a torn ACL last season, while Saine's professional resume consists of 18 career carries.
Beyond them, the Packers signed a pair of undrafted rookies, Marc Tyler of USC and Du'ane Bennett of Minnesota, to compete for roster spots.
If anything goes awry, veteran Ryan Grant is still available on the free-agent market.
As for fullback, the Packers boast one of the NFL's best in John Kuhn, but coming off a knee injury, he has to prove he's healthy.
GRADE: D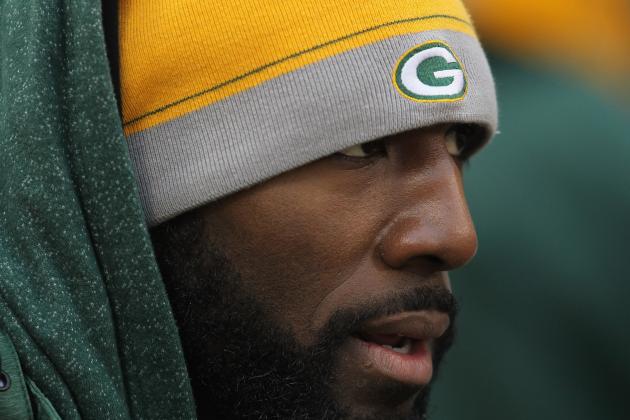 Jonathan Daniel/Getty Images
Greg Jennings
Without question, the Packers wide receivers are one of the best and deepest units in the entire NFL.
They're headlined by Greg Jennings, who's been named to the Pro Bowl in each of the past two seasons, is a superb route-runner and arguably the best deep threat on the team.
He's complemented by Jordy Nelson, who enjoyed a breakout season in 2011 with 68 catches for 1,263 yards and 15 touchdowns.
Both Jennings and Nelson appear on the NFL Network's list of the Top 100 Players of 2012, which gives an idea of just how formidable a duo they combine to be.
They're joined by long-time veteran Donald Driver, a three-time Pro Bowler whose best days are behind him, but his savvy, experience and leadership are still valued qualities by the Packers.
Second-year player Randall Cobb is on the precipice of doing big things in the NFL. In his rookie season, he was named a Pro Bowl alternate as a kick return specialist and had the NFL's Play of Year, an award given by the league, for his record-setting 108-yard touchdown return for a touchdown in the season opener against the New Orleans Saints.
James Jones, who has 187 career receptions for 2,704 yards and 20 touchdowns, is also part of the aerial circus.
The aforementioned group of five is joined by first-year players Tori Gurley and Diondre Borel, both of whom chose to end last season on the Packers practice squad despite offers from other NFL teams to be signed to their 53-man roster.
Rounding out the unit are Dale Moss, Jarrett Boykin, Curenski Gilleylen and Shaky Smithson.
Given the abundance of talent at the position, the Packers may consider keeping six wide receivers on their regular season roster this season.
GRADE: A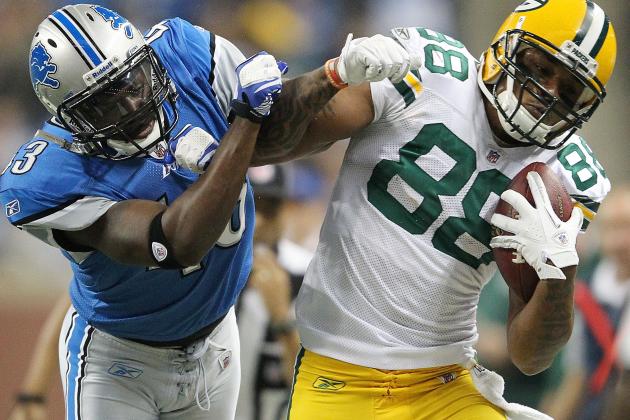 Leon Halip/Getty Images
Jermichael Finley
Last year, the Packers kept five tight ends on their roster. This year, they'll be challenged to do the same, considering the talent they have at wide receiver that will nearly necessitate more players kept at that position than normal.
The tight end group, however, is still very talented if they live up to their potential.
They're led by Jermichael Finley, a player whose raw skills are nearly as good as any tight end in the NFL.
He had 55 receptions in both 2009 and 2011 and is capable of producing even more if he becomes more consistent and overcomes the occasional bout of drops that plagued him in the second half of last season.
Andrew Quarless was next in line to receive the second-most playing time among tight ends in 2011 until a severe knee injury late last season put his future in jeopardy.
He still hasn't practiced this offseason and is a candidate to start the season on the physically unable to perform list, if not cut outright, if his injury is deemed too serious to return.
Tom Crabtree makes his living by being an adept blocker, but he'll be pushed for roster spots by a pair of second-year players, D.J. Williams and Ryan Taylor.
Williams offers potential as a target in the passing game, but Taylor's worth on special teams might make him an overall more valuable player to the team.
GRADE: B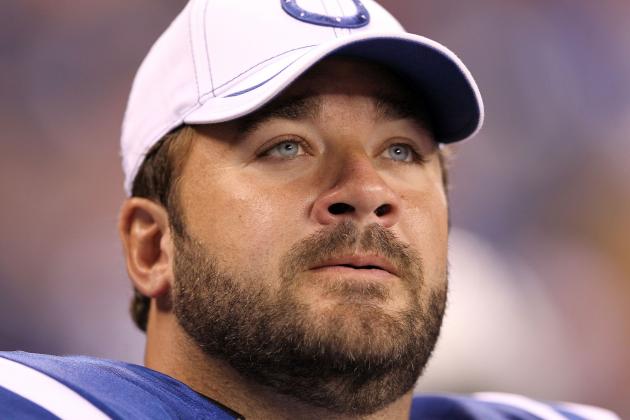 Andy Lyons/Getty Images
Jeff Saturday
The question concerning the Packers offensive line heading into the season is how they'll replace departed veterans Scott Wells and Chad Clifton.
At center, the Packers are substituting one of the best centers in NFL history, Jeff Saturday, for one coming off a Pro Bowl season in Wells.
The risk in signing Saturday as a free agent is that he's on the back end of his career. He may not be the long-term solution in Green Bay, but as far as 2012 is concerned, the Packers are hoping to squeeze one more effective season out of him.
And at left tackle, Green Bay can only hope for the continued development of Marshall Newhouse, who spent the majority of last season playing in place of Clifton anyway.
Newhouse struggled at times last season, but he's still young enough to expect major improvement.
If he stagnates, the Packers can turn to last year's first-round draft choice, Derek Sherrod, but his status is in question after sustaining a broken leg late in 2011.
The rest of the offensive line is is good shape in the hands of a still-young trio of players: Bryan Bulaga, Josh Sitton and T.J. Lang.
Barring injury, there's no reason to think all three of them aren't going to continue to get better. Each one of them has All-Pro potential.
Others in the mix for roster spots include rookie Andrew Datko, interior backup Evan Dietrich-Smith and a host of others.
Given how much the Packers pass the ball, the performance of the offensive line will largely be tied to how well they keep quarterback Aaron Rodgers upright.
If the line is able to make strides in paving the way for successful rushing attack, all the better.
GRADE: B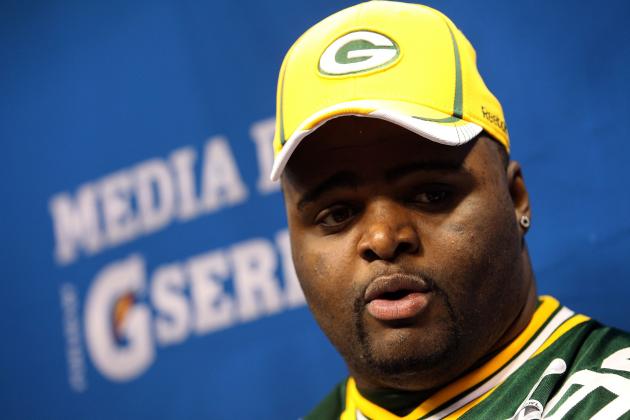 Ronald Martinez/Getty Images
B.J. Raji
When the defensive line couldn't adequately replace the pass-rush production of a departed Cullen Jenkins in 2011, its reputation took a hit.
Good for the Packers, the defensive line looks better equipped to rush the passer in 2012.
B.J. Raji and Ryan Pickett are the stalwarts of the group and obvious starters.
Both have proven themselves as quality NFL players and run-stuffers, but at the same time, their effectiveness might increase if they're spelled on a rotational basis and kept fresh.
To that end, the Packers traded up to grab Jerel Worthy in the second round and signed Anthony Hargrove as an unrestricted free agent. And both of them figure to boost the Packers pass-rush, especially as interior tackles in the team's sub-packages.
Worthy figures to get immediate playing time, but how well he performs remains to be seen.
The situation with Hargrove is more murky, as both he and Mike Neal are suspended to begin the regular season pending appeal, Hargrove for eight games and Neal for four games.
Their suspensions, at least temporarily, may open the door for other defensive linemen to play a factor in 2012.
The Packers are taking a chance on a pair of street free agents they signed this offseason, Phillip Merling and Daniel Muir. Neither will be expected to become major contributors, but it will be viewed as a bonus if they do.
Competing for playing time will be holdovers from last year's team, Jarius Wynn and C.J. Wilson, as well as fourth-round draft choice Mike Daniels.
GRADE: C+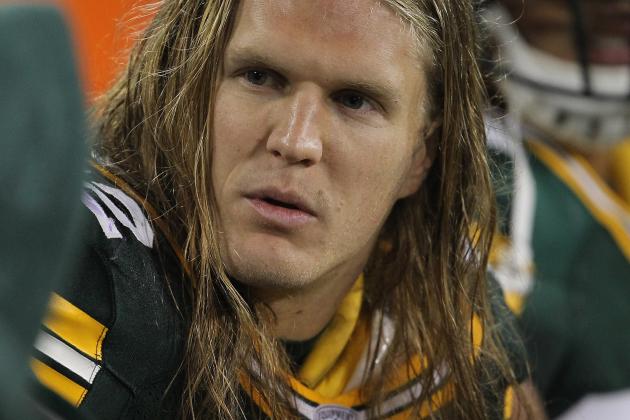 Jonathan Daniel/Getty Images
Clay Matthews
Clay Matthews alone makes this unit above-average, but beyond him lies a bunch of question marks.
Fortunately for the Packers, Matthews is a beast of a linebacker, and even after having a relative down year in 2011, his ceiling is still high.
Matthews managed only six sacks last season after putting up double-digits in each of his first two years in the NFL. But part of the reason Matthews' production was down was because the Packers had too few players that could take pressure off of him.
They're attempting to rectify that situation, as they spent their first-round draft choice on Nick Perry.
Perry oozes potential, but how he transitions from 270-pound college defensive lineman to stand-up outside linebacker as a professional will be on display.
The Packers experimented with a slew of options opposite Clay Matthews a year ago without much success. Among them were Erik Walden, Frank Zombo and Vic So'oto.
Added to mix this year is undrafted rookie Dezman Moses of Tulane.
Barring injury, any backup outside linebacker attempting to make the team this season is going to have to make their mark on special teams with Matthews and Perry figuring to get the lion's share of the playing time.
GRADE: B+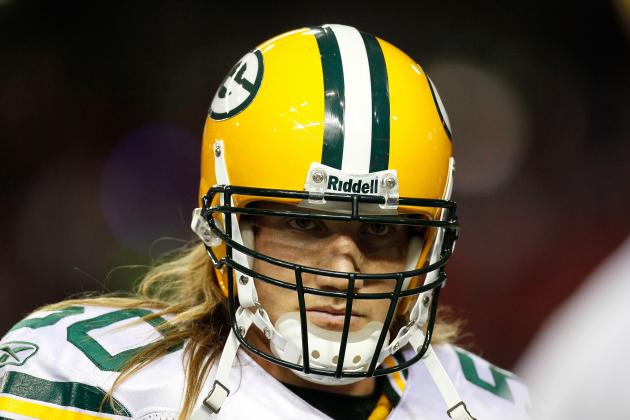 Kevin C. Cox/Getty Images
A.J. Hawk
With A.J. Hawk and Desmond Bishop, the Packers have a pair of smart, reliable players as their inside linebacker duo.
The problem is that smarts and reliability only get you so far in the NFL. What the Packers could use is more impact plays from the position, whether it be sacks, forced fumbles or interceptions.
One positive among both Hawk and Bishop is that they're not mistake-prone players. They're usually in the right position to make plays, but don't always make them.
The upper hand between the two of them goes to Bishop, who was more consistent last season, led the team in tackles and notched five sacks. As long as he can continue to improve upon that performance, he'll be in good shape.
Hawk, meanwhile, seems to be a player that's not above replacement: steady but not awe-inspiring.
Second-year player D.J. Smith will push for more playing time this season, as he did when Hawk and Bishop sat out injured last year.
The Packers also showed how highly they thought of rookie Terrell Manning when they traded up in the fifth round of the draft to get him this April.
Manning played 4-3 outside linebacker in college, but will transition to inside linebacker in the Packers' 3-4 scheme.
To add competition, the Packers also moved a pair of outside linebackers to the inside this offseason—Brad Jones and Jamari Lattimore. They'll fight with Rob Francois for a spot on the roster.
GRADE: C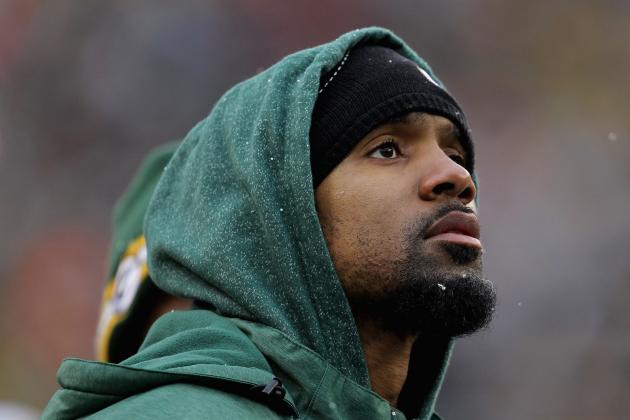 Jonathan Daniel/Getty Images
Charles Woodson
Coming off their Super Bowl season in 2010, the Packers seemed set at cornerback in 2011 with Charles Woodson, Tramon Williams and Sam Shields all coming back.
All three of them underachieved, at least compared to 2010, as the Packers pass defense gave up the most passing yards in the history of the NFL last season.
Woodson still has his value, both as a leader and as a player, as long as he's not expected to keep up with speedy wide receivers on the perimeter of the field.
The veteran cornerback has lost a step in his advancing age, but he's still among the league's best at defending the slot because of his toughness, willingness to tackle and ability to blitz.
Tramon Williams will be looking to rebound from a disappointing 2011, as a shoulder injury with nerve damage played a part in his regression.
Sam Shields will look to bounce back as well, except that he doesn't have the excuse of injury for the step backwards he took in 2011. A lack of aggressiveness was mostly to blame.
The Packers traded up in the second round of the draft to select Casey Hayward of Vanderbilt, which has spawned speculation whether he's good enough to allow Woodson to move to safety. Time will tell.
Being brought back as a free-agent signee is Jarrett Bush who, perhaps surprisingly, saw increased playing time in the playoffs last season on early downs and then gave way on obvious passing downs.
One more player with something to prove is Davon House, whose playing time as a rookie can only be described as sparing at best.
GRADE: B-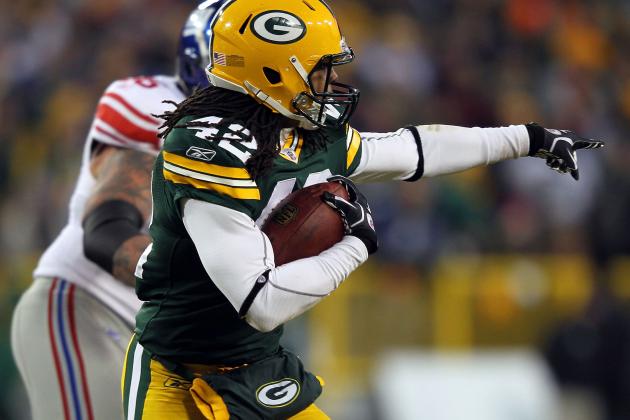 Jamie Squire/Getty Images
Morgan Burnett
When the Packers released Nick Collins in April out of concern for his surgically-repaired neck and his long-term well-being, the safety position in Green Bay became one of the least experienced units on the team.
The one man whose starting status appears secure is third-year player Morgan Burnett.
Burnett missed the majority of his rookie season with a torn ACL and played most of last season with a club-like cast on his hand.
The sky is the limit with Burnett, who's likely to take over the center field roaming role of Collins. Burnett has flashed with interceptions here and there, but he has to show he can put together a complete game.
Getting first crack at becoming part of the starting safety tandem with Burnett will be Charlie Peprah.
Peprah has seen plenty of action the past two seasons, filling in for an injured Burnett in 2010 and Collins in 2011.
And while Peprah has been solid, he hasn't been spectacular. In 2011, Peprah was third on the team with 94 tackles, second with five interceptions and first in interception return yardage with 147.
Due to Peprah undergoing offseason arthroscopic knee surgery, M.D. Jennings has been practicing with the starters during their offseason program. It will be up to Jennings to prove he deserves to stick with the first string.
Also pushing for playing time will be fourth-round draft choice Jerron McMillian.
And a move by Charles Woodson to safety can't be counted out, either.
GRADE: D+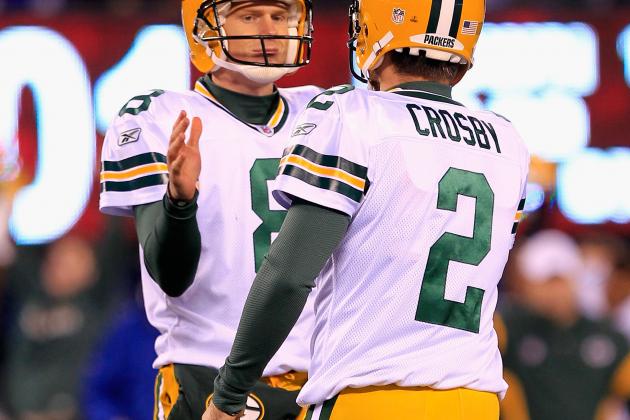 Chris Trotman/Getty Images
Tim Masthay and Mason Crosby
The Packers have an extremely underrated trio of specialists considering they play on the "Frozen Tundra" of Lambeau Field.
Kicker Mason Crosby put together his finest season as a professional in 2011 when his field-goal percentage exceeded 80 percent (85.7 percent) for the first time in his career.
The highlight of Crosby's season was probably when he broke the franchise record of 17 consecutive field goals, which he extended to 23 straight.
Matching Crosby's excellence was punter Tim Masthay, who set single-season franchise records for both gross punting average (45.6 yards per punt) and net punting average (38.6 yards per punt).
They join long-snapper Brett Goode, who has yet to have an errant snap in his four years in the NFL.
If you add in kick return specialist Randall Cobb and special team postseason captain Jarrett Bush, the unit is even better.
GRADE: A-