Liverpool: 15 Players They're Pursuing to Replace Dirk Kuyt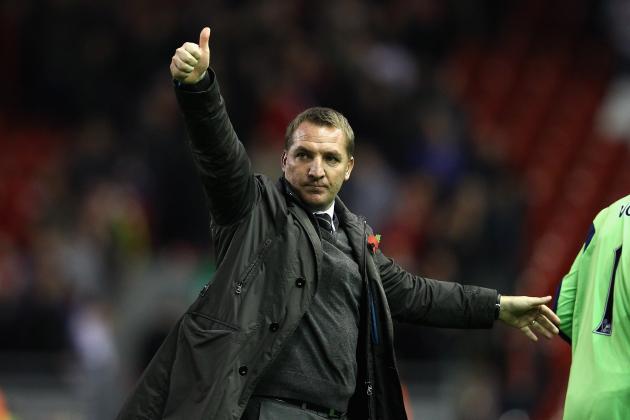 Clive Mason/Getty Images
Brendan Rodgers: New kid on the block
His importance at the club may have become less evident in the last 18 months but Dirk Kuyt will be a missed figure at Anfield for many loyal Kopites.
It was confirmed this weekend that the Dutchman had agreed a deal with Fenerbahçe and that he would be moving to the Turkish outfit in time for the new season.
Although he ultimately left the club for a paltry £1million, Kuyt's highlight reel during his time at Liverpool includes some stellar performances and crucial goals that will be remembered for ages to come in the red half of Merseyside.
At such a crucial time in the Liverpool script however, now is not the time for dwelling on the past, no matter how recent it may be.
The corpse may still be fresh but it's time to perform the post-mortem and consider who the top names will be to replace Dirk Kuyt at Liverpool.
Begin Slideshow

»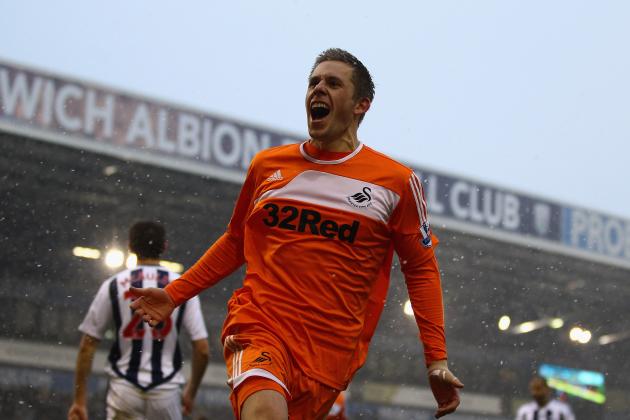 Julian Finney/Getty Images
Sigurdsson: More Premier League action to come
Having already established a strong connection with the Icelandic sensation during stints together at Reading and Swansea City, the first man that Brendan Rodgers is alleged to be chasing is Gylfi Sigurdsson.
Before he left the Swans' hotseat, Rodgers was reportedly close to sealing a deal to bring the Hoffenheim midfielder to Wales on a permanent deal.
However, it has now emerged that it may have been the manager that was proving the most tantalizing prospect and not so much the team he was going to be playing for.
While not a like-for-like replacement, Kuyt was no stranger to that vacuum of space behind the strikeforce simply labelled "the hole"; a spot Sigurdsson tends to frequent.
After arriving at the Liberty Stadium in January on a six-month loan deal, Sigurdsson managed an impressive seven goals and five assists in just 17 Premier League starts.
His former club won't like the idea of Rodgers hijacking a deal for 22 year-old Sigurdsson but with the calm head of Kuyt now out of the picture, it could be time to recruit the frosty demeanour of the £7.7m-rated Icelandic international.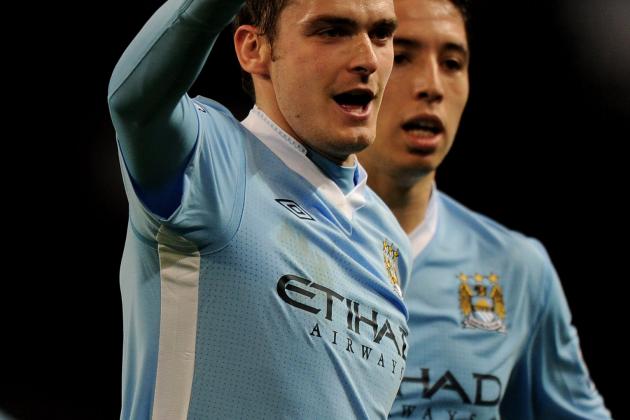 Gareth Copley/Getty Images
Johnson: A wasted talent at City
Adam Johnson's association with a move to Liverpool will come as a shock to nobody who has read their share of tabloid gossip over the last year.
The English youngster will undoubtedly be upset at having missed out on a spot on the Euro 2012 squad and if his chances are to improve in time for future international tournaments, a change of surroundings may be in order.
As things stand, Johnson is somewhat of an overshadowed figure for Manchester City, having played only four full Premier League games this season.
The 24 year-old is currently competing with the likes of David Silva, James Milner, Carlos Tevez and Samir Nasri for a starting berth and while he may have once had the potential to be better, Johnson's growth has been stunted by a lack of first-team football.
Kuyt played most of his Anfield career on the right-hand side, an area of the pitch that Johnson likes to call his own and while their styles may differ, the Manchester City winger could be a valuable asset at a slashed price of just £7m.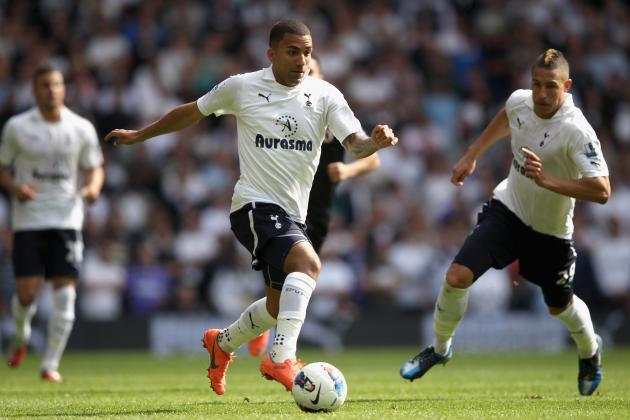 Clive Rose/Getty Images
Lennon: Always on the move
Another wing talent said to be attracting the eye of Liverpool is Aaron Lennon, who has looked out of sorts at White Hart Lane this campaign.
The Englishman was restricted to 19 starts in the Premier League this season and while it isn't an awful tally, it's a number that the pint-sized speedster may hope to increase at Anfield.
The formation and tactics that Harry Redknapp has employed within his side has meant that Gareth Bale and Rafael van der Vaart have been heavily preferred, leaving Lennon in the cold for decent portions of the campaign.
A strike duo of Andy Carroll and Luis Suarez is likely to ensure wing play and given the way that Rodgers did things at Swansea, it's likely that widemen may feature in the plans at his new club.
Lennon is a proven Premier League talent and if handed the responsibilities of a starting player once again, the 25 year-old may surprise his critics.
However, Spurs would need to come down on last summer's reported valuation of £20m if Lennon is to complete a move anywhere in the summer period.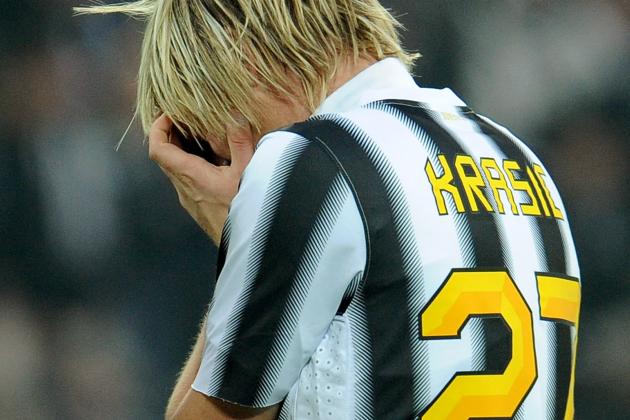 Valerio Pennicino/Getty Images
Krasic: An inconsolable figure at Juventus
With the player's agent even Juventus" target="_blank">admitting the harsh reality, Milos Krasic will seemingly move on from Juventus this summer.
According to reports, the Serbian international has been offered around to a host of Europe's finest in recent months as the Turin outfit seek to rid themselves of the winger but to no avail.
In a classic case of player/formation mismatching, Krasic's style of play simply doesn't seem to fit in too nicely for the Old Lady and after making just four starts for the Serie A club this season, Liverpool may be smart to snap him up.
Krasic was once being heavily linked with a move to Manchester United but eventually completed a switch to the considerably warmer climates of Italy; a decision he may live to regret.
Despite his decreasing involvement of late, Kuyt was a big figure for Liverpool on the right wing and his departure means that Maxi Rodriguez is now the only player really capable of fulfilling the needs of the position although Steven Gerrard and Jordan Henderson have both been known to do similar jobs.
In all honesty, Krasic's eventual transfer fee will be almost unknown until it happens.
Due to his lack of game time, the lowest fees linked with his signature have hovered around £7m while some outlets have quoted him at a headier price of £12m.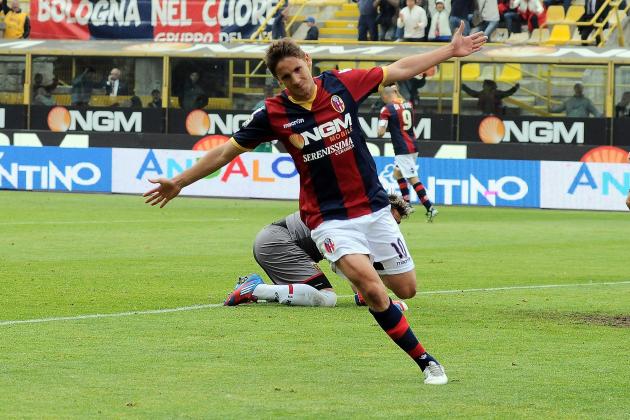 Mario Carlini / Iguana Press/Getty Images
Ramirez: Flying high
A familiar name in Liverpool headlines, Gaston Ramirez has been associated with a transfer to Anfield even before Kuyt took up the option of an exit.
The 21 year-old represents one of the more expensive items on this shopping list but for potentially good reason.
Ramirez scored eight goals and recorded five assists in the 2011-12 Serie A campaign and was a considerable factor in Bologna's 9th place league finish.
Uruguayan teammates, Luis Suarez and Sebastian Coates, will also be keen to link up with their compatriot and are said to be helping the matter of bringing Ramirez to the club.
Like Sigurdsson, Ramirez occupies a more central role behind the forward line but has proven to be capable of playing out wide just as Kuyt could.
The versatile nature of the attacker makes him a huge commodity and it will be interesting to see if the American-owned Reds splash the cash as much as they have in previous seasons after such a disappointing domestic campaign.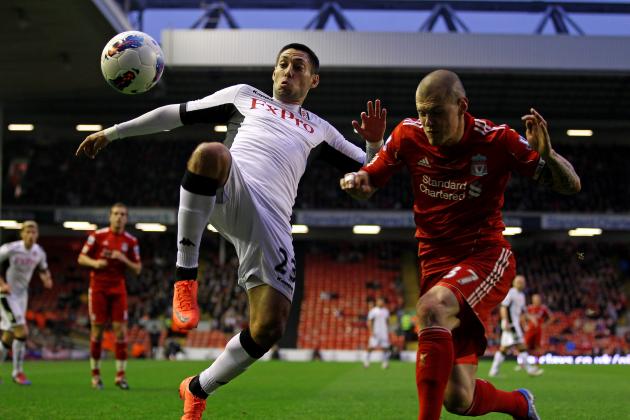 Clive Brunskill/Getty Images
Dempsey: A summer switch from white to red?
Although they can't immediately offer the dream of Champions League football that he seeks, Clint Dempsey may still consider a move to Liverpool should the Merseysiders come calling.
The Texan was the joint-fourth top scorer in this year's Premier League campaign with a tally of 17 and is now being linked with a number of European clubs.
Liverpool may wish to exploit their American ownership of the club in order to recruit Dempsey to their cause as the Reds undergo a slight remodelling this summer.
Like Kuyt, Dempsey can operate on both wings, behind the strikers and is even capable of featuring as a striker himself, should the need arise (let's not forget the form of Andy Carroll in this scenario).
With five years of Premier League talent now under his belt, Dempsey is a tried and tested talisman of the English top flight and at a rumoured price of just £7m, could be one of the summer's great bargains depending on who lands him.
At 29, Dempsey hasn't got too many years of 'prime' left in his locker but with Ryan Giggs showing the power of a little stretching over at Old Trafford, who's to say that US international hasn't got another eight years left in him?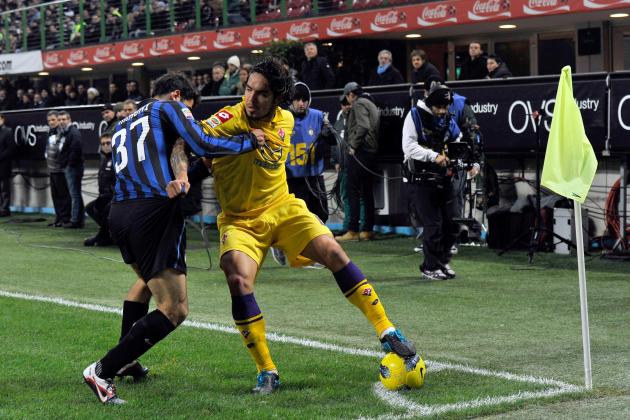 Claudio Villa/Getty Images
Vargas (right): A tenacious talent
Admittedly, Juan Manuel Vargas is a great deal more left-sided than Kuyt ever was but when considering the trends of some modern managers, the acquisition of another lefty doesn't seem so bad.
It appears to have become quite common for a coach to deploy a player on the opposite side to which his favoured foot would usually prefer, instead opting to cut inside depending on their motives.
Not so long ago, it was being proposed that the two could see a direct swap with Kuyt moving to Fiorentina in the process.
As we all know, that isn't going to happen.
However, the Reds may still opt to plough the £1m gained from Kuyt's sale into the purchase of another utility player.
Vargas has proven himself in just about every facet of the pitch apart from central defence and up front; a kind of versatility that every manager hopes to have at his disposal.
The Peruvian international has been rumoured regarding a move to Liverpool over the last year but the departure of Damian Comolli means that it's unsure whether or not the wing-back remains a target.
At an alleged £12m-valuation, Vargas is far from the most expensive player Liverpool will be linked with this summer and could also be used as backup for the faltering Stewart Downing.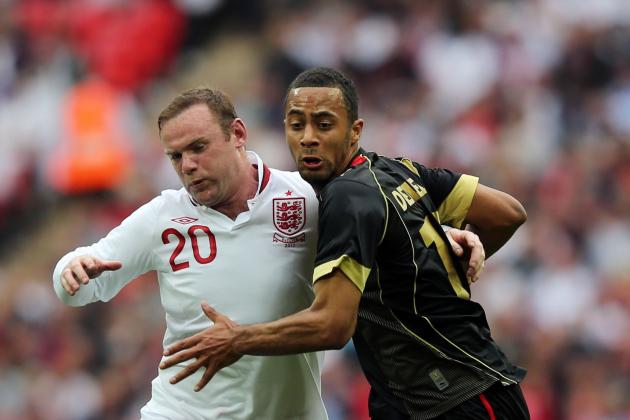 Ian Walton/Getty Images
Dembélé: Accustomed to big opposition
A key component in the uprising Belgium national side, Moussa Dembélé has been mentioned in the same breath as a variety of Premier League clubs in recent months regarding a summer transfer.
The 24 year-old was also an integral part of Fulham's 2011-12 campaign and featured for the Cottagers on 45 occasions this season.
Dembélé is comfortable on either wing and is, again, very capable of plugging the playmaking spot behind the strikers should the need arise.
Having come from a past in the Eredivisie himself, the attacker actually adopts a very similar approach to Kuyt, working around the pitch in a tenacious manner, chasing down balls where they need to be chased.
Martin Jol remains adamant that none of his bigger stars need to be sold but the manager may not have much choice in the manner should Liverpool match Dembélé's £10m valuation.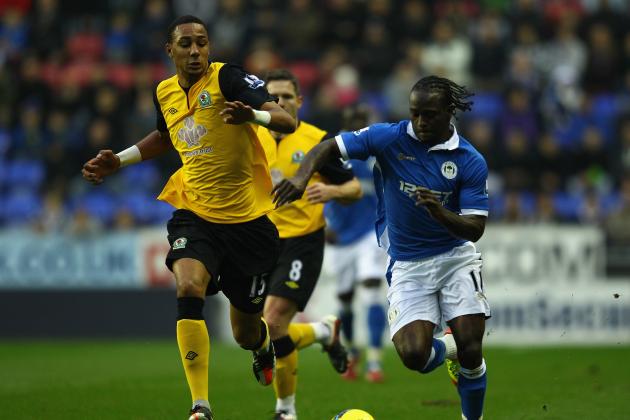 Richard Heathcote/Getty Images
Moses (right): One step ahead of the rest?
With just a year left on his current contract, it would appear as though the Wigan Athletic section of Victor Moses' career is set to come to a not-so abrupt close this summer.
The 21 year-old scored six goals and made six assists this season and was a very valuable member of the Latics side that managed to string together some season-reviving form in the last two months of the campaign.
Moses can play anywhere across the attacking line and, like Kuyt once did, favours a switch of side every now and then.
However, the former Crystal Palace starlet isn't very accustomed to playing as a striker like the Dutchman whose shoes he would be filling was, and while he may not have that facet to his playing style, his wing play is potentially better than Kuyt's.
Moses has announced on several occasions that his football future lies elsewhere and with Roberto Martinez's future still in doubt, he isn't the only Wigan player thought to be seeking a move away from the DW Stadium.
At a fee of just £5m, could Moses be the one to put an end to Liverpool's bad run of form and part the Reds' Sea of Misfortune?
Paul Gilham/Getty Images
Rodallega: Heading in the right direction?
Another cast member likely to join the Wigan exodus this summer is Hugo Rodallega.
The Colombian international isn't quite a like-for-like swap with the departed Kuyt but given the very low sum that they received for their Dutchman, a bargain deal may be exactly what the FSG-funded club are after this summer.
Rodallega is available on a free transfer after seeing his contract run out at the DW Stadium, making him a potentially lucrative investment should he be played in the right manner.
The 26 year-old scored just two goals this season and made seven assists for the Latics.
Now, for a centre forward, you'd expect those two numbers to be in the other order yet Rodallega has appeared as a more valuable supplier of goals than a scorer of them.
While this could just be a signal of the attacker's inefficiency when shooting at goal, it could also be a sign of his unselfishness and effectiveness in a role further back.
The South American has speed at his side and can already operate up front. If Rodgers were to choose to train him to play on the wings more often, the maestro, available as a Bosman transfer, could yet prove himself on the bigger stages of the English top flight.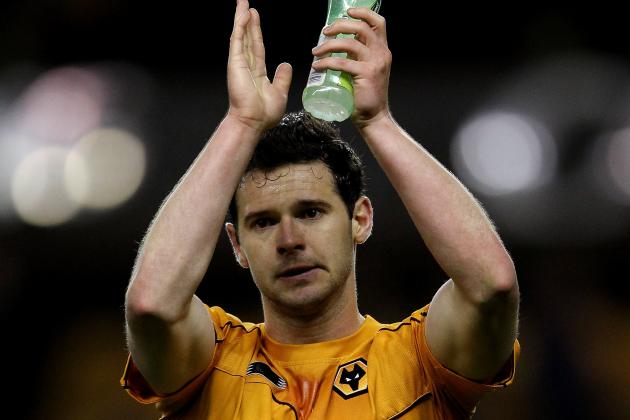 Scott Heavey/Getty Images
Jarvis: Time up at the Molineux?
After witnessing relegation with Wolves, Matt Jarvis would seem a very likely candidate to kick off any impending summer firesale at Wolves.
The Englishman finished the 2011-12 campaign with eight goals and six assists and was seemingly the driving force behind any good bit of form at the Molineux.
As has become somewhat of a motif amongst the candidates on this list, Jarvis can feature on either side of midfield but is more naturally a left-sided player.
What's more, he's English; a highly valued commodity in the top tier of English football.
Stoke are also thought to be seeking a deal to bring Jarvis to the Brittania Stadium in the summer months and could provide competition for the Reds' due to the safer guarantee of first-team football under Tony Pulis.
Jarvis may have been impressive this season but it still doesn't really warrant the reported £10m price-tag that Wolves have placed on the 26 year-old's signature.
Dmitry Korotayev/Getty Images
McGeady (right): Edging above his opponents
Currently plying his trade in the distant lands of the Russian Premier League, Liverpool may choose to bring Aiden McGeady in from the cold and back into the (slightly) warmer climates of the English top flight.
Recent weeks have seen the Spartak Moscow speedster linked with a move to Sunderland where the winger would link back up with former Celtic boss, Martin O'Neill.
Although a right winger by nature, McGeady can play in an attacking midfield position and is ambidextrous enough to be capable of playing down the left flank also.
McGeady recently announced his intentions to leave Russia, stating that if he weren't to achieve a move away from Spartak in the next two years, he'd happily leave his current surroundings on a free transfer, choosing not to pen an extension.
With this kind of fleeting loyalty in the public domain, Spartak Moscow may now opt to cash in on the Republic of Ireland international and sell him should the right offer come in.
The Krasno-Belye are reportedly seeking a decent return on their £9.5m purchase and could even make a profit with his signature currently worth a rumoured £12m.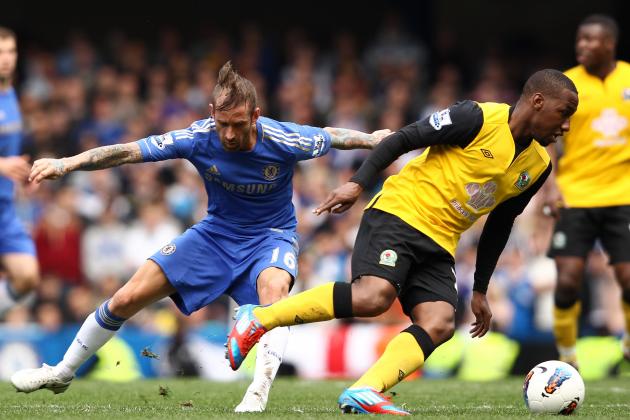 Ian Walton/Getty Images
Hoilett (right): Beating the best
Everybody loves a bargain, that's a common denominator amongst people and nowhere more so than in the financially volatile world of football.
After seeing his contract with Blackburn Rovers expire in the coming weeks, Junior Hoilett will presumably move on to greener pastures.
Recent months have seen the 21 year-old be linked with a transfer to some of Europe's most elite clubs including Manchester United, Chelsea, Bayern Munich and Arsenal.
As a free transfer, Hoilett's wages would be the only expense spent on his signing and should the opportunity arise to keep him in the Premier League, the Merseysiders would be smart to pounce on said opportunity.
Standing out in the Rovers team this season, Hoilett played in a variety of positions including both left and right win including a supporting striker role. And it would be highly interesting to see how the youngster might function amongst a higher grade of player.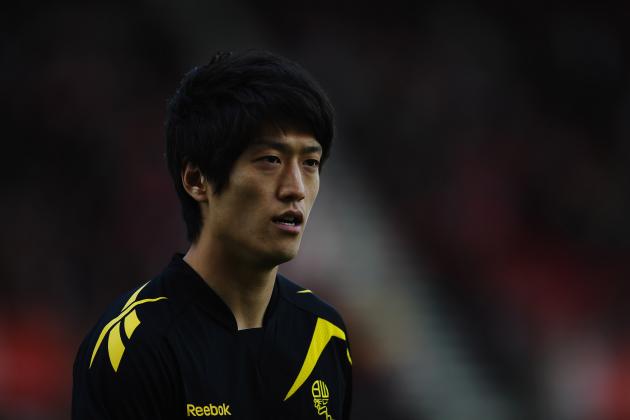 Laurence Griffiths/Getty Images
Lee: Set to depart the Reebok?
Probably one of the surprise additions to this list, the transfer speculation involving a Lee Chung-Yong switch to Anfield is one that hasn't seen much light since 2011.
It was in that year that stories of the supposed switch gathered the most pace but haven't gained much fuel since then.
Relegation to the Championship means that the Trotters are likely to see some of their biggest stars pack their bags and jet to other destinations over the summer and Lee certainly falls under that category.
Although he was absent for a vast, vast majority of the 20112-12 campaign due to a broken leg (he actually only player 20 minutes across the final two games of the season), Lee has shown himself to a be a very hard-working and talented provider of goals in his time in England.
The 23 year-old finished the 2010-11 term with four goals and eight assists in the league and despite his age, has already become a key part of the South Korean national team having made 40 appearances already.
One side that Liverpool would face competition from should they choose to make a move for Lee is Trabzonspor whose manager, Senol Gunes, managed the winger at FC Seoul and is keen on a summer reunion.
It's difficult to gauge the Asian asset's value at this point given his near season-ending injury picked up in 2011 but it could be relatively low depending on how desperate Bolton are to shift some of their relegated stars.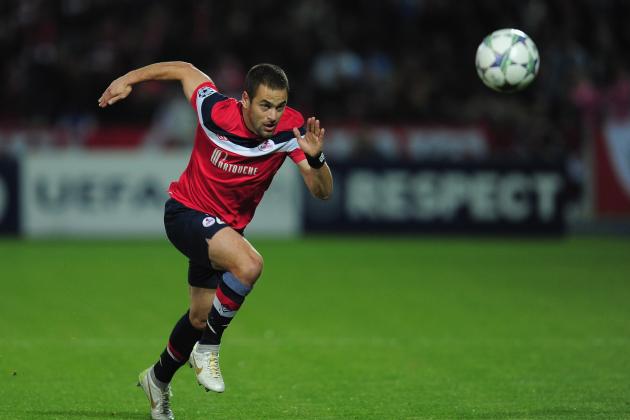 Jamie McDonald/Getty Images
Cole: Made the best out of Lille move
To round up our list of possible players to replace Dirk Kuyt comes a player who would probably be the cheapest option of the lot and is without a doubt the easiest to get their hands on.
Joe Cole spent the 2011-12 season on loan at Ligue 1 side, Lille, where he enjoyed a decent run of form after experiencing a disappointing 13 months at Anfield, much of which was spent on the sidelines.
The Merseysiders were responsible for a portion of Cole's £90,000-a-week wages during the loan spell but should they choose to keep him at the club, the former West Ham and Chelsea star could become more valuable if actually playing for the Reds and not elsewhere.
Cole can play on both the left and the right wing and is also experienced as an attacking midfield deployed in a more central role.
This kind of versatility makes the 30 year-old a very handy utility and should Brendan Rodgers succeed in integrating the midfielder into his Liverpool side where Roy Hodgson and Kenny Dalglish could not, he may save himself and his club quite a bit of money.
All statistics come courtesy of Transfermarkt.com and WhoScored.com.