Damien Sandow: 8 Potential Feuds for the Intellectual Saviour of the Masses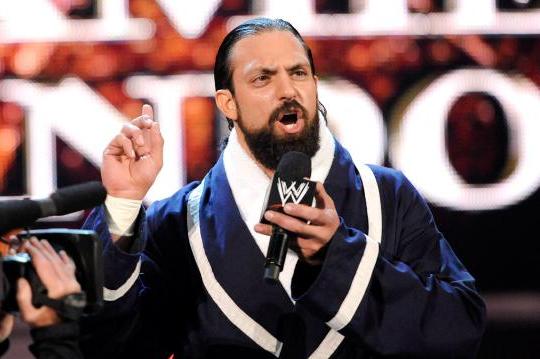 Photo: WWE.com
Damien Sandow is undeniably one of the hottest new prospects on SmackDown. His comfort on the mic and his fantastic gimmick instantly made him one of my favourites. The "Intellectual Saviour of the Masses" feels completely fresh on WWE TV.
There are too few believable, intelligent characters on across the roster. Almost everything about Sandow is refined and logical, even his ring attire. While some may question the choice of colour, I applaud it. It's designed to add to his class. Pink, purple and white are not aggressive colours, they are somewhat regal, and they contrast his aggressive in-ring style.
Speaking of which, one of the few sides of Sandow he haven't witnessed is his wrestling ability. We've seen glimpses on SmackDown, but nothing more than a glorified jobbing.
There is enough content in WWE for Sandow to work with that he should be immediately placed in a feud. It's more of an incentive for fans to care, and it will build his legitimacy as he progresses up the ranks of WWE.
This list contains potential opponents for Sandow. There are obvious picks, unlikely picks and maybe one or two you have not thought of.
Sit back while I cleanse you of your ignorance...You're welcome.
Begin Slideshow

»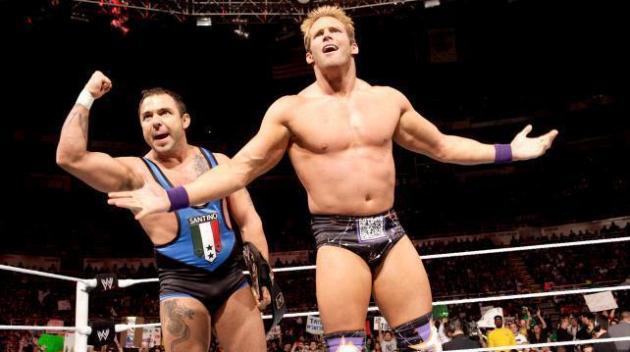 Photo: wwe.com
This is one of the obvious picks. In his promos, Sandow attacks social media and the all-night party scene. Zack Ryder embodies these things—I mean, he's always fist pumping.
Ryder would be a good fit for Sandow. A solid mid-card feud to get Sandow over. Both can cut promos, and Ryder can illicit reactions from the crowd (especially before WWE buried him).
Their matches would be exciting, and this feud could be stretched to a pay-per-view. Ryder would be Sandow's first target on his mission to "save the unwashed masses."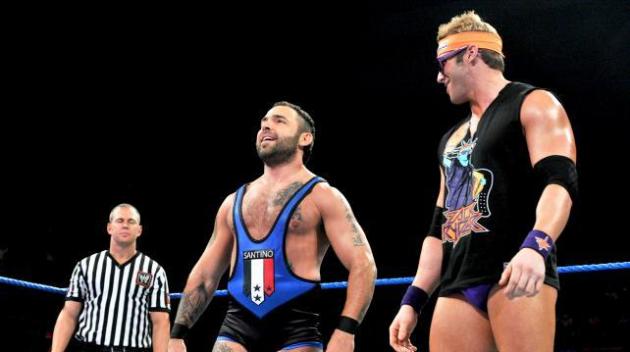 Photo: wwe.com
Like Ryder, Santino would be verbal fodder for Sandow. Santino is nothing but a comedy figure on Raw and SmackDown. His finisher, The Cobra, is insanely stupid, but he can honestly provide a lot of laughs.
Santino is over with the crowd, and a few losses to Sandow could help elevate him to a mid-card staple. Sandow could exploit Santino's ignorance and lack of intelligence. They could work an entertaining series of matches.
The only concern with this is I'm sure WWE would turn it into a comedy angle and ruin all credibility Sandow has built for himself by having him job out for some cheap Santino pops.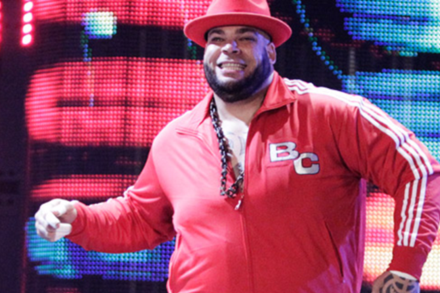 Photo: wwe.com
This would be interesting. Both Damien Sandow and Brodus Clay are in need of a feud. Brodus is highly entertaining in his role: He dances and kills a jobber, and everyone's happy. However, on Raw we saw a glimpse of his potential in a real feud when he confronted Big Show.
Of course, Sandow could denounce Clay's gimmick and shameless dancing as nothing but pandering. It would be an interesting feud due to the goal of getting both wrestlers over. They could have quality matches if Sandow did a good portion of the bumping.
I believe it could be a great feud if taken seriously. Similar to Ryder and Santino, Brodus just seems like a natural foil for Sandow's heel attitude.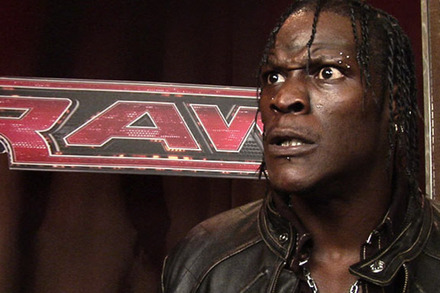 Photo: wwe.com
I'm not ecstatic about R-Truth's current mentally-ill/goofy character, but once again I wouldn't pass up the chance to see Damien Sandow rip him on the mic.
Truth's gimmick, combined with "Little Jimmy" has gotten him over with the kids (surprising, right?), and feuding with Sandow might get him some legit heat with the kiddies. Let's face it, it's easier to make kids hate you than adults.
I have no doubt that Sandow and Truth could work an entertaining, if not short, series of fast-paced matches. Also, as unbearable as Truth is on the mic, he would make for an interesting dynamic with Sandow.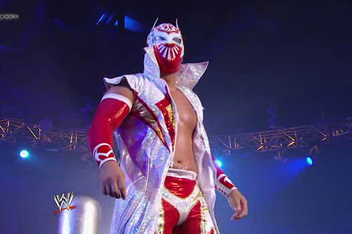 Photo: wwe.com
Now we come to the less obvious picks. Sin Cara recently returned to SmackDown for the first time in six months. I'm not crazy about Sin Cara in WWE; I think he is sloppy, and the lucha libre style he is famous for isn't translating very well with American wrestlers—unlike Rey Mysterio.
However I would certainly be more interested in Sin Cara if he were to feud with Damien Sandow. Sandow's focus could be on Sin Cara's mask and silence. He could call Sin Cara out for hiding behind a facade.
Sandow's mic skills could carry the feud if Sin Cara is still unable to cut a promo in English. The only concern would be the hit-and-miss wrestling of Sin Cara.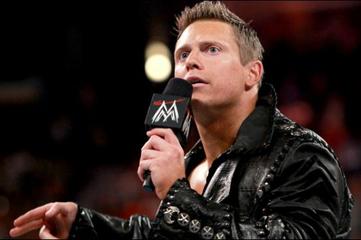 Photo: wwe.com
An out-there pick, I know. Clearly, The Miz is in need of a refocus. He needs a fresh feud and could even benefit from a complete turn. A face turn would allow this feud to happen, and could greatly benefit both wrestlers.
As I mentioned, it would be a restart for The Miz, but for Sandow, it's an opportunity to feud with someone who was a staple in the main event not too long ago.
Sandow could target The Miz's stint on reality TV shows (which he has condemned in promos) or even his obscenely fake tan. Either way, as unlikely as this feud is to happen, it would provide some very entertaining moments and matches, especially considering both men can hold their own on the mic.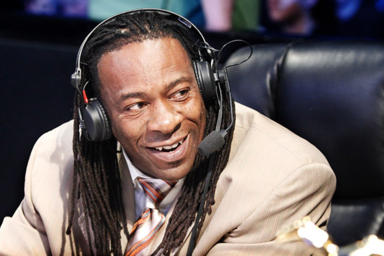 Photo: wwe.com
Now, I would mark out for this. Say what you want, but I enjoy Booker's commentary—it's hilarious. Booker has already taken issue with Sandow's attitude, and assuming another in-ring run isn't out of the question, this feud could be a major success.
Booker's last run was against Cody Rhodes at the end of 2011, and I think that was entertaining enough.
Booker is an established veteran with a large portion of the fanbase, and a victory over him would earn Sandow some legitimacy and heat.
If you've ever listened to Booker's commentary, there are numerous things that Sandow could demean him for. Booker even admitted on SmackDown that he had no idea what Sandow was talking about. This one really writes itself.
Sandow could gain some valuable TV experience with a veteran, get himself over, not to mention I'd be more than satisfied if the feud was booked.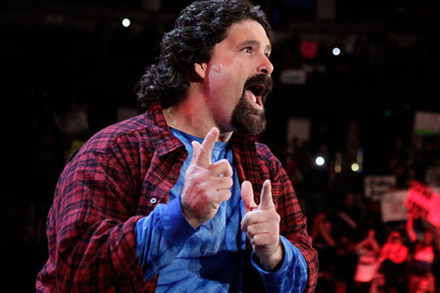 Photo: wwe.com
Now this is just ridiculous. I don't know if another Foley run is even possible at this point, but there's no harm in imagining.
If WWE really wanted to make Sandow a star, they'd call up Foley. Mick has a history of getting people over—The Rock, Triple H, Randy Orton, Edge. I'm not implying Sandow is on the same level as those aforementioned wrestlers, but it'd work.
Sandow could take offence with Foley's laid-back attitude and loose-fitting attire. Whether or not Foley could wrestle or have the type of match he excels in is up for debate, but for the sake of fantasy booking, this would certainly be exciting.
I for one would love to see The Micker put over Damien Sandow.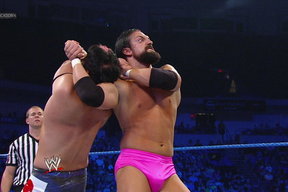 Photo: wwe.com
I certainly don't expect any of my more crazy suggestions to actually materialise into anything, but Sandow needs to get into a legitimate feud soon, and any of my more obvious picks would more than suffice.
He has a crazy amount of potential from what we've seen, and WWE needs to capitalise on it before the casual fan loses interest.
The "Intellectual Saviour Of The Masses" had better start actually saving people one of these days.
Follow me on Twitter for a more than satisfactory experience - @JPN151.