Detroit Red Wings: 6 Defensemen They Need to Pursue Via Trade or Free Agency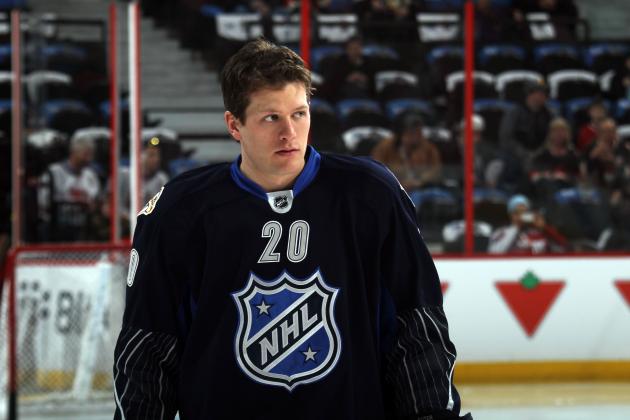 Bruce Bennett/Getty Images

The Detroit Red Wings will be looking to fill at least one (but likely two) spots on their blue line this coming season, and though there are many names to look at, few are worth consideration.
With the retirement of future Hall-of-Famer Nick Lidstrom on May 31st, Detroit now knows (along with the impending departure of Brad Stuart) that it must make some moves this off-season.
These moves could come through trade(s), but will most likely come through free agency.
Although the need seems steep, Detroit has top-rated defenseman prospect, Brendan Smith, ready to make the jump to the Red Wings next season.
But Detroit still needs at least one defenseman this off-season.
Let's take a look at the six candidates they will consider the most.
Begin Slideshow

»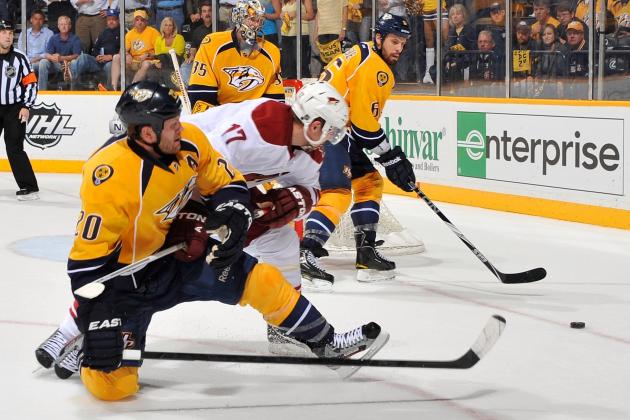 Frederick Breedon/Getty Images

It's no secret that Ryan Suter is the No. 1 unrestricted free agent defenseman on the market this summer.
The question is, will he make it to the market?
Nashville GM David Poile said that he and Suter's agent made "good progress...he's not saying anything that makes me feel that he doesn't want to play in Nashville."
It's no secret that Detroit has a monumental hole on their blue line after the retirement. The Red Wings would love a chance to sign Suter, but there's still just less than a full month until they would even be able to talk to him.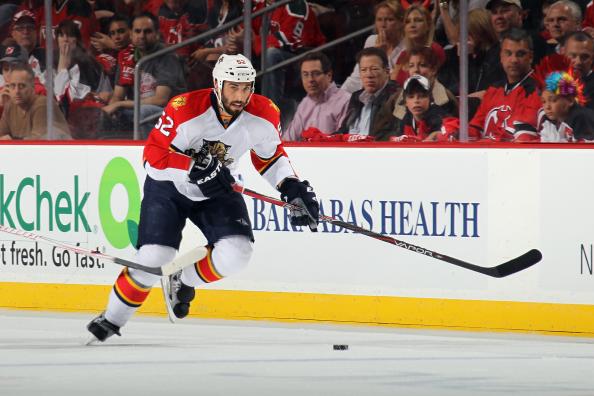 Bruce Bennett/Getty Images

Jason Garrison only had 33 points last season, but 16 of them were goals.
Nine of those were on the power play.
The 27-year-old Garrison had a cap hit the last two years of just $625,000 per CapGeek.com.
He will be due a raise of sorts, possibly to the $2.5-3 million cap hit area. But if Detroit signs the power play specialist to a multi-year deal, it would be worth it just to help Detroit's man advantage that was just mediocre last season.
Finally, Garrison was a plus-six last year and blocked 124 shots with 127 hits. Sounds like he could replace Brad Stuart if Stuart gets an offer in California.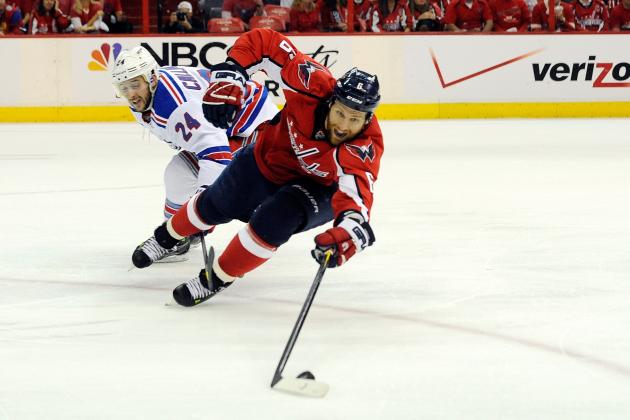 Patrick McDermott/Getty Images

The main reason Dennis Wideman would be appealing to Detroit is that he is a right-handed shooting, puck-moving defenseman.
A big downside to Wideman however, is that his turnover number is awful.
Wideman has 68 giveaways and just 30 takeaways.
Putting up 46 points and blocking 132 shots is great, but Wideman has turnover problems and they've showed up in Wideman's plus/minus number of minus-six.
Wideman has great potential to mesh better in a free-flowing Detroit offense instead of trying to fit in a defense-first Washington Capitals offense. But in order to do this, Wideman has to be able to keep the puck away from the front of the net, and turn the puck over where it won't end up costing his team a goal.
Wideman had a cap hit of just under $4 million over the last four years, and he would have to take that or less to play with Detroit next season.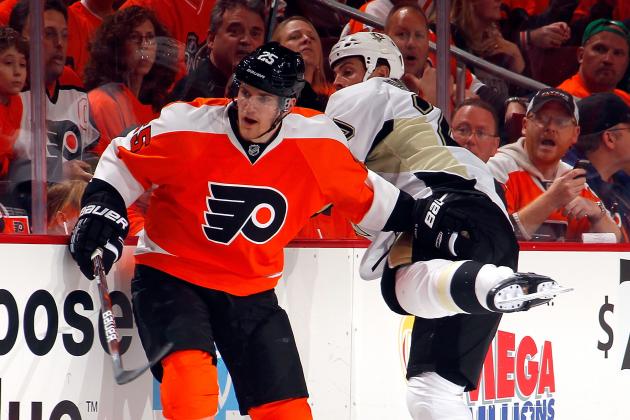 Paul Bereswill/Getty Images

Since scoring three goals on 11 shots over 12 games in his rookie season (followed up by his first full season, 11 goals, 31 assists), Carle has been more of an assist man and has never really showed the offensive promise in the goal-scoring department.
Carle is pretty good at blocking shots (164 this past season), but not really good at much else on the back end.
With 55 giveaways and only 18 takeaways, Carle also has a serious problem turning the puck over.
His 38 points (34 assists) are pretty good, but for his cap hit of $3,437,500 and his turnover number, Carle wouldn't be getting any kind of raise from Detroit if the Red Wings decide to pursue Carle.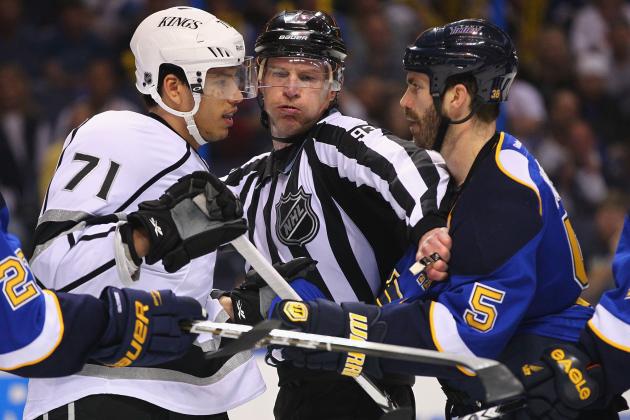 Dilip Vishwanat/Getty Images

Jackman has never put up more than 27 points in a season over his 10 seasons in the NHL.
But if you're looking at signing Jackman for defense, he is your guy. He doesn't back down from anyone, and he blocked 153 shots last year while laying on 106 hits.
Jackman wasn't particularly good in the playoffs this season with one assist and a minus-eight rating and minus-six against Los Angeles alone.
Nevertheless, Jackman's turnover numbers aren't as high as Carle's or Wideman's giving the puck away just 31 times compared to 22 takeaways.
His cap hit of $3.625 million (per CapGeek.com) is reasonable, and less than Brad Stuart's was last year.
In short, Jackman could be a good investment as he is just 31 years old.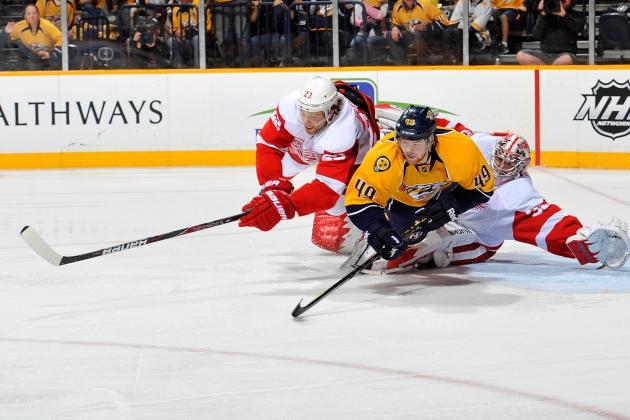 Frederick Breedon/Getty Images

Surprise!
You thought I was going to throw out a name like Filip Kuba, didn't you?
No, I wouldn't write a slide about a player that goes from minus-26 to plus-26 in one season; that's too flimsy for my liking.
The real story here is that Brad Stuart still has a chance to come back to the Red Wings next year.
Stuart wants to move to San Jose to see his family and likely play for the Sharks next season, but the problem is San Jose's current roster situation.
San Jose has five defensemen signed next season and they also have a restricted free agent in Justin Braun that they will look to re-sign this off-season as well.
That would give San Jose six defensemen before thinking about re-signing either Colin White or Jim Vandermeer.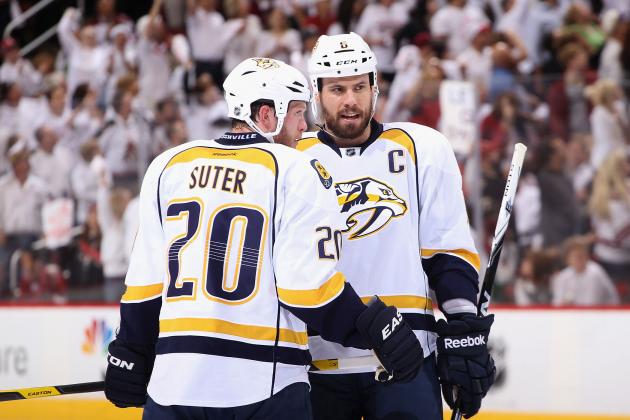 Christian Petersen/Getty Images

The fact is, the Red Wings are not guaranteed Ryan Suter.
As much as rumors may fly, Suter is still Predators' property until July 1 if he doesn't get a new contract finalized with the Predators.
Suter is the key cog in this year's free agency market and he will make any team that gets him that much better.
For more article updates, Follow @isaacesmith91