WWE Opinion: How Soon Until WWE Hits the Brock Lesnar Panic Button?
June 4, 2012

After a news cycle of approximately one week, two of the WWE's top stars have temporarily departed.  
Chris Jericho is gone.  Randy Orton is outta here, and let's not forget about Rey Mysterio Jr.'s particular 60-day suspension.  
All this bad news coincides with the similarly fatal news regarding the abysmal 2.7 rating of the last Raw featuring Randy Orton for two months.
In the thick of NBA playoff season, the WWE is now staring down the barrel of a weekly Raw SuperShow without Jericho or Orton, as they prepare to permanently switch to a three-hour weekly show starting July 23. 
Knowing Vince McMahon's propensity to change his mind and at times overreact to sudden crises, Brock Lesnar's feud with Triple H—widely believed by many to lead to a high-profile SummerSlam payoff match—could very well come earlier than expected. 
Brock Lesnar is currently signed to a very lucrative contract with the WWE, under which he only has to make 30-40 appearances. The contract is designed to accommodate a blockbuster WrestleMania 29 feud and match that will most likely be against The Rock .
The WWE has already burned through several of Lesnar's scheduled appearances, and although he is currently off WWE TV, all signs point to an early return to save Raw's ratings and short-term business as the top stars sit and young stars rot.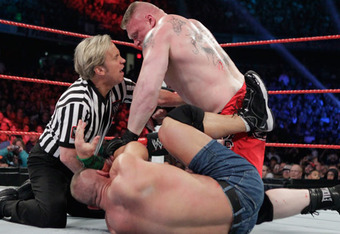 In recent history, the WWE has opted to rely on their big horses in "step-up" situations, instead of seizing the opportunity to showcase lesser known talent.  
That's why John Cena is pulling double-duty on live tours and CM Punk won't be a marine.  
Unless Batista or another big-name free agent agrees to alleviate the WWE's growing roster problems with a grand return, expect Vince McMahon to stick with what he knows and who he knows can draw. 
The arguments for Dolph Ziggler finally ascending to the top in the absence of Orton are futile. The youth movement travels at a snail's pace, no matter what the circumstances. 
The WWE will need to be smart with how and if they pull the trigger on an early Brock Lesnar return. Hopefully, any short-term gain will not be made at the expense of a long-term catastrophe. 
Who has the worst hair in sports? Join Big Nasty and Gabe Zaldivar as they engage in this hairy debate! Follow Big Nasty on Twitter @ThisIsNasty.