Oklahoma Football: Why Sooners Deserve to Be in 2012 BCS Title Conversation
June 4, 2012

Brett Deering/Getty Images
After a three-loss season in 2011 that left Oklahoma football fans wanting more, the Sooners are once again primed and ready for a big year.
OU started 2011 as the No. 1 team in the nation. A loss to an eventual 5-7 Texas Tech team, followed by disappointing losses to Baylor and Oklahoma State, helped drop the Sooners from the national radar. 
Now, Oklahoma will use the experience gained to make another run at the program's eighth title. ESPN's Mark Schlabach slates OU as the No. 6 team in his appropriately named "2012 Way-Too-Early Preseason Top 25," but the Sooners have many assets that will allow them to be in the title hunt.
Returning Starters
The Sooners have the experience to contend with anyone in the Big 12. On offense, OU has 15 players who have started at least one game. While 2011 may not have ended the way Sooners fans wanted, the experience gained will be invaluable to OU in 2012.
With the departure of DeMarco Murray after 2010, Dominique Whaley received considerable playing time as a walk-on in 2011. Whaley played in seven games before being sidelined by an injury, but that time on the field allowed him to learn the speed of the college game and how to succeed at this level. 
In addition to Whaley, Oklahoma will have Roy Finch and Brennan Clay running the ball, creating a trio with a combined 16 starts. Co-offensive coordinators Josh Heupel and Jay Norvell will be able to mix and match running backs to best fit each situation they encounter.
At wideout, junior Kenny Stills brings two years of starting experience to the receiving corps. Stills got his first taste at being the top receiver when Ryan Broyles went down against Texas A&M. While he did struggle in his first chance at the top, Stills will be working all summer to make sure he can handle his new role.
Defensively, Oklahoma has 12 players returning with at least one start. Travis Lewis' graduation has left a void in leadership on defense.
Junior safety Tony Jefferson will be looked at for leadership in 2012 with 21 starts. Jefferson is the leading returner in tackles for loss and interceptions. A position change from linebacker to safety will put Jefferson back in his comfort zone, allowing him to lead the defense by example. According to ESPN.com's Brandon Chatmon:
By all accounts, Jefferson has been one of the Sooners who has stepped up since the end of last season. He's taken a leadership role on the defense with the goal of becoming part of the foundation of the 2012 team.
With such an abundance of experienced players, OU will have an advantage against its opponents in big games as it fights toward a title.
Mike Stoops Back in Norman
After being fired from his head coaching job at Arizona, Mike Stoops was brought back to Oklahoma by his brother Bob Stoops to fix the defense.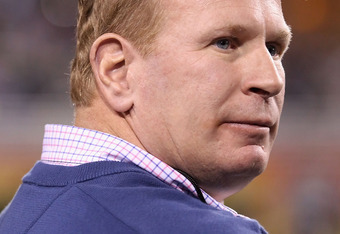 Christian Petersen/Getty Images
Mike coached the defense at OU under his brother from 1999 until 2004, when he was hired by Arizona to lead its football program. At Arizona, he had a sub-.500 record and reached only three bowl games in eight seasons. While he was unsuccessful at the helm, his ability as a defensive mind will prove to be important toward a chance at the BCS.
He has already displayed his intelligence through managing his personnel. In spring practices, Mike made the decision to move Jefferson back to safety.
"That's where we feel like we can utilize his abilities and his strengths," said new defensive coordinator Mike Stoops. "Tony is a very, very talented player. He can be good anywhere he plays. He's very easy to coach, highly instinctual and is a tremendous tackler." 
Stoops will also benefit from being back with his brother Bob and a coaching staff he has worked with before. Head coach Stoops told CBSSports.com's Bryan Fischer how it has helped the transition:
"It's been very easy," Bob added. "Most of the guys have worked with him before and with (linebackers coach) Tim Kish coming with him, they speak the same language. It's going well in practice and really been pretty seamless in how it transpired."
Landry Jones Stays for His Senior Season
TMZ-style speculation on the OU campus was that Landry Jones is returning to Norman to be with his fiancée, Oklahoma women's basketball star Whitney Hand. Whether he is staying for his team or his future bride, Jones will be crucial to Oklahoma's title chances.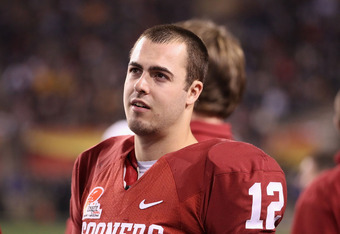 Christian Petersen/Getty Images
The Sooners quarterback is the active NCAA leader in passing yards, completions, attempts and touchdowns. He has put up huge numbers in the pass-heavy Sooners offense since taking the reins from Heisman Trophy winner Sam Bradford in Jones' freshman season.
Jones has made 37 career starts and has played more than any other player on the OU roster. He has also managed to stay remarkably healthy, making 34 starts in a row.
Despite his overall success at Oklahoma, he had a disappointing end to 2011 after losing Broyles to an injury. Without his No. 1 receiver, Jones threw only one touchdown in the team's final four games.
Besides losing Broyles, Jones may have also had his confidence shaken with the emergence of Blake Bell. Late in 2011, OU developed the "Bell-dozer" package, utilizing the third-string QB as a runner in short-yardage situations. The constant removal from the game might have worn on the starter's self-esteem.
With a full summer to work with Stills and OU's other receivers, life after Broyles will become much easier for Jones. He will also have time to look over film and work out any kinks in his game to boost his confidence. Jones is a top quarterback in college football, and he needs to start thinking like it.
If he can keep his composure and lead the team in the manner expected of him, Jones could re-emerge as a Heisman candidate in a season that could be truly special for the Oklahoma Sooners.