Carmelo Anthony: Can Score-First Star Ever Live Up to Broadway Hype in New York?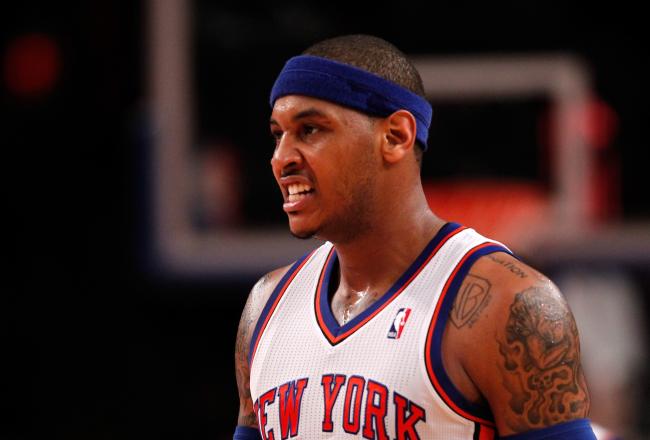 Jeff Zelevansky/Getty Images
When Carmelo Anthony and Chauncey Billups brought their high-scoring talents to New York in February 2011, fans went into a frenzy as Amar'e Stoudemire finally had some support on the floor. Even though the team was swept out of the playoffs by the Boston Celtics, the future looked bright.
The stage was set for this season to mirror the successes of its predecessor, but such did not happen. Billups became a victim of the amnesty clause and both Stoudemire and Anthony struggled without a true point guard. Even the emergence of Jeremy Lin didn't help the situation. The sad truth was that Anthony could not be the explosive Shawn Marion-type forward that then-coach Mike D'Antoni's system required him to be, and thus his abandonment of his coach's plan hurt the team.
As a result, D'Antoni resigned in March and doubt was cast as to whether or not trading half of a starting lineup for Anthony was the right move for the franchise. It was a valid question at the time, seeing as how Anthony was struggling horribly in terms of making shots and so was Stoudemire.
Though both players heavily improved under new coach Mike Woodson, the Knicks still left the playoffs early after losing to the Miami Heat in five games. With two consecutive first-round exits, the question still remains: Can Carmelo Anthony live up to the hype in New York?
Call me a dreamer, but my answer is yes. The fact is that Anthony's style just wasn't right for D'Antoni's coaching philosophy, which called for a point guard who could score lots of points as well as dish out lots of assists to explosive forwards who worked the wings. I'm sorry, but there is no reason that an upstart point man like Jeremy Lin should be taking more shots than Anthony or Stoudemire.
Can Carmelo Anthony live up to the hype in New York?
That being said, Knicks fans should be really excited for next season, when Mike Woodson will head the team for the whole year. His system is simple: Identify the best players on the team and let them carry the squad to victory. That approach with Anthony and Stoudemire helped the Knicks go 18-6 under him and had Jeremy Lin not injured his knee, chances are they would have done better in the playoffs.
Sure, Lin is a restricted free agent this summer, but Knicks management will do everything to make sure he is back on the team next year. With him focusing more on passing the ball to his two superstar teammates (as well as reigning Defensive Player of the Year Tyson Chandler), the possibilities are endless in New York.
Thus, though his first year and a half in a Knicks uniform may have been rocky, don't write Anthony off just yet. He's still a phenomenal scorer and in a system like Woodson's, success is the Knicks' to lose.
Still not convinced? Just look at the Nuggets team that Anthony helped lead to the conference finals in 2009. It was a very similar team, with two stars in Anthony and Billups leading the way in terms of scoring. Head coach George Karl recognized them as the two best players on the team, and thus he designed the offense around them.
Such will be the case with Mike Woodson, who creates offenses based on matchups and doesn't solely rely on the pick and roll and hope for the best. That said, with D'Antoni's offense out of the picture, fans will soon have reason to be very excited about Anthony and his talents.
This article is
What is the duplicate article?
Why is this article offensive?
Where is this article plagiarized from?
Why is this article poorly edited?

New York Knicks: Like this team?