Chicago White Sox: Chris Sale's Run from Proposed Closer to Potential All-Star
June 4, 2012

Jonathan Daniel/Getty Images
Less than a month ago, Chris Sale had to talk his way into rejoining the Chicago White Sox's starting rotation. A month from now, Sale could be appearing in his first All-Star Game.
Sale got Chicago back in the win column Sunday with his first complete game, going the distance in a 4-2 White Sox win over Seattle. On a day where the bullpen needed a little rest following a 12-inning defeat the day before, Sale's five-hit, eight strikeout performance was just what the doctor ordered.
The White Sox won their fifth straight series behind Sale, who gave up a two-run homer to Miguel Olivo to fall behind in the second inning. Chicago scored four runs in their next three at-bats and Sale blanked the Mariners the rest of the way to pick up his seventh win of the season.
Sale's 7-2 record is good for a share of the American League lead. His 2.30 ERA is the lowest of any of the pitchers tied with him in the wins.
The 119 pitches Sale tossed in the win were a career high, eclipsing the 115 he threw in a 7.1-inning, 15-strikeout performance in Tampa Bay last Monday. Chicago won that contest 2-1 and opened Joe Maddon's eyes, as told to the Associated Press:
You know what, that guy could have punched out a lot of teams 15 times. His stuff was that good. The entire package, what he did, was good. A lot of awareness out there.
Sale showed something in closing out his own game Sunday, punching out Olivo with a runner on base. Olivo hit a towering shot to dead center in his first at-bat, but swung over a slider to end his last one.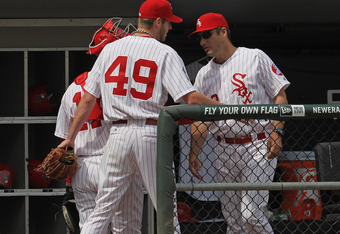 Jonathan Daniel/Getty Images
"Obviously, last hitter of the game and you are bearing down right there. It was tough," Sale told Scott Merkin of MLB.com. "He got me early, so just really try to keep the ball down to him and Flow [Tyler Flowers] did a heck of a job, just keep pounding, keep pounding, keep pounding and we eventually got him."
Sale seems to have the confidence of skipper Robin Ventura, who let him go out for the ninth. He also has the respect of Major League Baseball, who awarded Sale with the AL Pitcher of the Month Award for the month of May.
Sale was 4-1 with a 1.71 ERA in six games for the month, including an appearance from the bullpen May 8 when it looked like he was destined to wind up there for the remainder of the season. Arm soreness had been a concern, though Sale has now thrown deeper into each of his last five starts.
If Sale can put together a June that is anywhere as effective as his performance in May, a spot in the All-Star Game is a strong possibility. For now, though, Sale told Merkin that all he plans on focusing on is his next start.
I'm trying to take it day by day and inning by inning and really just trying to exclude every other thought other than executing pitches and whatever they throw down, that's what I'm throwing. That's where I'm trying to stay now.
June is off to a great start. Sale could take the mound in Kansas City July 10 as an American League All-Star if the execution continues.