MMA's Top 10 Light-Heavyweights, June 2012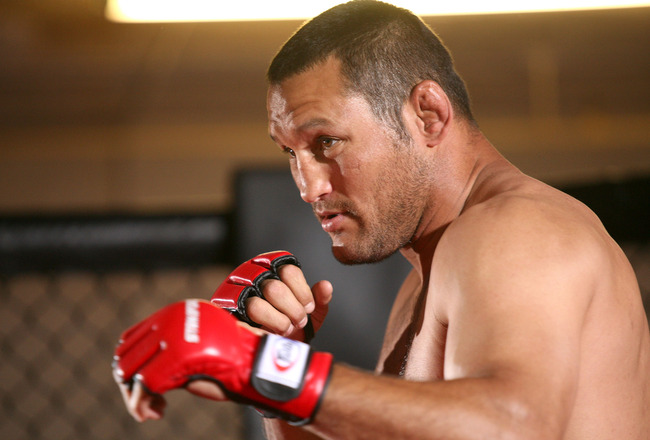 Valerie Macon/Getty Images
May was not the biggest month for the light-heavyweight division. As a matter of fact, the UFC had three events throughout the month, and only two fights were contested at 205 pounds.
While the bouts may not be overwhelming in quantity, the quality of actions was certainly impressive.
We witnessed the impressive debut of Glover Teixeira at UFC 146 as he dominated Kyle Kingsbury. Meanwhile, Igor Pokrajac picked up his third straight victory when he outstruck Fabio Maldonado at UFC on Fuel.
Over in Strikeforce, former light-heavyweight champion Rafael Cavalcante delivered an impressive submission of AKA fighter Mike Kyle in only 33 seconds. Was it enough to propel him back into the rankings? Let's take a look.
10. Antonio Rogerio Nogueira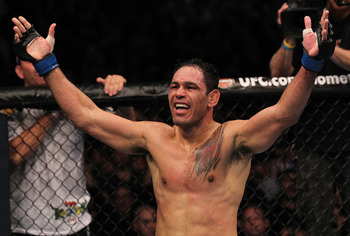 Courtesy of UFC.com
Promotion: UFC
Record: 20-5
Most Recent Fight: Won vs. Tito Ortiz at UFC 140
Next Fight: N/A
Previous Ranking: 10
Antonio Rogerio Nogueria, the twin brother of Antonio Rodrigo Nogueira, remains in the Top 10 this month, but hangs on by a thread.
Lil' Nog has seen his share of ups and downs since joining the UFC. He debuted big against Luis Cane, and recorded an impressive TKO victory to kick off a promising UFC career.
In consecutive bouts against fighters who possess a wrestling-centric attack, Lil Nog struggled. Nogueira won record a controversial decision win over Jason Brilz, but lost decisions to rising stars Phil Davis and Ryan Bader.
Nogueira last fought against Tito Ortiz, and finished the future Hall of Famer with body shots in the first round. With Shogun Rua in need of a new opponent, and Lil Nog waiting in the wings, the UFC fan base could be treated to a PRIDE rematch.
9. Forrest Griffin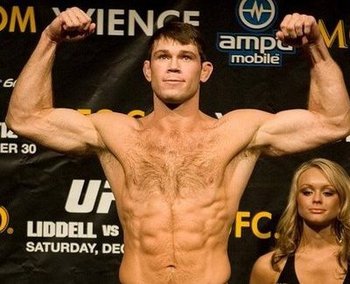 Courtesy of MMAHotStuff.com
Promotion: UFC
Record: 18-7
Most Recent Fight: Lost vs. Shogun Rua at UFC 134
Next Fight: vs. Tito Ortiz at UFC 148
Previous Ranking: 9
Former UFC champion Forrest Griffin has seen his fair share of ups and downs since winning the light-heavyweight championship. He was knocked out in back-to-back fights against Rashad Evans and Anderson Silva, and once again at the hands of Mauricio Rua.
His only wins during this period of time were decision victories over future Hall of Fame fighters Rich Franklin and Tito Ortiz.
Griffin looks to cap off a trilogy of battles with Ortiz at UFC 148 this summer. Both contests have gone the distance, with each man earning a split decision. This time, they will look to keep it out of the judges' hands, and definitively put an end to their entertaining rivalry.
8. Phil Davis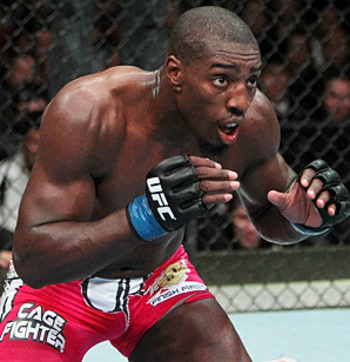 Courtesy of SportsIllustrated.com
Promotion: UFC
Record: 9-1
Most Recent Fight: Lost vs. Rashad Evans at UFC on Fox 3
Next Fight: vs. Wagner Prado at UFC on Fox 4
Previous Ranking: 8
NCAA stud Phil Davis tried to duplicate the meteoric rise of champion Jon Jones, as he decisively won bouts against a revolving door of stiff competition. He even invented his own submission hold, a modified kimura that he named the "Mr. Wonderful" after submitting Tim Boetsch.
His ascent included nine total wins, with five coming inside the Octagon. Other UFC victories include rising star Alexander Gustafsson, former WEC champion Brian Stann and Antonio Rogerio Nogueira.
The road to greatness has taken a detour, as Davis looked flat in a January main-event contest with former champion Rashad Evans. He has now been paired against promotional newcomer Wagner Prado.
7. Alexander Gustafsson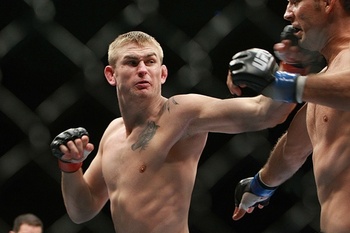 Courtesy of mmadiehards.com
Promotion: UFC
Record: 14-1
Most Recent Fight: Won vs. Thiago Silva at UFC on Fuel 2
Next Fight: N/A
Previous Ranking: 6
Swedish striker Alexander Gustafsson is a fighter still on the rise. After losing a bout to Phil Davis in April of 2010, "The Mauler" has been on a tear, defeating solid veterans Vladimir Matyushenko, Matt Hamill and Thiago Silva en route to a five-fight streak.
The win over Silva was a main event in Stockhold, Gustafsson's back yard. Using distance to his advantage, the Swede was able to strike his way to a unanimous decision against a tough striker.
Gustafsson currently does not have a fight on the docket. He could be paired up against Lil' Nog, as the two were originally scheduled to meet back in April. Another possible option is Shogun Rua, who is recently without an opponent on the main card of UFC 149.
6. Ryan Bader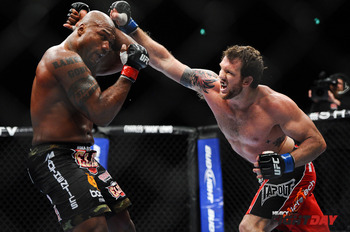 Courtesy of Heavy.com
Promotion: UFC
Record: 14-2
Most Recent Fight: Won vs. Rampage Jackson at UFC 144
Next Fight: vs. Lyoto Machida at UFC on Fox 4
Previous Ranking: 7
One of the most successful winners of The Ultimate Fighter, Bader showed that he was a fighter to look out for when he knocked out former main-eventer Keith Jardine, in early 2010.
Since then, Bader saw his fair share of ups and downs. He spent the next four fights defeating Lil Nog and Jason Brilz, but losing to Jon Jones and Tito Ortiz. He rebounded, however, at UFC 144, when he earned a unanimous decision victory over former champion Quinton "Rampage" Jackson.
Bader continues to climb the ladder, and is scheduled to face another former champion, Lyoto "The Dragon" Machida, in the co-main event of UFC on Fox 4.
It's a high pressure situation: A win for him at the August event would put him in contention, but a loss could brand him as a gatekeeper for the foreseeable future.
5. Lyoto Machida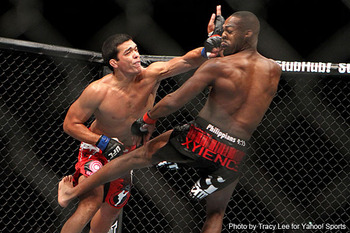 Courtesy of Tracy Lee for Yahoo Sports
Promotion: UFC
Record: 17-3
Most Recent Fight: Loss vs. Jon Jones at UFC 140
Next Fight: vs. Ryan Bader at UFC on Fox 4
Previous Ranking: 5
Speak of the devil, and he appears.
Lyoto Machida looked unbeatable, from the time he arrived in the UFC, to the time that he knocked out Rashad Evans to win the UFC light-heavyweight championship. Mike Goldberg welcomed fans to The Machida Era, as no fighter on earth was expected to beat the karate master.
Fast forward to 2012, and things look different for "The Dragon". Machida has gone 2-3 in his last five contests, including a controversial win over Shogun, a controversial loss to Rampage, a knockout win over Randy Couture, a knockout loss to Shogun and a submission loss to champion Jon Jones.
Regardless of his recent run, Machida has been fighting against the best in the world, and made Jones look vulnerable back in December.
There aren't many top stars who Machida has yet to face in his division, but the UFC found one for him later this summer: He takes on Ryan Bader in August, at UFC on Fox 4.
4. Shogun Rua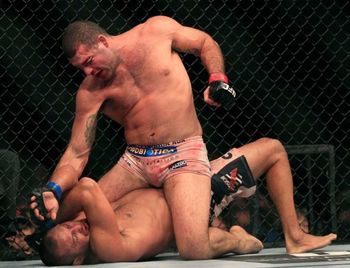 Courtesy of CagePotato.com
Promotion: UFC
Record: 20-6
Most Recent Fight: Loss vs. Dan Henderson at UFC 139
Next Fight: vs. opponent to be named at UFC 149
Previous Ranking: 4
The man known as Shogun may have seen his fair share of ring rust after a pair of knee surgeries, but his UFC run is full of impressive highlights nonetheless.
Rua knocked out Chuck Liddell, Lyoto Machida and Forrest Griffin en route to winning the UFC light-heavyweight championship, establishing himself as one of the best strikers in UFC history.
The former champion was part of an epic battle when he spent twenty-five minutes in November going to war against former PRIDE and Strikeforce champion Dan Henderson.
While Shogun got dominated by Jon Jones last year, so have most of the members near the top of this list. He is currently awaiting a new opponent at UFC 149 now that Thiago Silva has been forced to bow out.
3. Rashad Evans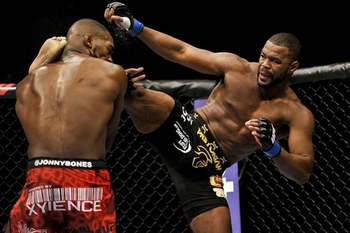 Courtesy of technorati.com
Promotion: UFC
Record: 17-2-1
Most Recent Fight: Loss vs. Jon Jones at UFC 145
Next Fight: N/A
Previous Ranking: 3
Somebody cue "Another One Bites The Dust."
Did you think that Rashad Evans would be the one to derail the Jon Jones hype train? Don't worry. You aren't alone.
The former UFC light-heavyweight champion was able to last the full five rounds against Jones, so he technically did better than anyone else who squared off with "Bones".
With career wins over Chuck Liddell, Forrest Griffin and Rampage Jackson, it's clear to see that Evans is an elite member of the 205-pound division, but if "Suga" wants to see gold again, it may be necessary to move down to middleweight.
Evans has not signed on for another fight since losing back in April. A matchup agains Rua was originally planned for last spring.
2. Dan Henderson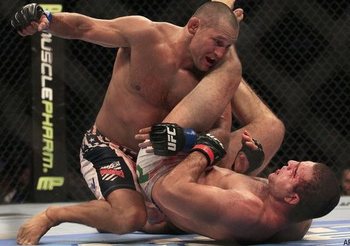 Photo Courtesy of AP Photo/Jeff Chiu
Promotion: UFC
Record: 29-8
Most Recent Fight: Win vs. Shogun Rua at UFC 139
Next Fight: vs. Jon Jones at UFC 151
Previous Ranking: 2
If there is any fighter left who has a shot against reigning champion Jon Jones, it very well could be Dan Henderson.
Henderson has won seven of his last eight contests, with his only loss coming in a middleweight bout more than two years ago. His last fight saw him victorious in the 2011 matchup against Shogun Rua, described by Dana White as one of the "top three" greatest fights in MMA history.
The man known as Hendo has never been knocked out in his career, and he finds a way to get better with age. With championship reigns in PRIDE and Strikeforce, along with tournament wins in PRIDE and the UFC, Henderson winning UFC gold later this year could make a case for him being the greatest fighter of all time.
Hendo takes on Jon Jones for the coveted UFC light-heavyweight championship on September 1 at UFC 151.
1. Jon Jones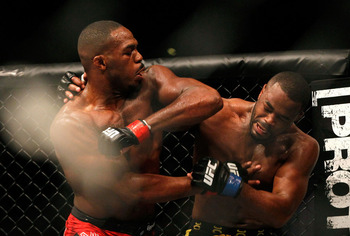 Courtesy of Kevin C. Cox/Getty Images
Promotion: UFC
Record: 16-1
Most Recent Fight: Win vs. Rashad Evans at UFC 145
Next Fight: vs. Dan Henderson at UFC 151
Previous Ranking: 1
With dominant wins over Rashad Evans, Lyoto Machida, Shogun Rua, Rampage Jackson and Ryan Bader, there are very few names worthy of title contention that Jones has yet to defeat. In little more than one year, Jones has almost cleared out what has historically been a heavily-stacked division in MMA.
The young star is currently in a fight with the legal system after an alcohol-induced auto accident landed him some hot water. Bones could one day earn the mythical status of greatest fighter of all time, but this incident showed us that the champ still has some maturing to do.
Jones faces his toughest challenge to date when he will meet Dan Henderson at UFC 151 in September. Jones has already done some seemingly impossible tasks—can he become the first man to knock out the legendary Hendo?
Keep Reading