7 Reasons Why John Cena Will Always Be the Top Dog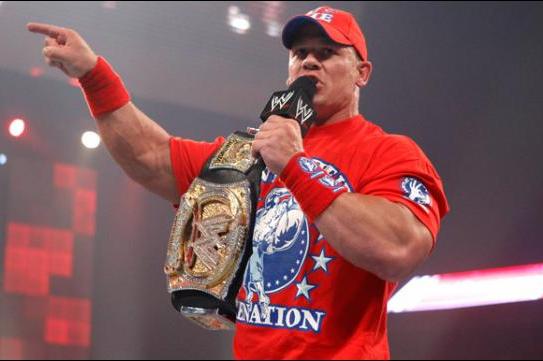 John Cena is a record 10 time WWE Champion. Photo by WWE.com
John Cena has been labeled by the WWE as their star attraction since he won the WWE Title at WrestleMania 21. Since then, he has won the World Title three times and the WWE Title a record 10 times.
It doesn't matter how much the fans boo him or shout derogatory terms. Once he was made to be the No. 1 wrestler, his fate was sealed.
While many are sick of having Cena shoved down their throats, the WWE developed his persona as a star character and are going to milk it for all it's worth—which is quite a bit.
From now until his retirement, Cena will remain a main-event attraction because he represents the WWE in a positive light, brings the company plenty of media attention and makes the company lots of money.
Here are the seven reasons why Cena will always be the top dog.
Begin Slideshow

»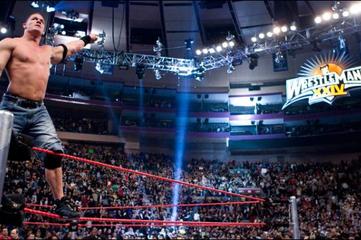 John Cena is depicted returning from injury to win the 2008 Royal Rumble. Photo by WWE.com
It's tough to say professional wrestling doesn't hurt. Look at the wrestlers who are out of action for up to a year from a single injury and some whose careers are cut short like Darren Drozdov and Edge. This form of entertainment involves the body taking punishment throughout the year with no time to properly heal.
Cena has only been majorly injured once during his time in the WWE. In October 2007, he suffered a torn pectoral muscle and was stripped of the WWE Title. An injury such as this takes six months to a year to properly heal.
Cena was pegged to miss WrestleMania 24, until he shocked the WWE audience as a surprise entrant in the 2008 Royal Rumble match. He returned to action only four months after his injury. The injury wasn't part of any storyline, it was legitimate.
Not only has Cena been able to stay injury-free, with the exception of the pectoral tear, but how quickly he was able to heal is impressive. Nobody wants to see a superstar get hurt, but like wrestlers say, this isn't ballet, and injuries come with the job.
If Cena was to get injured again, his ability to heal so quickly has to show his desire to compete for the fans.
John Cena is constantly working. Photo by WWE.com
Wrestlers are on the road 300-plus days a year. They're away from their family and have to miss moments that many take for granted. It's grueling on the body and mind.
Recently, it has been revealed that Cena filed for divorce from his wife. Whatever the exact reason for the divorce is between them, and it should be as this is a personal matter. The road schedule of a wrestler doesn't help any relationship.
It just shows how strenuous the workload can be. Some cannot handle it and pack up their bags and leave like Nathan Jones did in 2003. To not be home for three weeks at a time can cause anyone to crack.
But Cena is always there when the WWE needs him. With Orton's recent 60-day suspension, Cena has been advertised to appear on SmackDown in dark matches as a substitute.
When the call comes in for Cena to step up, he does so, and one doesn't hear him complaining. He's a workhorse.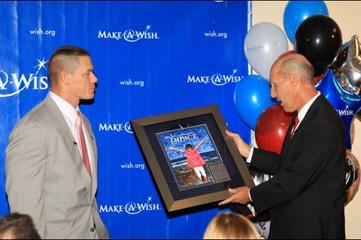 John Cena receives an award from the Make-A-Wish Foundation. Photo by WWE.com
Who better to represent the WWE than Cena? When people think of professional wrestling the horror stories of hazing, drug abuse and young wrestlers dying are the topics of discussion. Cena does the opposite and always attempts to give the WWE a positive reputation amongst the media, while staying out of trouble himself.
He's the biggest wish granter in the Make-A-Wish Foundation's history. For someone who has only been wrestling on the WWE roster for 10 years, this is beyond impressive.
In January 2012, Cena reached 250 wishes and is approaching No. 300—a record. This isn't required by the WWE, but he does it as he's a caring person.
Since 2003, the WWE has hosted Tribute to the Troops. These shows happen every year around the Christmas holiday to honor those in the military who protect our daily freedom. Of the eight events, Cena has appeared at six of them. Again not required, but there he is.
Add in all the sporting events, radio shows and TV appearances and it makes him a model employee that any company would want to represent them.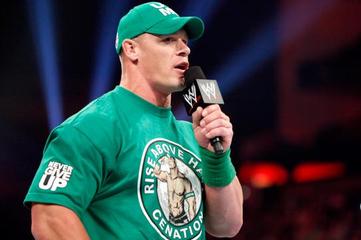 John Cena showcases some of his newest ring gear. Photo by WWE.com
Cena is a merchandise-selling machine. Look out into the audience and there's a mix of fans, young and old, wearing his WWE product. The point of the WWE is to entertain while making money.
After several months, Cena changes his appearance. This means a new t-shirt, hat and wristband. A change of appearance for Cena means the fans want the new merchandise too. His colorful merchandise works, regardless of how many fans call him a "fruity pebble" because of some line The Rock said during a promo.
This works especially well with young children (the base of Cena's fans) as they want more than anything what their hero is wearing, causing their parents to purchase the new clothing line.
It doesn't stop with clothes for Cena. He has dog tags, stuffed dolls, bedding, school supplies and so much more with his image. Any product the WWE produces, they make a line with Cena because they know it will sell.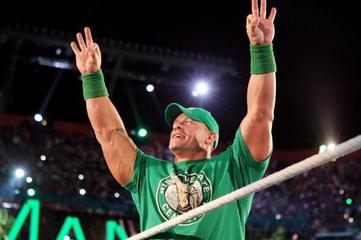 John Cena always has a smile on his face, despite a chorus of boos. Photo by WWE.com
WWE uses the word controversial to describe Cena because when he enters the arena, half the crowd is in applause, and other half is booing him. This is due to how he has skyrocketed to the top of the WWE with little wrestling skill.
There are few professional wrestlers who can walk out to a chorus of boos from the audience and still keep their cool, let alone put a smile on their face. When a sold-out arena of 70,000 at the grandest stage of them all known as WrestleMania are expressing their dislike toward one's ability, it takes all the power to brush it off and continue on.
Cena seems to absorb the hate, and turns it around in his favor. He pokes fun at himself during promos making even those that dislike him for a brief second enjoy what he just said. Cena can turn haters into fans.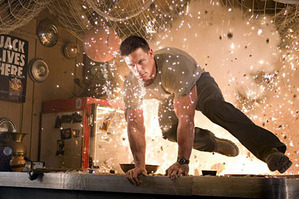 John Cena stars in The Marine. Photo from movies.ign.com
Cena starred in two WWE produced movies The Marine and 12 Rounds. Since then, he has continued to star in non-produced WWE movies and made several TV appearances. The significance here is that he got the taste of Hollywood and didn't leave the WWE like The Rock because he's loyal to wrestling.
There's nothing worse than building a wrestler up and having them leave the company to become a full-time actor and part-time wrestler. Cena has shown that he wants to be a wrestler and isn't going anywhere.
Instead of running to Hollywood, have the movie companies come to Cena and work around his WWE schedule. It couldn't hurt the WWE to partner up with a large movie production company to work jointly on a project. This would also keep other wrestlers from leaving the company by showing them that they can be a full-time wrestler and still act on the side.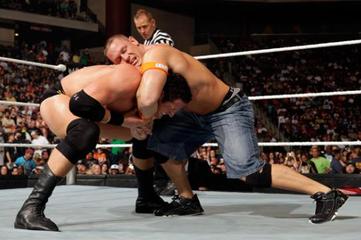 John Cena works with rising star Wade Barrett. Photo by WWE.com
Since the WWE has already made Cena their next big star, they could keep him in that limelight to help elevate other superstars.
A win over Cena means big opportunities for his opponent as Cena doesn't lose often, and many of his defeats come from the same select wrestlers. It's a great way to bring young and new talent over that threshold needed to be considered for main event status.
So if Cena keeps winning and is made to look unstoppable, it's a win-win scenario. The WWE keeps their star talent at the top, while slowly bringing in new wrestlers to defeat him and get them over.
Cena is not going to lose his spot anytime soon as the WWE's top star, so if that's the case at least transcend other wrestlers that need a big win by defeating Cena to get them over with the fans.