Tiger Woods Ties Jack Nicklaus' PGA Tour Record of 73 Titles at 2012 Memorial
June 3, 2012

Andy Lyons/Getty Images
Never let it be said that Tiger Woods has no sense of golf history. After winning his 72nd PGA Tour title at Arnold Palmer's Bay Hill Invitational, he has now tied Jack Nicklaus's career victory total of 73 by winning the 2012 Memorial Tournament, Nicklaus' tournament. 
And he got to shake Nicklaus' hand afterward. 
"It's been pretty nice. Since I turned pro, to do it at age 36, it's not too shabby. I've been very proud of what I've go done so far professionally," Woods told Peter Kostis afterward. Nicklaus was 46 when he won his 73rd event, which was the 1986 Masters.
"I never really missed a shot today. I hit it great and had the pace of the greens today." Woods added.
On one of most demanding courses on the PGA Tour, Woods struggled with the flu, with allergies and with his own game until the back nine on Sunday when he birdied the 15th, 16th and 18th holes to win.  It was somewhat excruciating to watch. 
Woods seemed to be millimeters from form, but somehow he just could not get putts to drop or shots to land on the green for good birdie chances. You could tell his A game was just itching to get out, but somehow it couldn't.
Finally he birdied the 15th, a par five, to pull into a tie for the lead. Then the Old Tiger Miracle Shot surfaced.
From the rough behind the green at the par three 16th, Woods pulled off a practically impossible, 17-yard, downhill chip-in that even Nicklaus said was the best shot he had seen at his tournament. He gave it the fist pump, and looked like Old Tiger.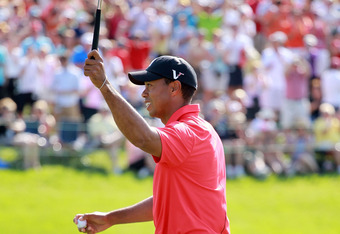 Andy Lyons/Getty Images
"He had one place to land the ball," Nicklaus said. "If he hits it long, he's not going to win the tournament."
Woods said the shot was significantly harder than his previous chip-ins at the 14th, which he has done three times in the past at Muirfield Village.
"The thing about 14, it was softer," he explained about the conditions in years past at the 14th compared to this Sunday. "This thing, if I leave it short, it's going to roll left. If I hit it long, it was in the water." 
The lie he said, was not at all good. "It was just marginal to where it brought water into play." He thought it was going to be short and claimed it was one of the hardest ones he has made.
Playing from behind for 15 holes, Woods seemingly could not oust Rory Sabbatini and Spencer Levin.  
In the end, it was a combination of Woods surging ahead and Sabbatini and Levin doing themselves in. Levin bogeyed the 10th, 12th and 17th, and doubled the 13th to fall to under five. Sabbatini was steady all day, posting birdies at the 11th and 12th to take the lead when Levin failed. He held that spot alone until Woods tied him with birdie at the 15th.
Then Sabbatini made the mistake he could not make—he bogeyed the 16th to fall one back of Woods, and the rest was history. Real golf history. Woods rolled in the 8'10" birdie putt at the final hole for No. 73. 
Kathy Bissell is a Golf Writer for Bleacher Report. Unless otherwise noted, all quotes were obtained first-hand or from official interview materials from the USGA, PGA Tour or PGA of America.