2012 New Orleans Saints Position-by-Position Breakdown: Offensive Line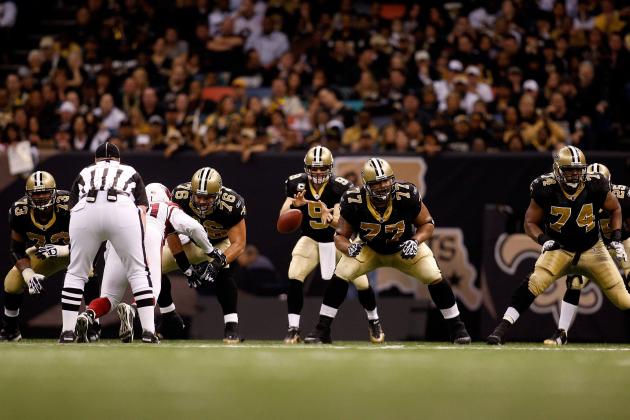 Chris Graythen/Getty Images

Since 2006, the New Orleans Saints offensive line has been one of the strengths of the team. No matter who leaves the team, the Saints have always plugged in the next player in line and never had a hitch.
That is especially the case this year. Carl Nicks followed the money to division-rival Tampa Bay, and Mickey Loomis replaced him with Pro Bowler Ben Grubbs.
Grubbs is the first lineman who was brought in to start since Jeff Faine in 2006. Faine was brought in via trade, and Grubbs free agency.
The Saints have done a great job of drafting talent for the offensive line. Three out of the five starters on the line were home-grown talent, so to speak, and it could be four if Matt Tennant takes over the starting center position from Brian de la Puente. That's a testament to offensive line coach Aaron Kromer.
The front office added two more lineman during the draft to add depth to the unit: Andrew Tiller and Marcel Jones. Let's hope Kromer can turn these guys into the next starting lineman for the Saints.
Begin Slideshow

»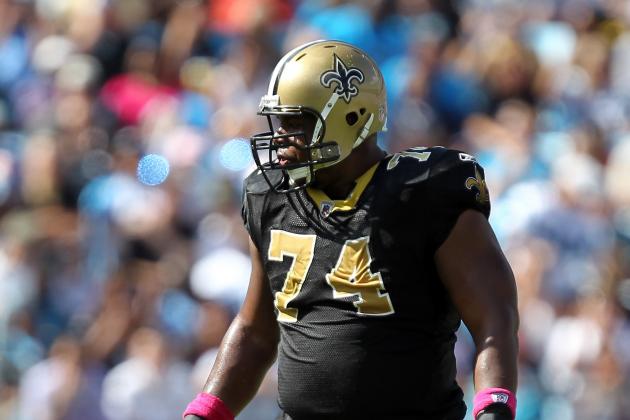 Streeter Lecka/Getty Images

Starter:
Jermon Bushrod
Bushrod, from Towson, is one of those "diamond-in-the-rough" players that the Saints front office has uncovered. After Jammal Brown went down for the year in 2009, Zach Strief, another "homer," was tasked to protect Drew Brees' blindside.
That didn't last long.
Bushrod took over the spot a game in and never looked back. He has started every game the past two years and led the league in snaps in 2011. He has gotten better each year he has started, culminating with his Pro Bowl selection last year.
Reserve:
Marcel Jones
Jones, a seventh-round pick out of Nebraska, will probably end up in this reserve spot due to the Saints lack of depth at the tackle position. Despite that, he is a better option than second-round bust Charles Brown. He has the ability to be a starter in this league but lacks fundamentals, a little, in the passing game (due to Nebraska's run-heavy, option offense).
Jones could develop the same way Strief has—begin his career backing-up on the left side but wind up starting on the right side.
Keep an eye on:
Aderious Simmons, undrafted free agent
Simmons, a New Orleans native, is an inspiring story. Never having played football in high school, he set out on a road trip to Miami to try out for the team. After being turned down by "The U", Simmons embarked on journey through four junior colleges in three states.
He was then offered a scholarship to Arizona St. He would go on to post nine starts for them, playing sparingly but effectively. The former basketball player wasn't drafted, but has a great shot to continue his development on the Saints practice squad.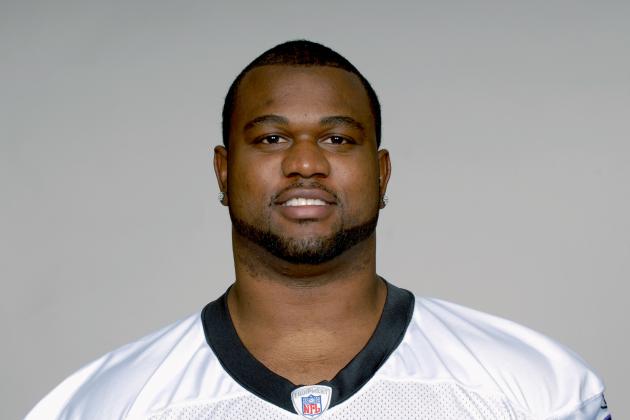 Handout/Getty Images

Starter:
Ben Grubbs
Grubbs comes over from the Baltimore Ravens to replace All-Pro guard Carl Nicks in the lineup. Grubbs is no slouch himself. He's coming off his first Pro Bowl selection in 2011.
Despite being a couple of years older than Nicks, Grubbs comes $2 million cheaper and at the same Pro Bowl level. He's still getting better and is pivotal in the Saints offense running smoothly. (In New Orleans' offense, guards are more important for protection due to Drew Brees' height.)
Reserve:
Eric Olsen
Olsen was signed a day after the regular season ended last year. He is an intriguing prospect who is very strong and could be a great reserve with this team. He is also versatile and can play center in a pinch. He adds depth, but will be nothing more than a rotational player on this team, barring injury.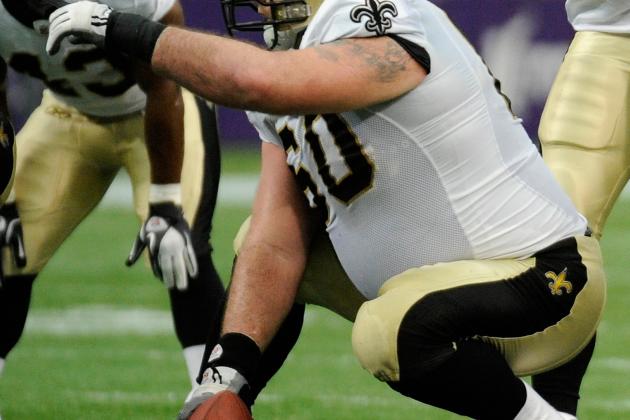 Hannah Foslien/Getty Images

Starter:
Brian de la Puente
De la Puente was a pleasant surprise in 2011 after Olin Kreutz's sudden retirement. He was found on Seattle's practice squad. He beat out Matt Tennant for the backup position to Kreutz in training camp, and it paid off.
He started the last 12 games of the season and did pretty well. He's the unquestioned starter going into the 2012 season.
Reserve:
Matt Tennant
Tennant has been a disappointment since the Saints traded up to select him in 2010 as their center of the future. He was given an opportunity to start when Jonathan Goodwin left after the lockout last year. His play in training camp inspired the Saints to sign Kreutz, and he lost the backup role to the aforementioned de la Puente.
Keep an eye on:
Brian Folkerts, undrafted free agent
Folkerts is a Division II All-American who had more than 40 starts at either right or left tackle in college. He is seen more of a center prospect in the NFL, but the lack of depth on this team bodes well for this versatile lineman. He has a nice shot of making the roster.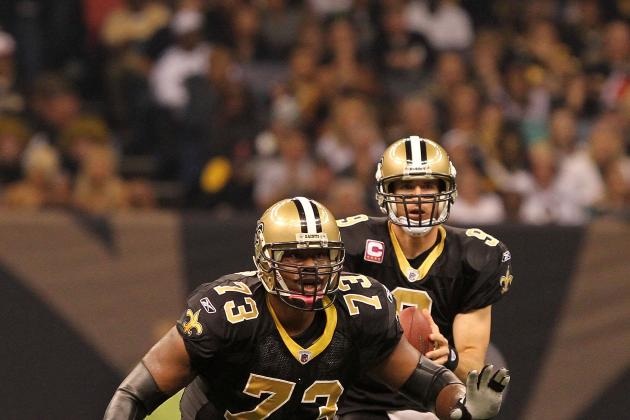 Matthew Sharpe/Getty Images

Starter:
Jahri Evans
Evans was also a small-school gem out of Bloomsburg (Pa.). He's one of the highest-paid guards in the NFL and one of the most consistent. He has started every game in his six years in New Orleans.
Since the 2009 season, he has been been named to both the Pro Bowl and the first team All-Pro in three consecutive years. Needless to say, the right guard position is locked up for quite a while in NOLA.
Reserve:
Andrew Tiller
Tiller was this year's sixth-round selection out of Syracuse. He was coached up there by former Saints offensive coordinator Doug Marrone. He is a masher who could be a solid rotational player behind the two Pro-Bowler's on this team and adds depth to a sorely needed unit.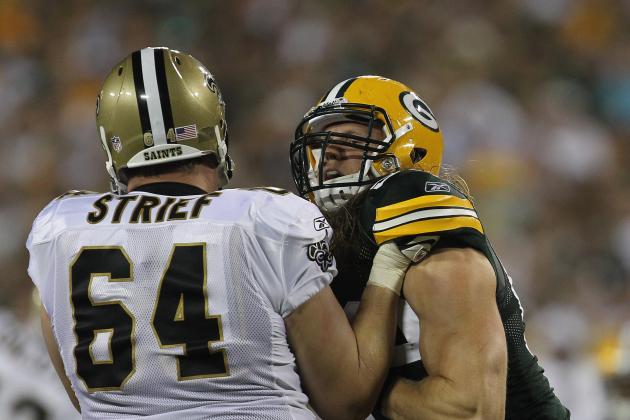 Jonathan Daniel/Getty Images

Starter:
Zach Strief
Strief has been a solid, steady starter for the Saints. He hasn't won any postseason awards and probably won't, but he's that "lunch-pail" type of player who teammates love. He was injured this year but came back sooner than expected when backup Charles Brown went on injured reserve soon after he was on the field.
He could be warming the seat until Marcel Jones is ready to start.
Reserve:
Charles Brown
As much as Evans and Bushrod have been revelations for this team, Brown has been the complete opposite. Since being drafted in the second round in 2010, Brown has been given opportunities to start but has lost that spot to the wily veteran Strief. It hasn't just been injuries that have plagued him in his career, but also his poor play.
There's a reason he dropped out of the first round, and New Orleans is learning that the hard way.
Keep an eye on:
Fenuki Tupou
Tupou started 23 games at tackle in college and was drafted in the fifth round a few years ago. He had injury problems early in his career, but none since being signed by the Saints. He is a very athletic tackle who could be a better backup to Strief than Brown.
He also has a higher upside, in my opinion, than Brown at this point due to the fact that his desire to play seems higher than the second-round bust.