Quick vs Lundqvist: Race for Vezina Is Razor-Close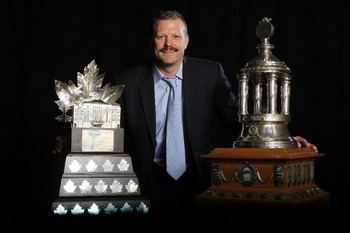 Tim Thomas of the Bruins captured both the Vezina and Conn Smythe Trophy last season; could Jonathan Quick do the same this year?
The Vezina Trophy is awarded each year to the top goaltender in the NHL as voted by the league's general managers. The three finalists this season are Henrik Lundqvist of the New York Rangers, Jonathan Quick of the Los Angeles Kings and Pekka Rinne of the Nashville Predators.
While most Rangers fans expect that this will finally be the year that King Henrik finally gets his due, a look at the numbers shows a razor-close race between Lundqvist and Kings netminder Jonathan Quick.
The following will compare the two finalists in all the key Vezina categories and make a prediction about the ultimate outcome.
Games Played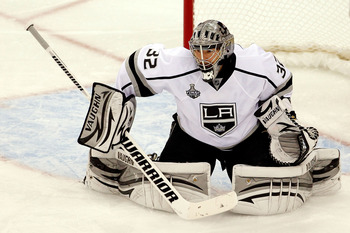 Quick started 69 games for L.A. this season, seven more than Lundqvist.
Paul Bereswill/Getty Images
A key part of the Rangers' strategy coming into this season was to get Henrik Lundqvist as much rest as possible. This is crucial for the team as they often rely on his stellar play simply to keep them in games.
With the presence of a capable veteran backup, Martin Biron, the Rangers were able to limit Lundqvist to only 62 regular-season starts. In his 20 starts, Biron posted a very respectable 12-6-2 record with a 2.46 GAA. While this certainly helped the Rangers keep the King fresher than in years past, it could hurt him when it comes to Vezina voting.
In Los Angeles, the story was a little different. Jonathan Quick was forced to start in 69 of the Kings' games this season. His backup, Jonathan Bernier, posted a 5-6-2 record with a 2.36 GAA in his absence.
Now, to many fans, a difference of seven games may not seem like a lot. But in reality, it could be one of the factors that voters look at, especially given how close the two come in all the other major categories.
Record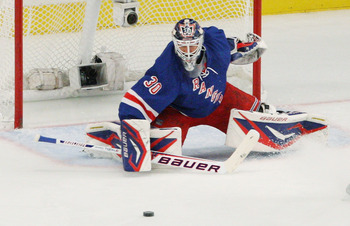 Henrik Lundqvist won 39 games in 2011-2012, the most in his career.
Bruce Bennett/Getty Images
Despite playing in seven less games than Jonathan Quick, Henrik Lundqvist posted more wins. In his 62 starts this season, the Swedish netminder posted a stellar 39-18-5 record. The 39 wins were a career high for Lundqvist and were the third most in the league behind Rinne and Penguins goalie Marc-Andre Fleury.
This is a crucial argument among those who believe Lundqvist deserves the nod. Despite playing less games, he was able to win more and lose less than Quick.
Jonathan Quick posted a 35-21-13 record in his 2011-2012 campaign. His 35 wins tied him for fifth in the league with Jimmy Howard, Tim Thomas and Mikka Kiprusoff. On the other hand, his 10 shutouts were tops in the league.
On this issue, it also bears pointing out that despite their recent success, the Kings finished eighth in the West, while the Rangers captured the top seed in the Eastern Conference.
Goals-Against Average, Save Percentage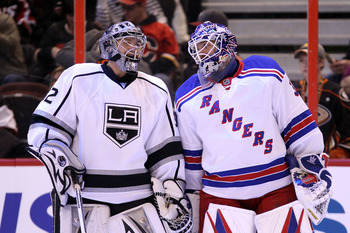 Quick and Lundqvist posted virtually identical numbers in goals against and save percentage.
Christian Petersen/Getty Images
Here's where the numbers start to look virtually identical.
In 2011-2012, Henrik Lundqvist posted an impressive 1.97 goals-against average.
Jonathan Quick? A 1.95 goals-against average.
How about save percentage? Again, no daylight here.
Henrik Lundqvist: .930.
Jonathan Quick: .929.
Overall. Lundqvist let in 10 less goals than Quick (123 vs. 133) but did so in seven less games.
It's just that close.
Do the Playoffs Matter?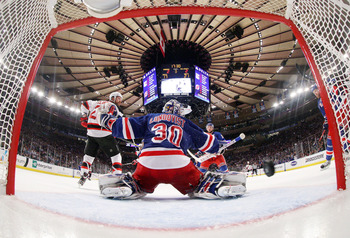 Both goalies played great in the playoffs, but will Lundqvist's earlier exit hurt him?
Bruce Bennett/Getty Images
The Vezina Trophy is supposed to be a regular-season award. But it's nearly impossible to ignore the postseason.
Both goalies played—or in Quick's case, are still playing—great in the postseason.
It has been largely through the play of their goalie that the Los Angeles Kings have emerged from the eighth seed out West to within two victories of one of the most improbable victories in Stanley Cup history.
During the playoffs, Quick has been lights out, posting a 14-2 record (undefeated on the road), with a 1.44 GAA and .947 save percentage. If the Kings do close out the Devils and hoist the Cup, it would be hard to imagine anyone else lifting the Conn Smythe Trophy for MVP in the playoffs.
On the other hand, Rangers goalie Henrik Lundqvist was himself a one-man show, getting his team within two victories of the Stanley Cup Finals. In the playoffs, Lundqvist's stats, though not as good as Quick's, were extremely impressive, posting a 1.82 GAA and a .931 save percentage. To his credit, Lundqvist also won two high-pressure Game 7s against Ottawa in the first round and Washington in the conference semifinals.
Now again, voters must only consider the regular season in making up their mind. Voting is done before the start of the playoffs so this will not affect the final tally. But as fans, free to make up our minds with all available information, this has to be considered.
Who Will Win? Who Should Win?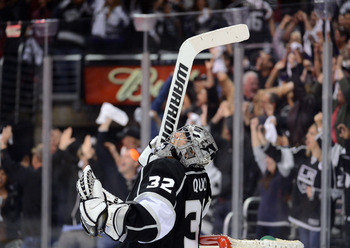 This race is so close it could go either way. While my heart says Lundqvist, my head leans towards Quick.
Harry How/Getty Images
This is one of those cases, in which there are many in the NHL, where you can make a convincing argument for both guys. With numbers nearly identical in many key categories, this is shaping up to be a very subjective vote.
Without Henrik Lundqvist, the Rangers are not a playoff team. Their lack of offensive firepower doomed them in the postseason and forced them to rely too much on a goalie who while great, is not superhuman.
With 39 wins, eight shutouts and a goals against under two per game, nobody will gripe if King Henrik hoists his first Vezina Trophy.
Jonathan Quick emerged as one of the league's elite goaltenders this season, and his playoff run has been nothing short of magical. It's very hard to ignore how well he has played this postseason. And while Lundqvist played stellar as well, Quick is two wins away from giving his team something that Lundqvist has not: a Stanley Cup championship.
Voters have to but fans will not ignore that fact. While my heart tells me that this is and should be Henrik Lundqvist's year, my head tells me that Jonathan Quick has stolen the show and will be adding another piece of hardware to a cabinet that could also include a Conn Smythe Trophy and a Stanley Cup.
Keep Reading

New York Rangers: Like this team?