Pacquiao vs. Mayweather: Biggest Barriers in the Way of the Superfight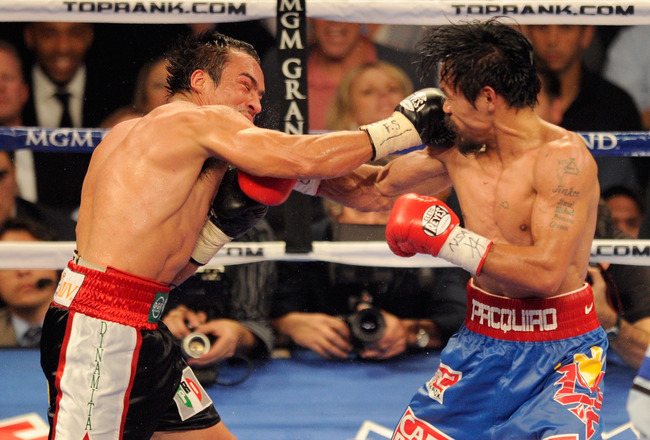 Ethan Miller/Getty Images
Manny Pacquiao is two days away from a fight against his "freshest"-ever opponent (via HBO), but it is not the bout that boxing fans are clamouring to see.
Speculation surrounding a superfight between Pacman and Floyd Mayweather Jr. remains unavoidable, despite the Filipino taking on a worthy adversary in Timothy Bradley.
Speculation is so intense that Mayweather spent much of the Miguel Cotto fight promotion handing out insults to Manny Pacquiao.
Both boxers have fought every great name that world boxing has to offer, except one, and it seems that both men's historical legacy cannot be secured without the other. Despite this, a fight between the two seems as distant as ever.
This slideshow will explore the 10 key factors that have so far prevented the fight from happening.
If there is anything missing, feel free to throw in a suggestion in the comment box.
Mayweather Is in Jail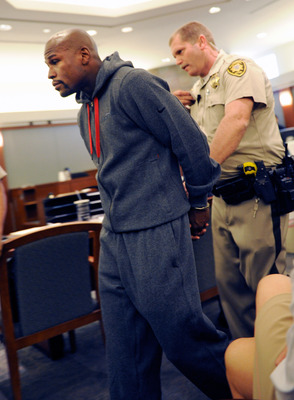 David Becker/Getty Images
Floyd Mayweather Jr. is currently serving a 90-day incarceration at the Clark County Detention Center in downtown Las Vegas.
Mayweather pleaded guilty to charges of domestic violence against ex-girlfriend Josie Harris while their two sons watched. The boys were 10 and 8 at the time. The assault ended when the elder of the two children ran outside to fetch a security guard.
Were it not for Mayweather's plea, the five-time world champion had been facing 34 years for a variety of different felony charges.
Pretty Boy had his jail term delayed in January so that he could fight Puerto Rican boxer Miguel Cotto on May 5 at the MGM Grand Arena.
Reports suggest that the term was delayed in order to pump money into a stagnant Las Vegas economy, with the fight pumping between $10 million-$15 million in non-gambling revenue alone (via Manila Bulletin).
Age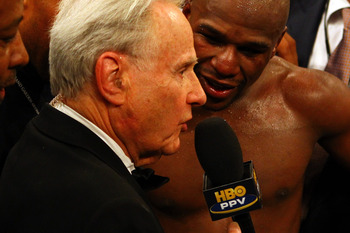 Al Bello/Getty Images
Time is of the essence for both boxers. Age dictates that the two boxers risk going into retirement without fighting each other.
Both boxers are on the wrong side of 30. At 35, Mayweather's best years may soon be past him
Pacquiao finds himself in a similar position. The Filipino will be 34 before the year is over.
Both boxers will naturally be looking for a big fight to cement their legacy and a win in a fight between the two would do just that.
Hostility Between the Two Camps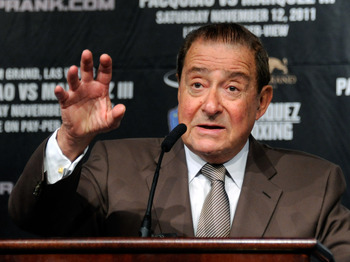 Ethan Miller/Getty Images
Disagreement and mistrust between the rival boxers' training camps are well documented and have already revealed themselves to be an issue when it comes to negotiating a contract for the fight.
In January 2012, Floyd Mayweather senior claimed that (via Fight Hype), "Bob Arum is trying to hold Pacquiao back so he can make him some money.
"When it's close to being over for him, then Bob Arum will drop him off to Lil Floyd. They ain't trying to do that right now, though."
Mayweather Jr. has added that, for as long as Pacquiao remains with Bob Arum, he will be unable to negotiate (via The Inquisitr)
"I'm just really tired of the media and the people being fooled. The truth is, Bob Arum is not going to let the fight happen. It's not on me," he said.
Bob Arum has retaliated by saying that Mayweather "just doesn't want to fight Manny" (via Digital Journal). The 80-year-old Hall of Fame promoter added that Mayweather was an "egotistical maniac." In a separate interview, Arum compared Mayweather to Joseph Goebbels (via Yahoo!).
Freddy Roach has also verbally assaulted Mayweather.
Surely, a foundation of diplomacy needs to laid down before negotiations can continue.
Blood Test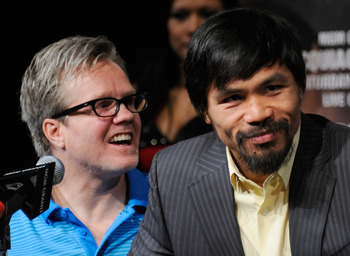 Ethan Miller/Getty Images
An agreement was reportedly made for a fight to commence on March 13, 2010, for an upfront split of $50 million (according to Yahoo! Sports' Kevin Iole). The MGM Grand Las Vegas was even announced as the venue for the bout but fans' hopes were put in jeopardy when Mayweather insisted that his Filipino counterpart should consent to Olympic-style drug testing.
Pacquiao refused to have any blood taken within 30 days of the fight, because he thought it would weaken him, but said he would agree to a test outside of the 30-day window and immediately after the fight.
To help neutralise the disagreement, the two camps went through a mediation process that was overseen by a retired judge. Bob Arum, Pacquiao's promoter, subsequently announced that the fight was off on Jan. 7, 2010.
While Mayweather's demands may appear to be an ostensibly reasonable request, professional boxing is not an Olympic sport and therefore not subject to the same regulations.
Asking Pacquiao to agree to such terms indirectly alleges that the seven-weight champion was using illicit substances to enhance his performance.
At the same time, all of Mayweather's opponents have met his demands; if the posts are moved to accommodate a fight with Pacquiao, it could antagonise previous rivals.
Lawsuit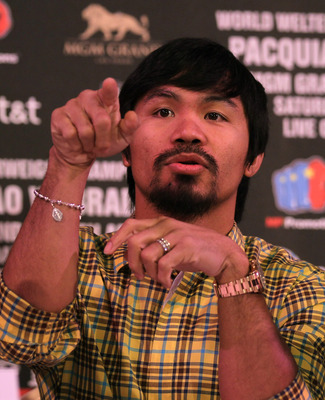 Stephen Dunn/Getty Images
It seems that the two fighters do not need a ring to sort out their differences.
In 2009 Pacquiao filed a defamation lawsuit against Mayweather, which remains active in the federal court of Las Vegas.
Pacman claims that he has been defamed by Mayweather after the Pretty Boy seemed to insinuate that his Filipino adversary was using performance-enhancing drugs.
A statement released by Pacquiao's attorney, Dan Petrocelli, said his client's professional career would suffer if boxing fans believe he used steroids or human growth hormone to win titles in seven weight classes (via ESPN).
"Manny has an unblemished reputation and has earned all of his achievements through hard work and his natural-born talent, and to call him a cheater is something he cannot and will not tolerate.
"None of these defendants have had any evidence to back up the assertion that he has taken performance-enhancing drugs because he didn't. It's very false," he said.
Mayweather's lawyer, Mark Tratos, argues on the contrary. Tratos said the lawsuit was without merit and he would continue to fight for its dismissal (via ESPN).
"The defendants merely questioned Pacquiao's reluctance to submit to drug testing, but stopped short of declaring Pacquiao a drug user. Statements of defamation must consist of facts, not opinions," he added.
Mayweather's attorneys argue on the contrary, and have launched a counter argument that it was Pacquiao who first defamed his opponent. In 2009, it is alleged that Pacquiao falsely accused Mayweather of using steroids.
"Go back and look at pictures. His head is small and then all of a sudden his head just grew? Come on man, stop this. Ray Charles can see this sh*t. Go back and look at the pictures and tell me this man's head didn't get bigger. You're going to tell me this sh*t is natural? Come on man, stop."
"I'm going up in weight but I'm not just walking through no damn fighters. This motherf***er was 106 [when he started] and he's just walking through Cotto. And Cotto can't knock down Mosley, but he can? Come on, man." Mayweather said, per BoxingScene.com.
Money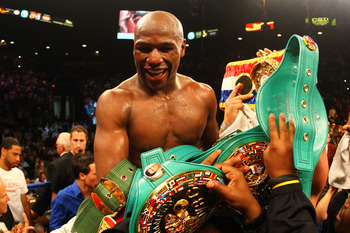 Al Bello/Getty Images
A matchup between Pacman and the Pretty Boy would be the most lucrative in the history of pay-per-view boxing. The Superfight could sell in excess of four million buys.
Revenue from major fights is generally sees the distributor take a 10 percent cut before allowing a 45-45 split for the promoter and cable companies. The problem is, Mayweather does not want the money to be split evenly.
When Mayweather booked the arena for his fight on May 5, 2012, he did it without the consent of Pacquiao's camp. Pretty Boy's camp then approached Freddie Roach, offering a guaranteed payment of $40 million to the Filipino's camp. That would have meant however that Mayweather would pocket $80 million.
Pacquiao's team declined, instead advocating that a 45-45 spilt would be fair, with the winner taking the remaining 10 percent. Mayweather subsequently backed out.
When Mayweather fought Victor Ortiz he pocketed $40 million, compared to Ortiz's $2.5 million. It seems that Pacquiao is not willing to be as subservient.
Pacquiao Could Opt to Fight Marquez Again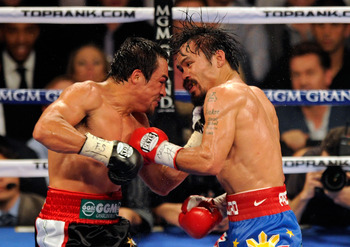 Ethan Miller/Getty Images
Juan Manuel Marquez has been Pacquiao's biggest rival throughout his career, despite media speculation creating a sphere of tension between the Filipino and Mayweather.
Pacman was unconvincing in his victory against the Mexican last November and immediately admitted that his rival deserved a rematch (via The Telegraph).
Bob Arum also agreed in principle to a rematch. He stated that "there are a lot of angry Mexicans out there," before adding "I want a fourth fight. I want to be safe when I go to Mexico" (via NESN).

Marquez has also made his desire for a rematch public knowledge. The Mexican boxer has recently commented that he has been robbed three times in Las Vegas and would consequently like the fight to take place in a new venue (via Opposing Views).
A rematch between the two would be a box-office success, but it is difficult to see what Manny could gain by fighting a fighter he has already defeated twice.
Marquez is an incredibly skilled fighter, especially when it comes to fighting southpaws. If another fight were to happen, a Marquez victory would be a distinct possibility.
Legacy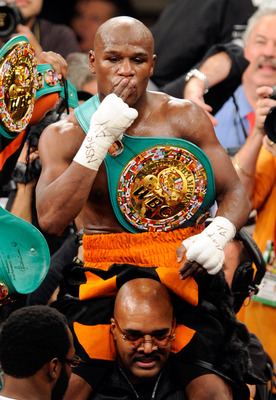 Ethan Miller/Getty Images
This is an issue that pertains more to Mayweather than it does Pacquiao. At present the American is unbeaten from 43 professional bouts, leaving him in an elite group of boxers who have gone the length of their careers unbeaten.
If the Pretty Boy were to lose to Pacquiao, it would leave a permanent blemish on his career; not necessarily because he has been beaten, but because there is a lack of world-class candidates who could help him rebuild his career.
Critics already argue that Mayweather's career has come in an era where big-name fighters are rare, but he has defeated Oscar de la Hoya, Arturo Gatti, Ricky Hatton and Shane Mosley. If he was to lose to Pacquiao, however, who could he turn to for a redemption fight?
The fight would also impact upon Pacquiao's legacy, but the Filipino will be remembered for different reasons to his American counterpart. He is the world's first eight-division champion and is officially recognised as the best fighter of the previous decade.
Pacquiao Has Lost to Tim Bradley
Stephen Dunn/Getty Images
Manny Pacquiao lost in controversial fashion to WBO Light Welterweight Timothy Bradley on Saturday June 9 at the MGM Grand Arena, Las Vegas.
A stunning split decision saw the judges vote in favour of the Desert Storm, despite the fact Pacman landed 96 more punches and seemingly broke Bradley's ankle.
The split decision was received by a flurry of boos at the MGM Grand Arena, with the crowd erupting with cheers when Pacquiao said he felt he had won the fight (via Yahoo!).
The big appeal of a proposed fight with Mayweather was the fact both boxers were seemingly unbeatable, but Tim Bradley has questioned that very notion. If Bradley can beat Pacquiao, then why should Pacman have the right to fight the Pretty Boy ahead of him?
A rematch does seem a distinct certainty, with The Telegraph reporting Bradley to have said ""I've got to give Manny a rematch."
Mayweather Is Scared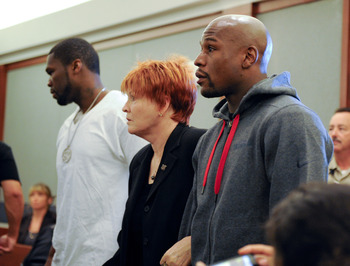 David Becker/Getty Images
Earlier this year Floyd Mayweather effectively conceded that he was reluctant to fight Pacman because he was afraid of getting hurt.
Mayweather stated that "One shot can end your whole career. Boxing is a very deadly sport. I come first. Self-preservation. I gotta worry about my family" (via Boxing Insider).
The same source reports him making a seemingly paradoxical statement. Mayweather said: "I don't fear anyone. If you're insinuating that I'm a scared fighter, why would you want to watch a scared fighter?"
Mayweather is clearly giving away a mixed message. It is one thing to put your health first, but he has gone up against a wealth of talented opponents in his time, including Oscar De La Hoya and Ricky Hatton.
If these names are not a threat to his health, then why is Manny Pacquiao?
Keep Reading