Remembering Dirk Kuyt, One of Liverpool's Most Loyal Stewards
June 4, 2012

Dec. 13, 2009 will always remain one of my fondest memories.
It was the day I first experienced the sanctuary of The Bombardier, an English pub nestled within the shadow of Le Pantheon. Somewhat forgotten amid the resplendence of one of Paris' most iconic monuments, the bar nonetheless resonated far more strongly with me than its more famous neighbor.
Dec. 13 was a Sunday, with Liverpool vs. Arsenal selected as the Match of the Day. Andrei Arshavin's winner (his fifth goal in two matches at Anfield that year) for the Gunners would be the most boisterous moment, but it was a Liverpool player who perhaps made the greatest impression on me.
For years, I'd grown accustomed to hearing Tommy Smyth (who covered games alongside Derek Rae when ESPN had the licensing rights) refer to Dirk Kuyt's "tireless work rate" in the lead-up to what seemed to be every Champions League match Liverpool participated in.
It was as if that were the only attribute the Dutch right winger could bring to the occasion. But as we all know, that was far from the case.
It was against Arsenal that day that Kuyt's predatory instinct in front of goal took center stage in a first half that Liverpool dominated, much to the chagrin of a certain Arsenal coach. 
Latching on to a broken bit of play in front of the Arsenal goal, Kuyt poked home from close range to open the scoring.
It wasn't the prettiest goal, but it was vintage Kuyt—the man had an astounding ability to "bulge the 'ole onion bag," as Smyth liked to say, more frequently than many wingers. As if to reinforce that notion, Kuyt scored fewer than 10 goals just once (he twice hit 15) in his Liverpool career—this most recent campaign, when games were at a premium.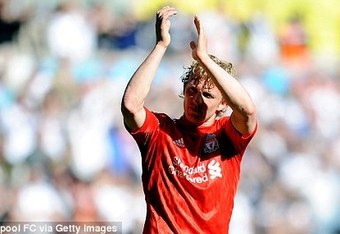 Upon viewing that goal against Arsenal, a bystander at the bar chortled, almost derisively, "That's such a Kuyt goal," as if it were a detriment to the man's ability that he would sully himself with such an imperfect strike.
But that was what Kuyt was all about, even as his playing time at Liverpool began to dwindle, ever more insistently, in recent seasons. No matter the occasion or the weather, Kuyt scored in the most important fixtures.
2007 Champions League final against Milan? Check. 2012 Carling Cup final—the only silverware Kuyt won with Liverpool? Check.
He was reduced to a peripheral figure in the 2011-12 campaign, when manager Roy Hodgson opted for the high-priced transfers of Jordan Henderson and Stewart Downing ahead of him on the wings. In a fitting bit of "told ya so" observation, Downing didn't manage a single goal this season for Liverpool. Henderson, while a more withdrawn central figure than winger, scored just two.
While he wasn't happy about it, Kuyt never let his situation affect his play. When the bell rang for him, he responded.
Kuyt arrived at the Kop just after Liverpool had enjoyed their best spell of the last decade, with the 2005 Champions League final the jewel in the silverware-lined crown. And while he only managed one trophy while sporting the iconic red colors, that 2011-12 Carling Cup, that is in no way a blight upon his tenure.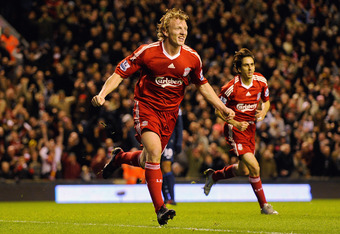 Michael Regan/Getty Images
Never will you find a more fastidious and devoted servant to a club.
But that's the way life goes sometimes. Hard work isn't always repaid with glittering accolades. Kuyt often went unnoticed outside of the most attuned football enthusiasts.
As Smyth had duly noted, perhaps a bit too much at some points, Kuyt's dedication and commitment to the cause never wavered.
So it is with a bit of a knot and turn in my stomach that I see him leave to sign for Fenerbahce, the Istanbul club located on the eastern shore of the Bosphorus. The three-year deal will likely signal the swan song of Kuyt's time at the highest levels of club competition.
But there's no reason to think he won't find some way, even at 31, to contribute to the Turkish giants' cause.
That was, after all, what he did so perfectly for Liverpool for six seasons.