Martin Brodeur Passing the Torch to Jonathan Quick in the Stanley Cup Finals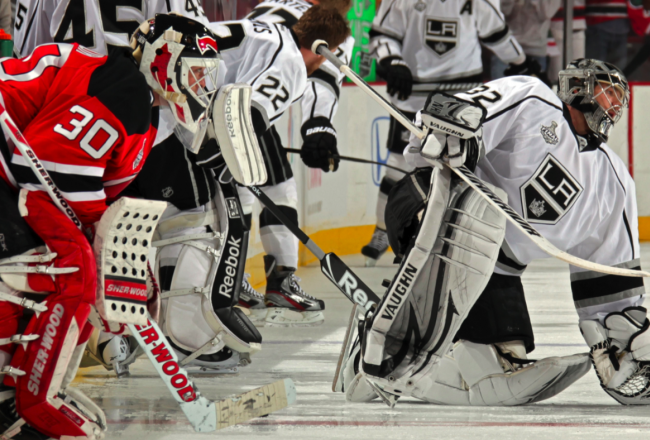 This NHL postseason has been one full of excitement, subplots and talks about a "team of destiny." While all of that is why the NHL playoffs are one of the greatest postseasons in sports, there is one even bigger story nobody is talking about.
After the second game of the Stanley Cup Finals, it became apparent that neither team is going to have a runaway game. The biggest reason would be the two guys in goal.
New Jersey Devils goalie Martin Brodeur is the definition of a Hall of Fame player. He is also living proof that talent and skill can slow the aging process.
On the other side, you have the young gun in Jonathan Quick of the Los Angeles Kings. Quick has had one of the most dominating individual postseason performances I have seen in a long time.
The biggest story of the Stanley Cup comes from these two players because of what it symbolizes. When the winner of the cup is declared, the one thing we should take away is the passing of the torch from Brodeur to Quick.
Brodeur hasn't made a definitive decision on retiring, but it seems like he is leaning to coming back next season in hopes of making another championship run. Even if he returns he knows what the next generation has to offer.
Quick has put his name at the top of the list for the next round of dominant goalies with how he has played and improved over the past few years. Since he is only 26, he has a ton of hockey left in him, barring injuries.
There will be other goalies that will fight for the right to be considered a perennial Vezina Trophy contender, but as of today Quick looks like the head of the new wave.
Brodeur is still a top-flight netminder for the New Jersey Devils, but his time in the NHL is very limited. And while it will be nearly impossible for anyone to have a career matching Brodeur's, Quick appears to be the next dominant goalie.
If Quick can add a Vezina and a Stanley Cup over the next two weeks, he will have a strong start to his league resume.
No matter who wins, this series signifies the beginning of a new era in the current NHL landscape for goalies.
This article is
What is the duplicate article?
Why is this article offensive?
Where is this article plagiarized from?
Why is this article poorly edited?