West Virginia Football: What You Need to Know About WVU Receiver Stedman Bailey
June 3, 2012

Streeter Lecka/Getty Images
I'm sure you know all about West Virginia's electric all-purpose star, Tavon Austin.
In his first year under head coach Dana Holgorsen and his pass-happy offensive scheme, he rocketed to No. 2 all-time in WVU history with 1,186 receiving yards in a single season to go with eight touchdowns.  
You probably saw him torch the Clemson defense in the Orange Bowl, reaching the end zone four times in WVU's season-defining victory.
Austin's elite skill set even allowed him to be named one of the top-five most explosive athletes in college football.
But, did you know, he wasn't even the Mountaineers' leading receiver last season?
That is the first thing you should know about West Virginia wide receiver Stedman Bailey.  
He is currently No. 1 on WVU's all-time single-season receiving yardage list after going for 1,279 yards last year.
To go along with that, I suppose you should know about his 12 touchdown catches, which tied him with West Virginia greats Chris Henry and Darius Reynaud atop the school's record book for touchdown receptions in a single season.
Much of this could be attributed to Bailey's relationship with his quarterback, fellow Miramar, Florida native Geno Smith.   
The two high school teammates signed with West Virginia together as recruits, determined to make their mark in Morgantown.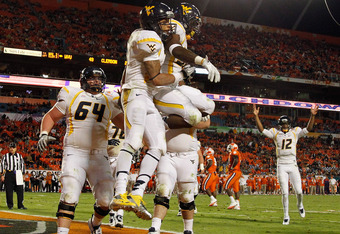 Mike Ehrmann/Getty Images
Bailey spent his first year as a redshirt, while Smith backed up senior starting quarterback Jarrett Brown.
Once the two were on the field together again, they began to hook up through the air just like back in Miramar.  
The 2010 season was a decent one, as the two began to find their place in the college game.
In 2011, however, in Holgorsen's air raid offense, the Miramar stars were able to rewrite the West Virginia record books.
In fact, last season, Bailey probably had the catch of the year for WVU in its final regular-season game at South Florida.
To even be in contention to take the Big East Conference title and earn a BCS bowl birth, the Mountaineers needed to finish with a win in Tampa.
It was prime time on a Thursday night, and the Mountaineers just couldn't put the Bulls away.
West Virginia withstood three unanswered scores in the third and fourth quarters by USF and managed to tie the game up at 27.  
After a crucial defensive stop, the Mountaineers had their last chance to avoid overtime.
WVU wasn't quite in field-goal range when its offense began to come to a halt.
It was fourth-and-10 and the Miramar duo found a hole in the USF secondary, and Bailey soared through the air to snare a rope thrown by Smith for a 26-yard reception—setting up the game-winning field goal.
Bailey somehow managed to hold onto the football after coming down hard on the unbelievable reception.
He was shaken up on the play but was helped up by running back Shawne Alston and the two lined up just in time for Smith to spike the ball with three seconds remaining on the clock.  
Which brings me to the next thing you should know about Bailey.
Despite his size (he's listed at 5'9", 193), the kid is one hard-nosed football player.
He's tough enough to even go toe-to-toe and get the best of Morris Claiborne, the No. 6 pick in this year's NFL Draft.
This season, Bailey will be out to continue to silence doubters and prove his worth as an NFL prospect.
The last thing you should know about Bailey: As good as he was last year, he could be even better this year.
Bailey and Austin are the only two returning receivers in the Big 12 with more than 1,000 yards receiving. 
Holgorsen's air raid offense is a relatively simple scheme based on repetition of routes and plays, which he says can be learned in just three days and then perfected through repetition, according to WVU's Tony Caridi from MSNsportsNET.com.
With another entire year of repetition in the offense, Bailey and Austin figure to put up even bigger numbers in 2012.
Now, isn't that a scary thought?