Travis Witherspoon: Hot Angels Outfield Prospect Turning Heads
June 3, 2012

When discussing juggernaut baseball prospects, the name Travis Witherspoon does not usually come to mind. But if Witherspoon continues to play the way he has this year within the LA Angels minor league system, he may very well begin making headlines.
Witherspoon, 23, is a 6'2", 190 lb. outfielder from Sumter, S.C. A right-handed hitter with outstanding speed and a plus arm, Witherspoon was drafted in the 12th round (381st overall) in the 2009 MLB draft. Currently, he plays for the Inland Empire 66ers in the Class-A Advanced Cal League.
Since beginning his journey in the Angels system, Witherspoon has developed nicely. In 2009, the young gun batted .227 with six home runs and 26 RBI in 63 games in his first year of professional ball.
The following year, Witherspoon boasted an excellent season for the Orem Owls of the Pioneer League. He hit .309 with 10 homers and 45 RBI to go with 11 doubles and three triples (.365/.472/.837 line).
In 2011, Witherspoon earned MID Mid-Season All-Star honors, and also earned a promotion to the 66ers.
This year, Witherspoon has taken a gigantic leap forward in his career. Currently, he is hitting .311 (70-for-225) with five home runs and 23 RBI. He also has eight doubles, five triples and 21 stolen bases.
More impressively, in past 10 games Witherspoon has played out of his mind. During this stretch, he has batted .500 (20-for-40) with one homer, two doubles, a triple and five RBI to go with five bases swiped. His OBP/SLG/OPS line is an astounding .592/.675/1.267.  Witherspoon has seven multi-hit games in this span.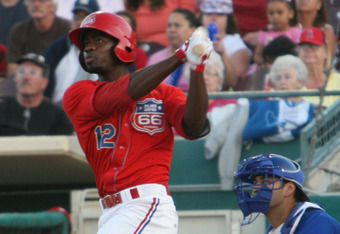 Putting it all together indeed, Witherspoon recently earned Cal League Player of the Week Honors. This after batting .682 for the week, to include hitting for the cycle against the Lancaster JetHawks.
While Witherspoon has a few more hurdles to jump to get to the big leagues, he nonetheless provides the Angels yet another weapon in the outfield going forward.
For a franchise that already boasts Mike Trout and Peter Bourjos, the thought of another speedy and electric outfielder is scary to say the least.
Related Articles:
Mark Trumbo Proving One Heck of Steal for LA Angels