Belmont Stakes 2012: Dark-Horse Candidates Set to Spoil I'll Have Another's Day
June 4, 2012

Elsa/Getty Images
Let's be honest. When there's a horse like I'll Have Another just one win shy of the first Triple Crown in 34 years, every contender by his side is a dark-horse candidate.
I'll Have Another has a chance to become the first horse since Affirmed in 1978 to win all three major horse races—the Kentucky Derby, Preakness Stakes and Belmont Stakes—en route to a Triple Crown. But whether the speedy horse etches his name into horse racing lore or not, it will be a moment remembered forever in the sport's history. 
The Triple Crown candidate is a heavy favorite, obviously, with 3-5 odds. I'll Have Another's not alone among horses with heavy odds, though, and he has some fierce competition standing between him and timeless glory. 
Let's take a look at some horses ready to hold off one of I'll Have Another's late runs at another win and ruin his chance at breaking a 34-year curse. 
Dullahan
Among those who follow horse racing closely, Dullahan should be a household name by this point in the championship season. And he's rested up more than ever after skipping out on the Preakness Stakes to gain an advantage on I'll Have Another. Dullahan will have had about five weeks rest compared to the Triple Crown candidate's three weeks.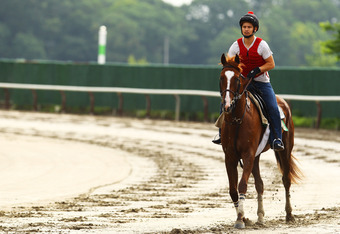 Al Bello/Getty Images
He finished third in the Kentucky Derby and seemed to close out strong right behind I'll Have Another.
It also can't hurt that he's drawing the attention of a former president, as Bill Clinton mentioned Dullahan's chances at being a dark-horse pick to top I'll Have Another. 
Optimizer
Optimizer has gone through both the Kentucky Derby and Preakness this season, unlike both Union Rags and Dullahan, who skipped the latter event to rest up for Belmont.
He had a less-than-stellar start to his Triple Crown campaign in an 11th-place finish at Churchill Downs but rebounded for a sixth-place finish in the Preakness and seems to be peaking at the right time. 
Jockey Corey Nakatani and Optimizer will be hungry to get back to the winner's circle. They haven't won a race since the 2011 season.
Union Rags
Union Rags has had a poor season and—after a seventh-place finish at the Kentucky Derby—decided to skip the Preakness Stakes, but you can never count him out after his stellar career in horse racing.
His seven starts boast a 4-1-1 record, and he's proven to be a resilient horse who just got off to this season on the wrong hoof. If he avoids early trouble out of the gate similar to what happened at the Derby, then he could run away with this thing before I'll Have Another can mount one of his epic comebacks.