San Antonio Spurs: How Many Hall of Famers Are on the Current Roster?
June 5, 2012

Tom Pennington/Getty Images
The San Antonio Spurs are pretty good. 
Not much room for debate on that fact. Maybe they're on the path to the franchise's fifth title? Maybe this run will end in the Western Conference finals or in the NBA Finals? 
Regardless of the eventual destination of the 2011-2012 San Antonio Spurs, the team has tons of talent. When the Spurs emerge from the locker room to play in a basketball game, what exactly are fans seeing? 
This is not a group of unproven stars, or future stars hastily thrown together in hopes of catching lighting in a bottle.
This is a team, and it's a team whose core has won three titles together and whose two most essential parts have won four NBA titles. That's impressive. The Spurs have gone from a franchise best known for two guys without titles, George Gervin and David Robinson, to a squad led by three future NBA Hall of Fame residents.
That's right, there are not one, not two, but three men who will eventually be enshrined in the Hall of Fame in Springfield, Massachusetts.
Who are they? That's easy. Tim Duncan, Tony Parker and the head coach, Gregg Popovich.
It's really not debatable. Duncan and Popovich are no-brainers. There's no way that arguably the greatest power forward in NBA history isn't headed to the Hall of Fame. Duncan has won when he was young, when he was in his prime, and as he's gotten past-his-prime as well.
Through it all there was one constant. Greg Popovich. Popovich has coached the Spurs since the 1996-1997 season.
That season, he took over a team that was headed to the lottery. David Robinson, the team's star center had suffered a season-ending injury and without "The Admiral" the Spurs went into a tailspin.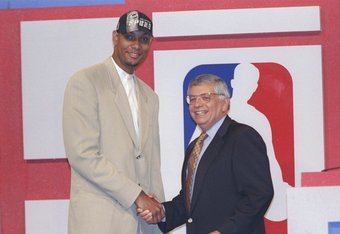 Craig Jones/Getty Images
Ironically enough, the timing couldn't have been better. It was that tailspin that placed the team in the NBA Draft Lottery. It was through that lottery that the Spurs ended up with the top pick in the 1997 NBA Draft. It was there that the Spurs were able to select Tim Duncan out of Wake Forest University
Since then, all Duncan has done is become arguably the greatest power forward in NBA history. Rookie of The Year, a 13-time All-Star, a two-time league MVP and a three-time NBA Finals MVP.
Popovich? All he's done is amass a record of 847-399. In the process he's won two NBA Coach of the Year awards as well.
While the Hall of Fame credentials of Duncan and Popovich are fairly obvious to most observers, Tony Parker's status as a future member might not be so unanimously recognized. By the time his career over, it will be.
Parker has played in the NBA for 11 seasons and seems to still be improving. His most recent season was his best as a pro. Parker averaged 18.3 points and a career-high 7.7 assists per game.
Parker will enter the Hall of Fame due in large part to his key role on three NBA Championship teams. The Spurs won in 2003, 2005 and 2007 with Parker guiding the way. In 2007 Parker was Finals MVP.
His career averages of 16.8 points and 5.9 assists per game don't leap out at you, but consider the numbers produced by former Celtics point guard, the late Dennis Johnson.
Johnson, like Parker, played a key role on multiple NBA Championship teams. Johnson only averaged 14.1 points and 5.1 assists per game over his 14-year career, but still was inducted into the Hall of Fame 
Parker will eventually make it into the Hall. He won't be the slam dunk, first ballot type of induction that his coach and his big man will be, but unless Parker's career totally tanks or he just decides to retire prematurely by the time his career is over, he'll be heading to Springfield.