WWE Superstars Review: Is Christian vs. Drew McIntyre Worth Watching?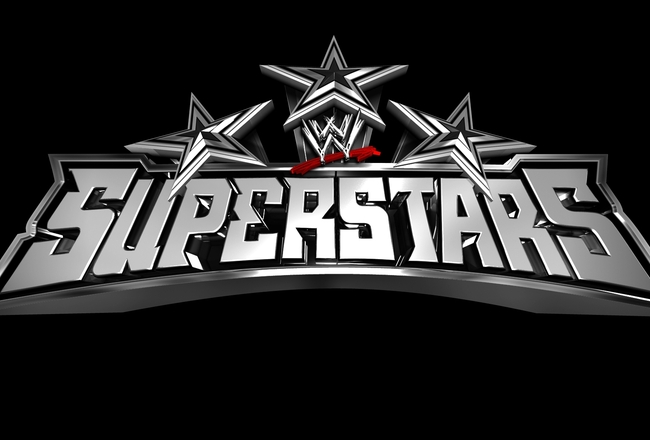 Gotta give the "c" show a chance. (Image courtesy of QuickWrestlingNews.com)

If you'd just like the QuickNotes version of my Superstars review, just skip to the next slide. If you'd like a segment-by-segment breakdown, complete with predictions and questions, click through the remaining slides.
A few years back, I was a concert promoter in Des Moines, Iowa. The music scene wasn't enormous in Des Moines, and there was already a promoter working the kinds of shows that I was interested in. So I ended up working mostly with local and regional bands, and a few struggling national acts.
It was always my hope that a few of those bands would go on to much bigger things, remember me as they came back through Des Moines and help me grow as a promoter while they grew as a band.
After a few fun years of putting on shows and not making any money, I grew impatient and stopped promoting shows, leaving whatever small niche I had carved out to those who were already way ahead of me.
But I still enjoy seeing a lesser-known band that I enjoy finally make it big. It's a good feeling to see a struggling artist you supported finally achieve some success.
That same sort of attitude is also true for me in terms of professional wrestling.
In 2008, I would have told you that my favorite superstar was Randy Orton. When I was in attendance at WrestleMania 24, and I witnessed him steal a championship match from the likes of John Cena and Triple H, I was ecstatic.
That victory helped cement Randy Orton's spot as one of the elite superstars in the WWE. At WrestleMania 24, to a certain extent, Randy Orton peaked. He had made it to the top, and has remained there ever since.
Today, my favorite superstars are guys like The Miz, Dolph Ziggler, Sin Cara, Cody Rhodes and Daniel Bryan. These guys are all at different spots on the journey to their peak, and they all have the potential to be one of the elite someday.
The regulars on WWE Superstars are like the bands I used to work with. The casual fan may not be familiar with them, and probably couldn't tell you the last time they saw the Superstars-regular win.
That's because the regulars are still trying to establish who they are.
Let's take a fresh look at WWE Superstars, the May 31 edition, and see if this showcase of up-and-coming stars is worth our time.
QuickNotes Version of the Show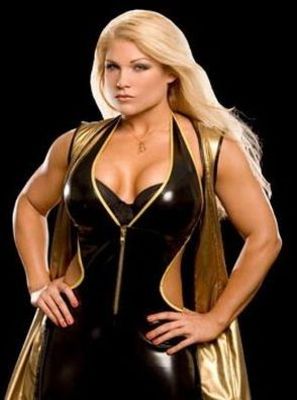 Beth Phoenix, one of the Superstars performing on tonight's episode. (Image courtesy of WrestlingNewsArena.com)
QuickNotes
Beth Phoenix is still the dominant diva that she always has been, and it looks like she'll be challenging Layla for the Divas Championship soon.
Tensai is now treating Sakamoto very harshly, and Alex Riley is trying to get over by appealing to the WWE Universe in a similar fashion as Zack Ryder, Santino Marella or Ted DiBiase.
The WWE hasn't given up on Jinder Mahal, but they may have given up on Yoshi Tatsu.
Christian defeats Drew McIntyre in a non-title-match main event, and they put on a PPV-worthy bout.
Now if you care for some more in-depth analysis, continue the slideshow.
Segment 1: Beth Phoenix vs. Alicia Fox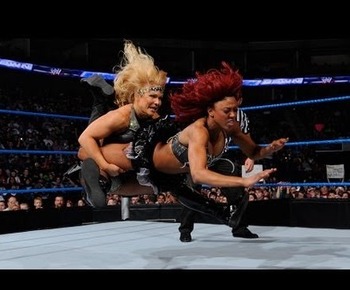 Beth Phoenix vs. Alicia Fox from a previous episode of SmackDown (Image courtesy of videomotion-tv.net)
Superstars opens the show with Beth Phoenix vs. Alicia Fox. I'll be very honest: I have no appreciation for Alicia Fox yet, and I am teaching my niece to look up to Beth Phoenix as a role model. So I may be biased.
Alicia's gimmick and wardrobe annoy me, but she is tolerable as a wrestler. She didn't do anything outstanding, but she didn't botch anything either. She actually got some offense in.
Fox has potential, but if she always remains that thin, I would never see her as a believable Divas Champion. It would be like X-Pac as a World Heavyweight Champion.
On multiple occasions, Beth Phoenix yelled in the direction of the locker room for Layla to come out, which never happened. She is apparently "obsessed" with winning back the Divas Championship.
Decent match, Phoenix gets the win.
If it were up to me, I would have Phoenix win the Divas Championship ASAP, then let her hold it until WrestleMania 29, and have her avoid any feud with Kharma until then. Build it like the Divas version of Hogan vs. Andre at WrestleMania 3.
Scott Stanford and Josh Matthews are on commentary. They are very tolerable, either one much better than Jerry Lawler. Josh Matthew has a kind of Jimmy Fallon humbleness thing going for him.
Before commercial break, we find out it's Christian vs. Drew McIntyre in the main event.
Prediction: Beth Phoenix wins back the Divas Championship at No Way Out.
Question: How much longer do we have to wait for Kharma's return?
Segment 2: Tensai (with Sakamoto) vs. Alex Riley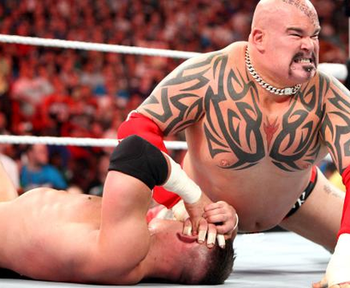 The artist formerly known as Prince Albert vs. A-Ry at Tensai's debut (Image courtesy of examiner.com)
The ring entrance is a key opportunity to clue the audience in on things about your character.
On his way to the ring, Tensai grabbed Sakamoto by the hair to make him walk faster. Alex Riley ran off the side ramp and jumped into the audience before making his way to the ring.
Sometimes you wonder if guys like Alex Riley, Heath Slater and Tyson Kidd will ever get a serious push in the WWE. But I've gotta believe that the WWE feels these guys at least have potential down the line.
They could bring guys from NXT or FCW if they just needed jobbers. The fact that a guy like Alex Riley gets TV at all is a sign that WWE at least wants us to remember who he is.
Tensai dominates the match, which you would enjoy if you like Tensai's style of match. Riley did get in a little offense, but not much.
After the match, Tensai made Sakamoto bow down before him and then picked him up by the ponytail and forced him all the way back that way.
They didn't tell us what was up next, which always keeps my expectations very low.
Prediction: Tensai will continue to tweak his gimmick before he's a legitimate main eventer, but it will eventually happen.
Question: Would it be better for Tensai to completely scrap his current gimmick, or just slowly tweak it until it works?
Segment 3: Jinder Mahal vs. Yoshi Tatsu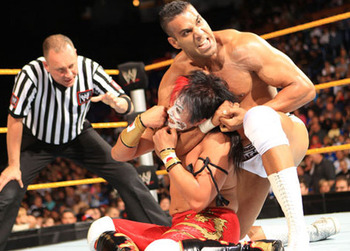 Jinder Mahal vs. Yoshi Tatsu from an episode of NXT in 2011 (Image courtesy of wwe.sify.com)
As Jinder Mahal makes his way to the ring, we are informed that Scott has been replaced at the announce booth by Matt Striker, yet another announcer worthy of replacing Jerry Lawler.
Mahal stops to place his head-wear in a special holding case. These kinds of gimmicks for struggling mid-carders remind me of the Superstars from the 90's, when it was a Saturday morning show, with guys like Skinner, the Berzerker, the Repo Man and Doink.
If Mahal can survive his current gimmick, and then compliment his aggressive style with some more muscle or a strong emphasis on martial arts and submission wrestling, he could eventually grow into a big player in WWE.
The match ends with Mahal's personalized version of the Camel Clutch.
Yoshi Tatsu would have a better chance to showcase what he's really worth if WWE had an active Cruiserweight Division, or something like TNA's X-Division.
We are reminded of the main event, Christian vs. Drew McIntyre, and are informed that this is the first time Christian has ever appeared on the show.
Then we are told that we'll get a recap of Big Show's destruction from Monday Night Raw after the commercial break.
Prediction: Jinder Mahal will still be around five years from now.
Question: Who could Mahal feud with right now that would give him some relevance?
Segment 4: Raw Rebound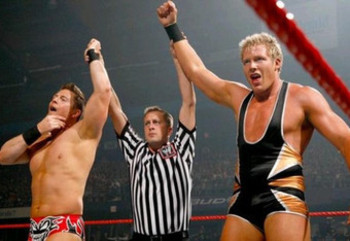 Why not give one of these struggling stars a chance to get some TV time and a win? (Image retrieved from http://bleacherreport.com/articles/440572-the-miz-getting-the-push-that-jack-swagger-should)
Hey, if I have to struggle through Raw Rebound, so do you.
Why does WWE make us sit through this? If one of the fans makes the time to watch Superstars, don't you think they're up to date on shows like Raw and SmackDown?
Instead, you could have a quick match for a guy like Jack Swagger or The Miz, who are always jobbing on Raw and SmackDown. Give them a win against guys from NXT.
It gives the established star a little extra air time and a chance to show off his repertoire, and gives a young guy some much-needed time with good workers.
After the recap is finished, we get promotional reminders that John Cena will be on Monday Night Raw, and he will face The Big Show in a Steel Cage at No Way Out.
Christian is announced for his main event match. There's just fifteen minutes (commercials taken into consideration) of programming left. Will Drew and Christian get that much time?
Prediction: The Big Show will take a major step backwards after his feud with Cena.
Question: Will WWE ever learn to stop showing Raw Rebounds, just remind us we can see it all online whenever we want, and just give us more wrestling?
Segment 5: Christian vs. Drew McIntyre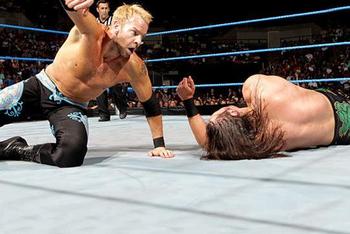 Ladies and gentlemen, this is your main event. (Image courtesy of WWE.com)
The announcers are really emphasizing that Drew McIntyre has been struggling lately, and that Christian has been on a streak. Are they setting us up for an upset, or just lessening the blows for McIntyre's loss?
The match isn't exactly fantastic, but it's technically sound, and it goes back-and-forth at a fairly even pace. We go to commercial with Christian on the ground outside the ring and Drew in the ring.
Matt Striker is an excellent play-by-play man, and his intelligence and wit isn't just a gimmick. They need to find a better gig for him than part-time announcer on Superstars and occasional backstage interviewer on one of the bigger shows.
Prediction: Drew McIntyre will have a mid-card title feud and a pay-per-view title shot within a year.
Question: Why is Christian the Intercontinental Champion? What good is it doing for his career at this point?
Segment 6: Christian vs. Drew McIntyre, Continued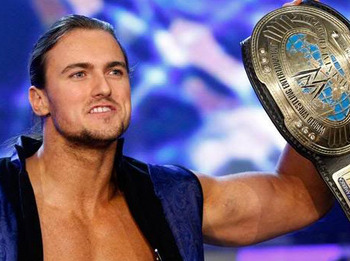 Will Drew McIntyre ever return to the prominense he once had? (Image courtesy of CollarAndElbow.com)
Drew McIntyre is still in control when we return from commercial break. I'm glad they're making him look solid against the IC Champ, even if he loses the match.
Drew is getting the opportunity to pull of some big moves, show in-ring psychology and get several near-falls. The match was a little slow-paced at times, but the momentum went back and forth very fluidly between both men the entire match.
This match was definitely worthy of a show like Raw or SmackDown, but way longer than they would ever let a match go on either of those shows. It was good enough to open a pay-per-view, or at least serve as a free pre-PPV match.
Christian gets the win after a frog splash. I can't say it enough: Christian doesn't make that move look good enough to be his finisher. It's fine if he wants to work it in to the match, but it shouldn't be his finisher.
Prediction: Christian gives up the frog splash in a month or so when he realizes it isn't over.
Question: Will Christian lose the IC Title to Cody Rhodes, or someone else?
In Conclusion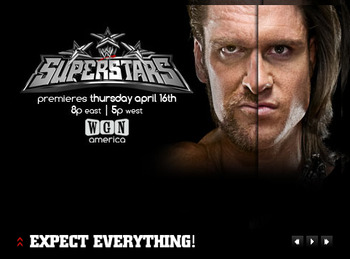 "Expect Everything" may set our expectations a bit too high. (Image courtesy of wwedominicana.netii.net)
Superstars is really an underrated show. If you really enjoy the product, and you have the time, Superstars is definitely worth it. If you're a casual fan, it probably won't interest you.
If they always close the show with a solid match of reputable length, while giving us a chance to see some underused competitors really shine, Superstars could really catch on.
Prediction: I will be watching next week.
Question: Will you?
Keep Reading