Tiger Woods and Stars Who'll Make Run at Victory Sunday at Memorial
June 2, 2012

Scott Halleran/Getty Images
This weekend's PGA Tour event, the Memorial Tournament, started off with some less prominent names rising to the top of the leaderboard as Scott Stallings, Rory Sabbatini and others surged for early bragging rights. But as the tournament moves toward its latter stages, the big names are starting to emerge.
As the leaderboard continues to stagger from hole to hole, some of the world's best and most well known golfers are creeping up on the lead and doing plenty of moving on Moving Day. 
Some former champions at the Memorial are also vying to become repeat champs, and they'll be doing so without the competition of the world's No. 2 player. Young star Rory McIlroy missed his third consecutive cut on the PGA Tour Friday.
Let's take a look at the most likely big-name candidates to take home this weekend's tour victory.
Rickie Fowler
A crowd favorite and a budding young star, Rickie Fowler has played the best golf of his life in the current stretch of this season and will continue to do so this weekend.
He's had a consistent tournament at the Memorial, hitting eight birdies on Thursday and Friday combined with a thrilling eagle on Thursday's 11th hole. 
As Saturday's play moves on, Fowler continues to surge toward the top of the leaderboard. He hit a one-under 35 in his front nine and sits tied for eighth with three under par.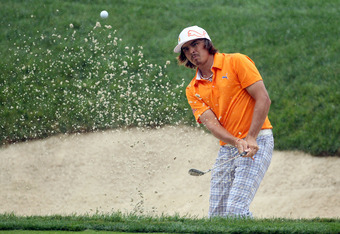 Andy Lyons/Getty Images
Dustin Johnson
This hasn't been the season Dustin Johnson expected so far, with a few bad back injuries following poor play. But he's in position to take home the championship at Memorial.
He hit back-to-back one-under 71's on Thursday and Friday, which has kept him in the top 10 virtually all tournament. He got off to a slow start on his all-important Saturday round, but kept his composure and eventually hit an eagle to get under par for the day. He's also tied for eighth with Fowler at three under par.
The Memorial Tournament is the perfect place for Johnson to turn his game and his health around to get back to the elite level that he was at during his runs at many of last year's majors. 
Can we ever really count out Tiger Woods of a golf tournament?
One could argue that his play of old has still yet to return since the scandal, and many of those arguments would be justified. However, the golf icon has also yet to lose his roaring comeback-prone style of play.
We saw a huge example of this in his play Friday. Wood desperately needed a strong round to get back in contention, and got just that by shooting a three-under 69 which tied him for second place at five under par. 
He's made a surge on Moving Day on yet another big Saturday and looks to be in one of the top pairs, if not the top pair. 
Every PGA Tour event is huge, but this one is especially important with the upcoming stretch of majors. Tiger could really use a victory this weekend, but what's more vital is him continuing to build confidence so he can start winning majors again.