Italy Euro 2012 Roster: Latest on Team's Starting 11 and More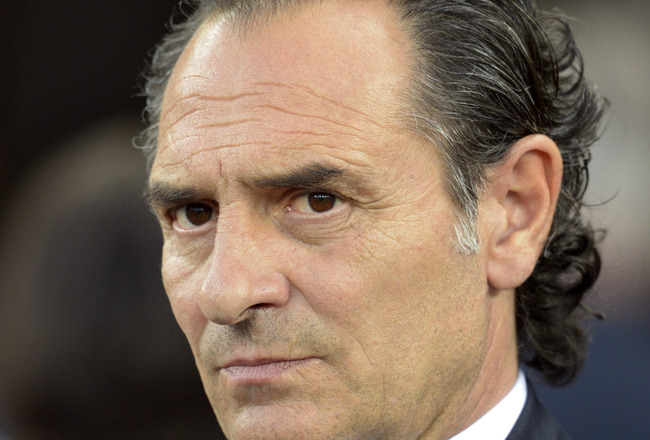 Claudio Villa/Getty Images
Cesare Prandelli's final 23-man roster came out earlier last week. Missing one or two key pieces, Friday's friendly against Russia started well before devolving after halftime into a 3-0 debacle.
Still, the stats showed that the Italians held the majority of possession and outshot the Russians 22-18, with a 6-5 edge in shots on target. The squad Cesare Prandelli will take to the Euros will be a mix of youth and experience that—should they overcome the insanity of Italy's latest match-fixing scandal currently playing itself out in the media and play to their potential—has an opportunity to make a dark-horse run deep into the tournament.
Without further ado, here's a rundown of the 23 men that Prandelli will bring to Poland for Group C's matches.
Gianluigi Buffon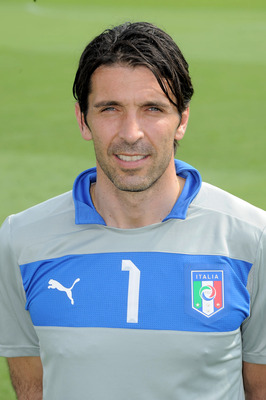 Dino Panato/Getty Images
Age: 34
Position: Goalkeeper
Club: Juventus
Caps: 113
Italy's captain and unquestioned No. 1 goalkeeper is still one of, if not the best, goalkeepers in the world. Were it not for his herculean effort in goal in 2006—one of the greatest performances by a goalkeeper in World Cup history—Italy would have three stars on their crest rather than four.
Buffon performed well in the first half of the Russia friendly, and in a deja-vu moment of the 2010 World Cup, the Italians fell apart when he was withdrawn. Buffon's command of the penalty area and his rapport with the back line—much of which is drawn from his Juventus teammates that helped him build the best defense in Europe this past season—form a formidable fortress in front of the Italian net.
Buffon is one of the absolutely indispensable players on this side. Just having him in goal automatically gives a team a chance at a result.
Morgan De Sanctis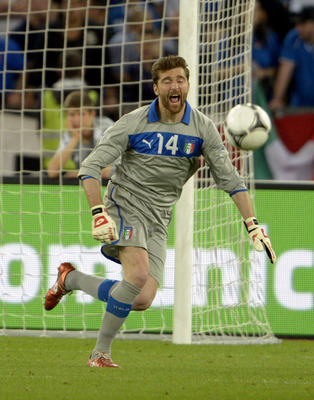 Claudio Villa/Getty Images
Age: 35
Position: Goalkeeper
Club: Napoli
Caps: 5
I had assumed that Salvatore Sirigu would be Prandelli's second-choice after Buffon, but when Buffon was withdrawn at the half on Friday, it was the veteran Napoli man—Marcello Lippi's thrid-choice in South Africa—who got the call. Judging by his performance, it may be Sirigu who gets the call if (God forbid) Buffon must be relieved during the Euros.
A miscommunication between De Sanctis and Leonardo Bonucci led directly to Russia's second goal of the match in the 75th minute, when Andrey Arshavin intercepted a back pass and got the ball to Roman Shirokov, who tapped the ball into an unguarded goal.
Two other goals—another by Shirokov and one by veteran Alexander Kerzhakov—downed the Azzurri on De Sanctis' watch, and the old pro, a regular backup in the Buffon era, may have found the field for the last time in Savoy blue.
Salvatore Sirigu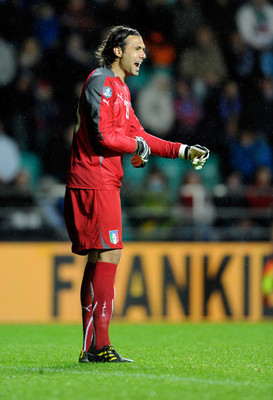 Age: 25
Position: Goalkeeper
Club: Paris Saint-Germain
Caps: 2
Sirigu has not figured on the field on the international level since the beginning of the Euro 2012 qualifying campaign, when he started for the Azzurri in their come-from-behind 2-1 win in Estonia. He made several good saves as the eventual group runners-up pressed for a late equalizer in Talinn.
At the time, Sirigu was playing for Sicilian outfit Palermo, where his play attracted the attention of Ligue 1 nouveau-riche PSG, who acquired him before the start of the 2011-12 campaign. His play in France was excellent. He immediately became one of the fan favorites at the Parc des Princes, and one of the best goalkeepers in France.
Depending on when Buffon decides to hang up his gloves, Sirigu may stand to be Italy's next No. 1 keeper, but for now Italian fans will pray that they don't see him in the near future.
Christian Maggio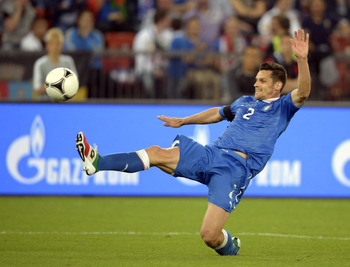 Claudio Villa/Getty Images
Age: 30
Position: Right-back
Club: Napoli
Caps: 15
At 30, this could be Maggio's last go-round for the national team in a major international tournament. Prandelli's starting right back for much of his tenure, Maggio is a good defender who is lethal going forward, which could be pivotal in keeping the Spaniards closer to their own half in next week's Group C opener.
He did, however, have a less than stellar game against Russia. His unsuccessful attempt to clear Russian sub Alexander Kokorin's cross/shot led to Shirokov's second goal in the 89th minute. That said, he is still the clear first choice at right back, and his runs up the right wing—especially in the final group match against Ireland, a team with a very defensive approach—could prove the difference between another group stage crash-out and a potential run into the knockout stages.
Giorgio Chiellini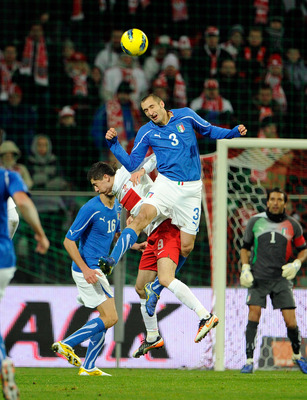 Claudio Villa/Getty Images
Age: 27
Position: Center-back
Club: Juventus
Caps: 50 (2 goals)
Chiellini comes into Euro 2012 looking to atone for a rare mistake in the 2010 World Cup, when he mishandled a Slovakian throw-in and allowed Kamil Kopunek to score the Slovaks' third goal, which ended up being the deciding factor in eliminating Italy from the tournament.
He suffered a thigh injury during Juve's victory lap against Atalanta in the final Serie A match of the year and missed the bianconeri's 2-0 defeat to Napoli in the Coppa Italia final, as well as the match against Russia. He is the lynchpin of the Italian back four and one of the two or three best center-backs in the game, and was obviously missed, especially in the second half.
However, Chiellini has stated that he will be fit for the opener against Spain, where he will have the task of shutting down the likes of Fernando Torres and Fernando Llorente.
It's not a stretch to think that he can do just that. He's shut down some of the world's best in Serie A, reducing the likes of Edinson Cavani and Diego Milito to spectators.
He's also turned himself into Zlatan Ibrahimovic's personal kryptonite. His relationship with Andrea Barzagli Leonardo Bonucci was key to a defense that was by far the best in Europe this season, a relationship that should continue to flourish this month.
Angelo Ogbonna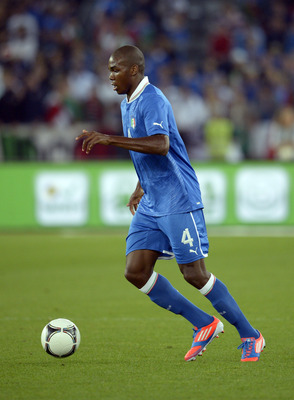 Claudio Villa/Getty Images
Age: 24
Position: Center-back/left-back
Club: Torino
Caps: 3
Ogbonna's role on this team may have changed in the wake of calcioscommesse and the exclusion of Domenico Criscito from the squad.
In the wake of Criscito's exit, the Italians now only have one natural left-back on the roster. Ogbonna was going to be on the team one way or another, but before Criscito was dropped it was more as a fourth center-back than anything else. Now, his ability to slide out to the left will be invaluable for Prandelli, who is now without a natural backup on the left. Ogbonna served just this role in the February friendly against the United States—sliding out left at the half after starting in the center—and came on against Russia in the 53rd minute in a straight swap on the left.
His is a versatility shared by Chiellini, but he is so important in the middle—and looked less than stellar trying to re-adapt to the position with Juventus when Antonio Conte needed an emergency left-back—that moving him is unlikely. Ogbonna is more effective in the center, but he won't be playing in the center unless the Italians suffer a rash of injuries or suspensions. Should the starter on the left side falter early, he could be getting a lot more time on the field than originally thought.
Federico Balzaretti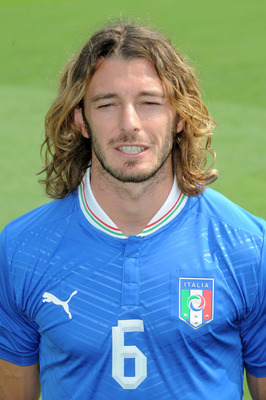 Dino Panato/Getty Images
Age: 30
Position: Left-back
Club: Palermo
Caps: 8
Federico Balzaretti is now one of the most watched men at the Euros. In the wake of Criscito's exclusion from the side, he is the only natural left-back on the roster, and consequently the presumptive starter.
It's more than a bit of a downgrade at the left-back spot. Criscito—should he avoid any long-term penalties stemming from the investigations—could well develop into the best left-back in the game. Balzaretti is no slouch—easily one of the three or four best in the Serie A—and is an adequate replacement, but he's just not Criscito.
Balzaretti does very well going forward, often making overlapping runs down the left in Palermo's attack. He assisted on three of the rosanero's goals this year, but missed 11 games and was part of a back line that was at times one of the sketchiest in the Serie A. He was also sent off twice—something that would be exceedingly costly to Italy if it were to happen at the Euros, considering their sudden lack of depth on the left.
Balzaretti is a serviceable replacement for the Italians on the left side, but he is going to have to raise his game in order to mitigate the loss of a world-class player like Criscito. The team very well could rise or fall based on his performance.
Ignazio Abate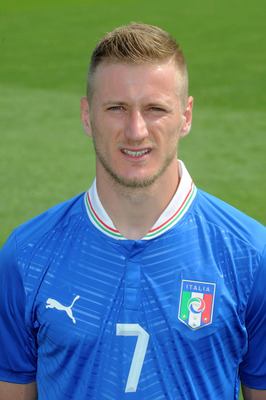 Dino Panato/Getty Images
Age: 25
Position: Right-back
Club: AC Milan
Caps: 2
Abate will be Maggio's backup at the right-back position, although if Maggio continues the form he displayed against Russia, the youngster may get a bite in front of him.
Abate is known for his attacking ability down the right as well as his defensive prowess on the same side. This likely being Maggio's last major international tournament, Abate will likely be scrapping with Newcastle United right-back Davide Santon for the next several years to see who the long-term starter will be.
He is certainly the future for Italy on the right of defense. Whether he is the present will depend on how Maggio plays.
Andrea Barzagli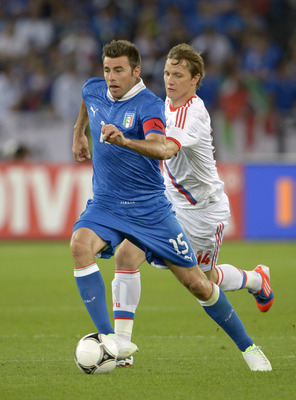 Claudio Villa/Getty Images
Age: 31
Position: Center-back
Club: Juventus
Caps: 29
One of only four hold-overs from Italy's World Cup triumph six years ago, Barzagli fell out of favor after Euro 2008 and lost his place in the Italian side. After a stint in Germany where he won the Bundesliga with Wolfsburg, he returned to Italy in the 2010 winter transfer window and immediately made an impact with Juventus.
His stellar play for the bianconeri caught Prandelli's eye and put him back into the national picture, where he is now an automatic starter beside Juve teammate Chiellini, with whom he has formed a magnificent partnership that allowed only 20 goals in the Serie A this season. As an added bonus, he's fresher than your average player at the Euros because Juve didn't have to deal with UEFA competitions this year following 2010-11's seventh-place finish.
Barzagli is a dead-on starting XI lock—if he's healthy. The Italians announced today that he will be out as much as three weeks after suffering a calf strain, that could mean he will miss the group stages—or the tournament entirely, if Prandelli decides he doesn't want to have to wait. Should he be dropped, Andrea Ranocchia is likely the man who will replace him on the roster.
His partnership with Chiellini and relationship with Buffon are important parts of the Italian defense. If he and Chiellini are unable to anchor the Italian defense together and Leonardo Bonucci can't pick him up, the Azzurri could be looking at another group stage exit.
Leonardo Bonucci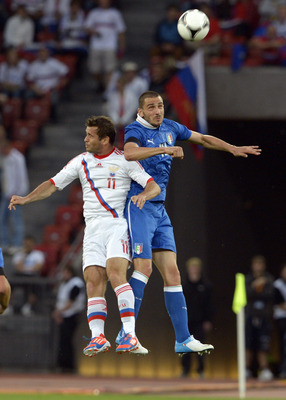 Claudio Villa/Getty Images
Age: 25
Position: Center-back
Club: Juventus
Caps: 14 (2 goals)
Leonardo Bonucci has come a long way in a year. One of the scapegoats of Juventus' horrible 2010-11 season, Bonucci became one of the anchors of the Juve defense this year along with Barzagli and Chiellini, especially when manager Antonio Conte went with his 3-5-2 formation.
However, some of the old Bonucci showed himself against Russia, when a bad miscommunication between him and De Sanctis led to the Russians' second goal.
Despite the mistake, Bonucci is a great center-back. He is excellent at reading passes and making interceptions, and several times saved Buffon in one-on-one situations this year with perfectly timed tackles. But the most interesting part of his game is when he is in possession.
Bonucci is one of the better players in Italy when it comes to making long passes. His ability to key an attack makes him invaluable in the back, and it's an ability he may end up being able to display considering the injury to Barzagli.
Should his Juve teammate be unable to participate in the tournament, a lot of weight will fall to his shoulders.
Claudio Marchisio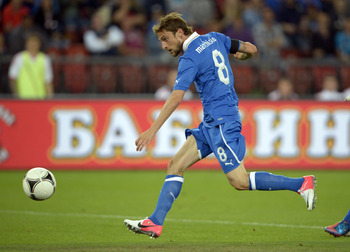 Claudio Villa/Getty Images
Age: 26
Position: Central midfield
Club: Juventus
Caps: 20 (1 goal)
Long considered one of the brighter young talents in Italy, Marchisio finally broke out this year, scoring nine goals for Juventus and keying them to the scudetto. He scored once in the qualifiers for Italy, a first-minute strike against Serbia in Belgrade.
Marchisio's attacking abilities are first-rate, and he is an undoubted starting XI player. He'll play an advanced role in the center of midfield, supplementing the forwards in Italy's attack. Equally adept at scoring with his head and his feet, he is particularly adept at beating goalkeepers with long, low shots from the edges of the area.
His performance supplementing the forwards will be key to Italy's ability to score goals and advance to the next stage.
Thiago Motta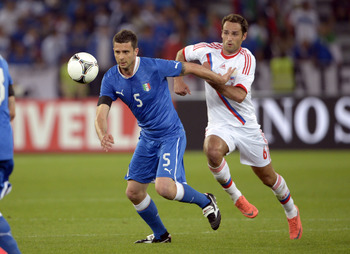 Claudio Villa/Getty Images
Age: 29
Position: Midfield
Club: Paris Saint-Germain
Caps: 8 (1 goal)
The Brazilian-born former Inter Milan man's combination of creativity on the ball and physicality in defense is a perfect blend of skills. It's the perfect skill set for Italy's first game of the tournament against Spain. Motta will be equally adept at helping the Italians create and disrupting the Spaniards' tiki-taka attack.
He scored the winning goal in the away game against Slovenia during qualifying, and is known for his powerful mid-range shot. Against teams like Ireland, who play a defensive-minded style difficult to break down, such long-range prowess may make a huge difference.
For me, Motta is a starting XI player, at the very least against Spain, where his skill set matches up well. He will likely be in and out of the starting lineup depending on what match up best suits the opponents the Azzurri are facing.
Daniele De Rossi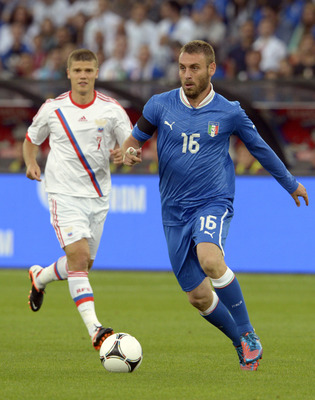 Claudio Villa/Getty Images
Age: 28
Position: Defensive midfield
Club: Roma
Caps: 72 (10 goals)
Daniele De Rossi is one of those players who's been around so long that you forget he's still on the right side of 30. A tender 22 when he played with the team that won the World Cup in Germany six years ago, he is now one of the unquestioned leaders of the Italian team—and a surefire member of the starting XI.
De Rossi's physical presence in the midfield is essential to disrupting teams on the defense and protecting midfield maestro Andrea Pirlo from any molestation so that he has room to operate Italy's possession-based attack. He will also be expected to creep forward to get involved in the attack. He can be a deadly goal-poacher when given the space to do so—like this goal against Juventus in December.
Emanuele Giaccherini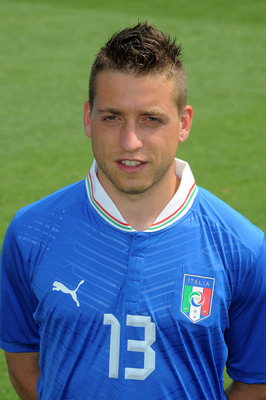 Dino Panato/Getty Images
Age: 27
Position: Wide midfielder/attacking central midfielder
Club: Juventus
Caps: 0
The only uncapped player to make the roster, Giaccherini must have impressed greatly during training camp for Prandelli to include him on the roster. His playing time was hit-or-miss with Juventus this season, playing in only 23 of Juve's 38 games and only scoring once—although he did score twice in the Coppa Italia.
Giaccherini came up as a winger with Cesena, but as Antonio Conte's developed his tactics with Juve this season his need for true wingers faded. Giaccherini transitioned to an attacking midfield role, often known in Italian as a mezz'ala.
He had some bright moments, especially his lone league goal—a superb volley against Atalanta at the conclusion of the andata (the first half of the Serie A season) in January. But he also had games where he really failed to make an impact, and rarely started outside of the Coppa Italia, unless injuries or suspensions forced the Juve midfield trio of Andrea Pirlo, Arturo Vidal, and Marchisio.
What role Giaccherini will play on this team is less than clear. He is certainly not a starting XI player, and should he find the field he will likely take the mezz'ala role that he had grown into in Turin, as Prandelli's possession system also de-emphasizes the use of a traditional winger and depends more on the fullbacks to add width to the attack.
Riccardo Montolivo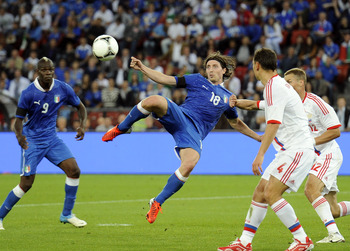 Claudio Villa/Getty Images
Age: 27
Position: Deep-lying midfielder
Club: Fiorentina
Caps: 33 (1 goal)
Once considered a younger version of Andrea Pirlo, Montolivo has never really quite risen to that level, but he is still one of the best midfielders in Italy.
The former Fiorentina captain will move to AC Milan on a Bosman once the summer transfer window officially opens, where the rossoneri will hope he can replicate the midfield mastery that they lost when Pirlo moved to Juventus on a similar free transfer this time last year.
However, therein lies the problem. Montolivo is best as a regista—a deep-lying, playmaking midfielder who keys the attack. The problem is that Pirlo is the best player in the world at that job, and he will most definitely be starting.
Montolivo can play a role further up the field behind the strikers, but it's not his strongest position. His great skill may make up for that, as Prandelli has shown a propensity for starting him.
His record against Spain—he scored the first goal against the defending champions in Italy's 2-1 friendly win in Bari last year—may earn him a start in the group opener, but I feel he's better off the bench as a player that can immediately impact the midfield late in games.
Andrea Pirlo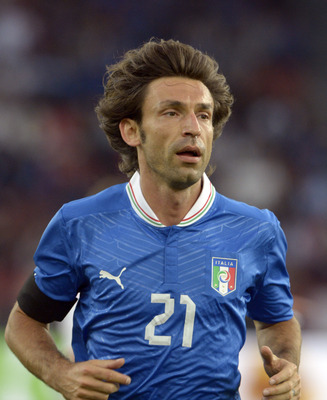 Claudio Villa/Getty Images
Age: 33
Position: Deep-lying midfielder
Club: Juventus
Caps: 83 (9 goals)
One of the best midfielders in the world, Andrea Pirlo never gets the media attention that the world's other elite players do. That's probably because Pirlo doesn't really draw attention to himself off the field and, as former Italy manager Marcello Lippi once famously said, "speaks with his feet."
Pirlo is absolutely critical to the Italian attack. Without him for the first two and a half games because of injury in South Africa two years ago, the Italians looked absolutely lost, particularly in a disappointing 1-1 draw against New Zealand in which they were awarded nearly 20 corner kicks, but could only score from the penalty spot.
The sum total of the Italian attack was getting the ball to the wing, swing a cross in, and hope that Alberto Gilardino or Vincenzo Iaquinta would get their heads to it.
In the 35 or so minutes after he was introduced to the final group game against Slovakia, the team completely transformed. They put the ball into the net three times in those 35 minutes, although one of the goals was called back for a controversial offside call. The two goals that did count were both from open play—whereas the two they had scored in the previous two games were both off set pieces.
Pirlo will start every game the Italians play, and will fill the deep-lying regista role that has made him famous. In the middle of the Serie A season, several provincial sides had success crowding Pirlo and not giving him the room to snap off his crisp passes, which means that physical midfielders such as De Rossi and Thiago Motta must impose themselves to keep opponents off of him so that he can operate. The Italians will also rely on his pinpoint delivery to provide scoring chances off set pieces.
With Pirlo operating an possession-based attack that is very similar to the one he played while dominating Serie A with Juventus this season, the Italians will likely dominate possession in their games against Croatia and Ireland and keep the ball better than most against the possession-based Spaniards. That possession will likely be translated into scoring chances, which the forwards must not waste.
Alessandro Diamanti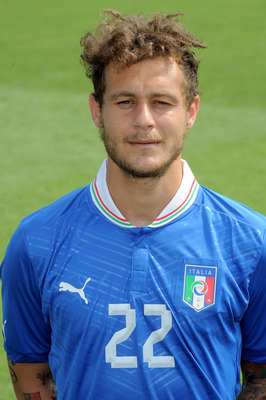 Dino Panato/Getty Images
Age: 29
Position: Attacking midfielder
Club: Bologna
Caps: 1
Diamanti has certainly been well-traveled. He's played for nine clubs since beginning his professional career in 1999, playing this season with Bologna and scoring seven goals in all competitions from the midfield.
One of the least experienced players on the team, Diamanti is unlikely to start. If he finds the field he'll be expected to provide some scoring punch from the midfield, and give defenders something other than the strikers to think about.
Antonio Nocerino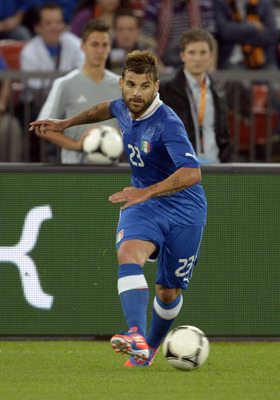 Claudio Villa/Getty Images
Age: 27
Position: Midfield
Club: AC Milan
Caps: 11
Sometimes compared to Milan teammate and former Italy international Gennaro Gattuso, Nocerino was quite possibly one of the top five low-cost transfer acquisitions of the 2011-12 season—definitely the best in the Serie A. Moving to the San Siro for just €500,000, the rossoneri certainly got a lot of bang for their buck.
He scored 10 times in 35 matches in Serie A this season, and added a goal on the break against Barcelona in the quarterfinal of the UEFA Champions League that briefly put Milan in position to win the tie. He will be asked to do just what he does for Milan should he find the field during the Euros: play at the top of the box to try to either make the final pass to a striker or be in position to clean up after a miss on a rebound.
Antonio Di Natale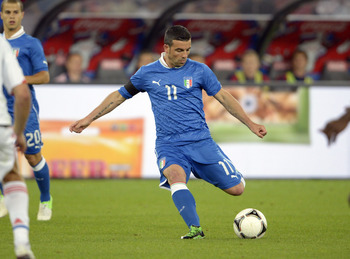 Claudio Villa/Getty Images
Age: 34
Position: Striker
Club: Udinese
Caps: 37 (10 goals)
The oldest non-goalkeeper on the team, Antonio Di Natale has been one of Europe's deadliest strikers the last three years. Two-time capocannoniere, he has scored 80 league goals the last three years, he has nevertheless not received any call-ups since scoring in the final match of the 2010 World Cup.
Most likely, this is because of his age—Prandelli has actively avoided falling into the trap that killed his predecessor by relying too much on older players. Throughout qualifying, it was rare to see an outfield player over 30 on the roster, with Pirlo being the major exception.
If you are a regular reader of mine, you'll know that I've been advocating for Di Natale to be recalled for months, especially since the fall when the statuses of Antonio Cassano and Giuseppe Rossi were thrown into doubt and Italy was left with a dearth of experienced options on the forward line.
As great as his form has been, Di Natale is unlikely to start in this tournament. The last two months of the season saw him carrying an injury that affected his form on the field and prevented him from training between matches.
While he is still more than capable of playing 90 effective minutes when healthy, in his current situation, he is best suited to come off the bench as a supersub, bringing a pair of fresh legs to the pitch when opposing defenses are starting to tire and wreak havoc.
Antonio Cassano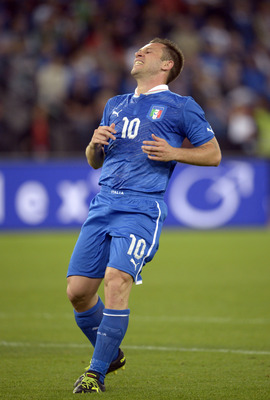 Claudio Villa/Getty Images
Age: 29
Position: Striker
Club: AC Milan
Caps: 29 (9 goals)
Antonio Cassano's presence in the Italian starting XI is a huge boost in both morale and quality. After forming a deadly partnership with Giuseppe Rossi throughout most of qualifying, he was hospitalized after a match in late October against Roma. It was discovered that he was suffering from a previously undetected heart defect.
He immediately underwent surgery to correct the problem and set himself to rehabbing. Not many expected him to be fit enough to play in this tournament, but he returned to training in April and played in seven matches at the close of the season, scoring once and notching three assists.
At the club level he is often more of a provider, playing second fiddle to Zlatan Ibrahimovic while picking up 10 assists in his limited action. But with the Azzurri, he has been the unquestioned leader of the front line, leading Italy's group in qualifying with six goals.
However, it's obvious that Cassano isn't all the way back. Against Russia on Friday, he missed an easy tap-in goal from a Mario Balotelli cross that would have given Italy a 1-0 lead. While obviously not 100%, his presence brings valuable experience to the Italian forward line and will be relied on heavily for a reliable finishing touch.
Mario Balotelli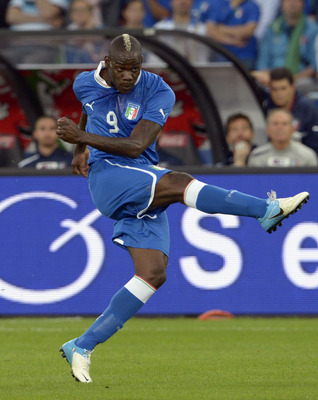 Claudio Villa/Getty Images
Age: 21
Position: Striker
Club: Manchester City
Caps: 8 (1 goal)
Easily the most controversial player on the team (at least before the calcioscommesse investigations wreaked havoc on the team's preparations), Balotelli is undoubtedly the most talented striker that the Italians have. The question is whether or not he'll be able to control himself on the field.
Were Giuseppe Rossi healthy, I would have had no problems with Prandelli leaving Balotelli home, especially after yet another lengthy suspension following his actions in Man City's match against Arsenal in April. But with the Villareal man out for a long, long time after his second ACL tear in about half a year, there is no way the Azzurri could go to Poland without him.
He had several chances on Friday against Russia, with one being denied by the Russian keeper and several others going off-target. He also supplied Cassano a gilt-edged chance that he couldn't put on target.
But despite his incredible talent, he has already shown some distressing signs of his mental instability. The striker has been the subject of several racially-charged incidents with opposing fans over the years, and while responding to questions about issues of racism at soccer matches in Poland and Ukraine he claimed he would leave the field if he experienced any racial abuse during the tournament.
In the same statement, he claimed that if he suffered any off-field abuse—like an incident he once experienced in Rome where antagonists at a bar threw bananas at him—that he would kill those responsible.
And I was just worried about him getting sent off and suspended.
Balotelli will be feast or famine at this tournament. He will either flourish and cement himself as one of the world's elite players—as teammate Gigi Buffon predicted a week ago—or do something tremendously stupid and skewer the hopes of his team to advance.
Fabio Borini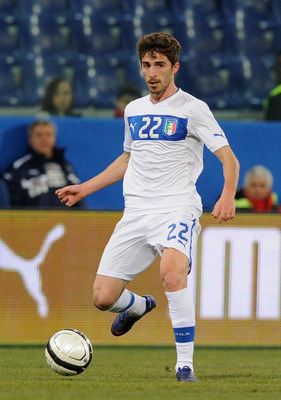 Claudio Villa/Getty Images
Age: 21
Position: Striker
Club: Roma (on loan from Parma)
Caps: 1
Fabio Borini benefitted from Balotelli's volatile nature in February, when he was called up following Balotelli's exclusion from the side that met the US after stomping on Tottenham player Scott Parker's head.
Borini did not disappoint, either. Coming on halfway through the second half, he took four shots, two of which found the target and were only kept from snapping the net by two fantastic saves by American superkeeper Tim Howard. Indeed, without Howard, Italy likely would have scored four or five goals in that game.
Borini impressed this year for Roma, who will very likely move to make his loan permanent when the transfer window opens. He could end up making a huge name for himself in this tournament if given the opportunity.
Sebastian Giovinco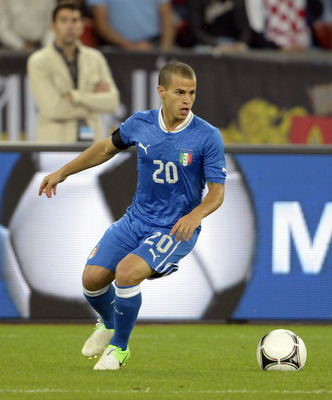 Claudio Villa/Getty Images
Age: 25
Position: Second striker
Club: Parma (co-owned with Juventus)
Caps: 8
Of all the players on this team, Sebastian Giovinco has the most to gain from this tournament.
After two wildly successful years at Parma, the Atomic Ant is ready to make a big-club move, either back to his old team Juventus, who still own 50% of his rights, or to foreign teams such as Barcelona, who have been expressing interest for quite some time.
Giovinco's play against the US in February was a preview of what opposing defenses have in store for them this month. The pint-sized striker would consistently ride the shoulders of American defenders and slip in underneath them to latch on to balls from the midfield. A lack of timing hurt the Italians in their match with the US, as did some fairly inept refereeing—of the nine times Italy was called offside at least three were incorrect, with Giovinco being involved in all three.
In my opinion, Giovinco is the hinge of this tournament for Italy. If he can prove himself in the crucible of a major international, Italy will probably get far in this tournament. If he is stifled, the Italian attack–and their chances to compete for the title—will be in severe jeopardy.
Keep Reading

Italy (National Football): Like this team?