2012 MLB Draft Prospects: 10 Best Catchers in the 2012 Draft Class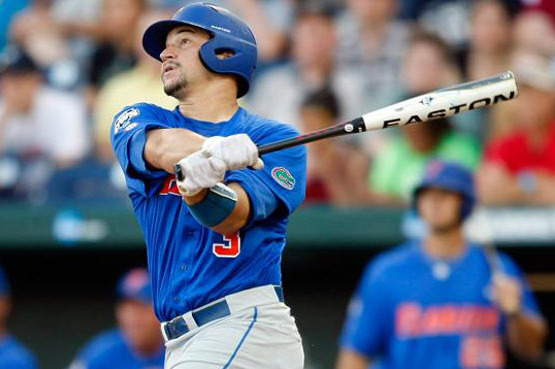 Courtesy of gatorzone.com
While the 2012 draft class has tons of depth at some positions such as pitching (but what draft doesn't?) and outfielders, it's incredibly slim at others.
As I mentioned last week, the crop of shortstop prospects is less than impressive, and I think the fact that the Pirates have been linked to Arizona State's Deven Marrero at No. 8 overall is a testament to this notion.
However, one position that has drawn mixed reviews from scouts is catcher, as it's hard to draw a fair evaluation, considering that some teams aren't sure whether they will develop certain players behind the plate or move them to a new position.
At the same time, there are teams who are interested in moving a player from his current position to catcher, as they believe that's where his tools will be the most projectable and valuable.
So, with the draft now two days away, here's a look at the 10 best catching prospects in the 2012 draft class.
Begin Slideshow

»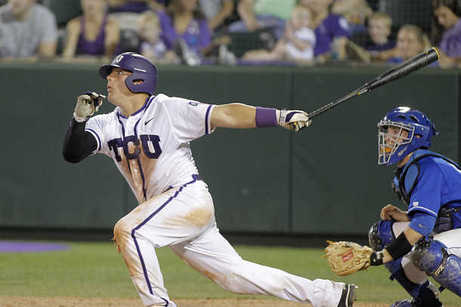 Courtesy of collegebaseballinsider.com
Position: C/OF
Height/Weight: 6'1"/215
Bats/Throws: R/R
DOB: 3/19/1991
College: Texas Christian
Elander is a hard-nosed ballplayer who has demonstrated a knack for getting on base despite not being an elite hitter. He has the raw power that projects at the next level despite not showing it over the course of his college career.
He's still relatively new to catching—he's also seen considerable time in TCU's outfield—so his average receiving and throwing skills still have room to grow.
He has the arm and athleticism to be either a catcher or outfielder, though obviously, his bat and on-base skills offer much more value behind the dish.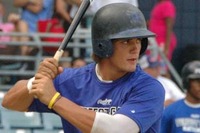 Courtesy of PerfectGame.org
Position: C/3B
Height/Weight: 6'/200
Bats/Throws: R/R
DOB: 5/11/1993
High School: Pedro Menendez (Fla.)
College Commitment: Florida
At 6'0" and 200 pounds, Avery won't blind you with athleticism. However, that's not to say that he's without tools.
A right-handed hitter, Romero has one of the most promising hit tools in the entire 2012 draft class. He has plus raw bat speed, a direct bat path and enough loft in his swing to take it out to all fields. Furthermore, he makes adjustments at the plate but still maintains a consistent approach.
Although he's spent most of his prep career manning the left side of the infield, it's almost common knowledge that his career is behind the plate. He's obviously still raw at the position, but his soft hands and strong, accurate arm make him a perfect fit.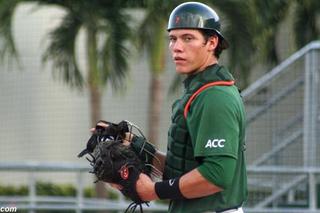 Courtesy of InsideTheU.com
Position: C
Height/Weight: 6'5"/225
Bats/Throws: R/R
DOB: 7/15/1990
College: Miami
Year: SR
Playing three seasons for Bethune-Cookman College in Florida prior to transferring to Miami this past offseason, O'Brien emerged as one of the top catching prospects in the nation thanks in part to his plus power and arm.
However, the 6'5" backstop fell all the way to the third round in the 2011 draft, where he was selected by the Colorado Rockies. O'Brien ultimately decided not to sign and rather than returning to Bethune-Cookman, he enrolled at the University of Miami and was cleared to play shortly before the start of the current season.
Like the majority of amateur hitters who possess raw power comparable to O'Brien's, the right-handed hitter's approach lacks consistency as he tries to do too much at times rather than allow the ball to travel deeper into the strike zone.
Despite his size, O'Brien's athleticism and rocket arm have allowed him to stick at the position. However, he's been sidelined as of late while recovering from a broken wrist and has been unable to resume duties behind the plate due to lingering discomfort.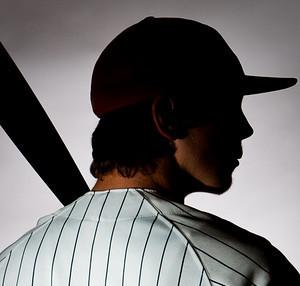 Courtesy of http://samballew.smugmug.com/
Position: C
Height/Weight: 6'2"/190
Bats/Throws: L/R
DOB: 9/15/1993
High School: Rockwall (Texas)
College Commitment: Texas
With all the promising catching prospects who will likely be selected within the first three rounds of the draft, Bean is the player who's continually flown under the radar.
A left-handed hitter, Bean has been climbing the draft boards all spring due to his projectable power and present defensive skills behind the plate. He has quick wrists and easy pop in his bat, and he's done a better job of letting the ball travel deep in the zone this spring.
Bean's plus arm is easily his best tool and arguably the best among all catchers in the 2012 draft class. He's an average receiver who's adept to making adjustments, so expect him to continue developing behind the plate.
Both his cannon for an arm and left-handed bat have made Bean an intriguing and promising catching prospect. Now, it's just a matter of whether he decides to sign or honor his commitment to Texas.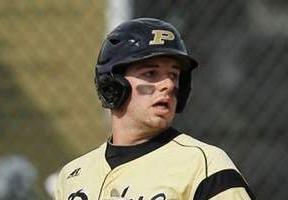 Courtesy of indystar.com
Position: C
Height/Weight: 6'1"/200
Bats/Throws: R/R
Age: 21
College: Purdue
Year: JR
Plawecki is the type of player whose tools play up due to his all-around hustle and highly competitive nature. He's not a can't-miss prospect behind the plate by any means, but there's enough present talent to suggest a career in the Major Leagues.
A solid defender who has surprising agility, Plawecki has received above-average grades for his strong and accurate arm. Furthermore, he puts down good fingers and is the type of backstop who is noticeably one step ahead of most collegiate hitters.
His short swing produces a high contact rate, and he rarely strikes out, yet he's only shown trace amounts of power. He sprays line drives across the field and will tally his share of doubles and has repeatedly proven to be a tough out.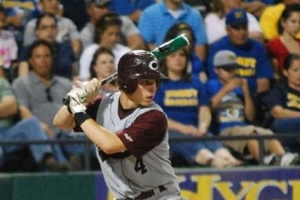 Courtesy of insidetexas.com
Position: C
Height/Weight: 6'2"/215
Bats/Throws: R/R
DOB: 12/30/1993
High School: Calallen (Texas)
College Commitment: Texas
For a player that will be drafted as a catcher, Mathisen has about as little experience at the position as any player on the board—a testament to his enormous upside at the position.
At 6'2", 215 pounds, Mathisen is a national standout both on the mound and at shortstop for his high school team, logging time behind the dish exclusively on the showcase circuit.
The University of Texas commit moves laterally exceptionally well and possesses excellent instincts relative to his experience at the position. The combination of his quick feet and plus arm have yielded sub-1.9-second pop times, and he's only going to keep improving.
A right-handed hitter, Mathisen has plus bat speed with some loft and extension to his swing. His strong lower half and loose wrists allow him to remain balanced throughout his entire swing, which, in turn, allows him to weight back and keep the bat head in the zone for a long period of time.
It's uncertain whether Mathisen will remain at catcher despite his obvious natural ability, as he also projects at the hot corner.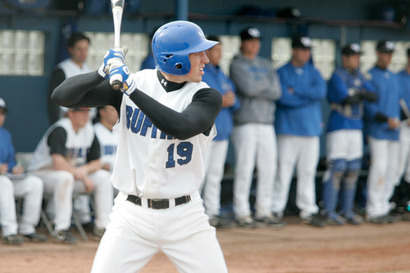 Courtesy of BuffaloBulls.com
Position: C
Height/Weight: 6'1"/225
Bats/Throws: R/R
DOB: 4/3/1991
College: Buffalo
Year: JR
At 6'1", 225 pounds, Murphy is one of the top catchers in the 2012 draft class, as he possesses at least average tools across the board—something that's seldom seen in catchers.
A right-handed hitter, he has a direct bat path and excellent hand-eye coordination that generates plus raw power, especially to his pull-side. It's doubtful that Murphy will ever hit for a decent average, as there's a fair amount of swing-and-miss in his game caused by an overaggressive approach. And when he's not swinging the bat well, he tends to press at the plate and extend his own slumps.
Murphy's a slightly above-average defensive catcher, with his strong arm grading out as a plus tool. Since the start of the 2011 season, he's greatly improved his blocking and receiving skills, though he will occasionally have bouts of inconsistency with both. However, his athleticism and overall skill set behind the plate leaves room for some projection.
He also possesses above-average speed for a catcher, having run anywhere from a 6.75-6.8 60-yard dash (depend who you ask). Although he'll remain behind the plate for the time being, Murphy's speed, arm and power also fits in right field, although such a transition likely won't occur for several years.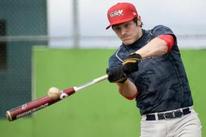 Courtesy of allamericanfoundation.com
Position: C
Height/Weight: 6'3"/220
Bats/Throws: R/R
DOB: 7/30/1993
High School: Union (Wash.)
College Commitment: Arizona State
At 6'3", 220 pounds, Coulter is one of the more impressive physical specimens in the 2012 draft class. As a sophomore, he won the Washington state wrestling title at 189 pounds, recording a 39-1 record along the way. However, over the past year, Coulter has focused all of his attention on a career in baseball.
There's a lot to dream about with his bat, as the right-handed hitter's pure strength allows him to keep the bat head in the zone much longer than a prep player should be able to. He has plus raw power to all fields, although the bulk of it is concentrated to the pull side.
As a catcher, Coulter has a plus arm and gets linear carry on all his throws. His blocking and receiving skills are still a work in progress, but given his athleticism and desire to improve, he figures to be a quick learner. Obviously, Coulter no longer possesses the agility of a 189-pound wrestler, though he still moves surprisingly well behind the plate.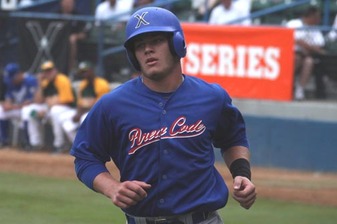 Courtesy of PerfectGame.org
Position: C
Height/Weight: 6'1"/215
Bats/Throws: L/R
DOB: 4/25/1994
High School: Acadiana (La.)
College Commitment: Mississippi
A physically strong yet agile catcher, there's not a lot of projection left with Trahan. However, he does possess three specific tools that make him one of the top catching prospects in the nation.
Trahan, a left-handed hitter, already has plus power thanks to exceptional bat speed and a lofty swing. His hit tool has also shown improvement this spring, as he's let pitches travel deeper and has utilized the whole field. He also has plus speed—an attribute that may one day command a shift to the outfield—and is an aggressive baserunner.
Finally, he possesses a plus arm with a quick stroke and solid-average accuracy. His agility and quick feet cater to his 1.9-second pop times, although his blocking and receiving skills are rather raw.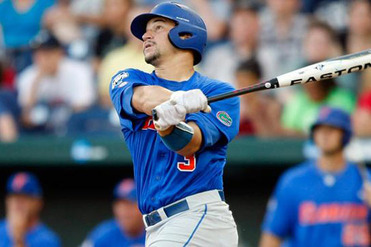 Courtesy of GatorZone.com
Position: C
Height/Weight: 6'2"/220
Bats/Throws: R/R
Age: 21
College: Florida
Year: JR
Mike Zunino is a strong, athletic catcher who has the overall skill set to remain at the position. He's an above-average receiver who has made strides in his blocking and should continue to as he develops.
He has room to improve in his game-calling abilities but has done a respectable job overall handling a highly talented Florida Gators pitching staff. He struggles to consistently throw out base stealers due to slightly below-average arm strength, slow transfer and release.
He's a pure hitter who drives the ball to all fields and generates good extension after contact. His swing can get a bit long at times, but it's something that will be an easy fix with a big league hitting coach. His hit tool is probably the most draftable in the entire class and could allow him to play any corner infield position in the major leagues.
Zunino also has baseball in his bloodlines, as his father, Greg, is a scout for the Cincinnati Reds and has served as an area scout for nearly 20 years.