England vs. Belgium: Tactical Analysis of Roy Hodgson's Last Friendly
June 3, 2012
Shaun Botterill/Getty Images
England have beaten Belgium 1-0 at Wembley, signifying the end to Roy Hodgson's run of practice games ahead of the European Championships this summer.
We saw the last chance to fine-tune tactics and personnel as Marc Wilmot's troops rocked up to London and I'll be honest—what I saw worried me.
Against Belgium, Hodgson used the same formation, same instructions and same player in the free role that he used against Norway. It's clear to see how England will set themselves up against France and that shouldn't be a surprise—he uses the same shapes wherever he goes in world football.
Here's how the teams lined up against each other at Wembley.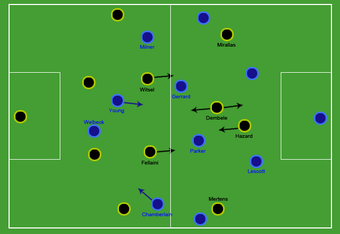 England's structure is clear and Ashley Young was again relied upon to make up the difference in the midfield. His role is tough and he must gauge at every second where he should be—a task that is very mentally tiring. Isolation was still an issue for England's front men.
Alex Oxlade-Chamberlain did a better job on the left than Stewart Downing did against Norway, showing ability and willingness to drift and find space. England were at their most dangerous when he was on the move.
Eden Hazard played a "false-nine position" similar to how Lionel Messi operated against Chelsea in the UEFA Champions League this season. An odd choice, since John Terry and Gary Cahill didn't fall for it against Barca, and they didn't fall for it here either.
The two wingers would swap and the midfield would interchange—something which prompted some very embarrassing mislabelling of players from ITV's commentary team.
England's Struggles
The issues with England's game are very, very clear.
A three-man midfield is something most international teams utilise, and the 4-4-2's hardships against this are well documented. It disappoints me to see Hodgson persevering with his usual methods when they clearly won't generate success.
With Belgium, we saw these issues in a cold, clear light. The fluency of Marouane Fellaini, Axel Witsel and Moussa Dembele ripped the heart of England's central midfield duo.
Wilmot's men managed 59 percent possession and almost twice the number of goal attempts than Hodgson's—so much for the 4-4-2 being an attacking formation for the sake of forgiving ball possession.
The truth is, it almost seemed like Belgium didn't fancy scoring in this game. Hazard wasn't utilised in a role that suited his penetrative, direct strengths and the wingers were happy to just "float" around the edge of the penalty box.
England's defensive lines were strong, well organised and defiant. They didn't let a thing through and that's great. Does it really take eight players to defend against Norway and Belgium though?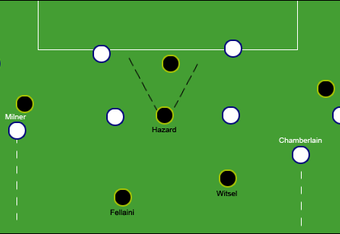 The transition from defence to attack is awful. With the lack of diagonal passes and strict banks of four, breaking out of defence places an unbelievable amount of pressure and burden on one player to carry the ball 15, 20 or even 30 yards up the pitch to initiate something.
We saw Young try it, only to be felled by four covering Belgians. We saw Oxlade-Chamberlain try it, who promptly fell under duress.
The gap between the defensive line and the midfield four is five yards. The gap between the midfield four and the front two is over 25 yards. It's not balanced and it can't be successful.
England will start looking for the long ball very early against France and everyone in the country will have their heads in their hands.
Belgium's Potential
A quick note on the potential for Belgian football. They have all the pieces to become a footballing force, but must let one player develop in order to complete the set.
When Romelu Lukaku becomes the world-class player he's destined to be, Belgium will be able to threaten anyone.
They lacked a true attacking focal point during this game, but Lukaku's introduction late on allowed them to create more structure in their play and look to play toward someone.
In time, Lukaku will be a deadly finisher who has no hesitation in the box. He'll be an aerial threat, a danger in the channels and a fox in the box. Belgium will be a force.
Looking Forward to the European Championships
At this rate, England have no chance. The last thing we expected was for them to become a reincarnation of Chelsea, but it seems that might well be the case.
When England have the players and the strengths to utilise a more effective formation, it's a shame to see them struggle in on an outdated, unfashionable and ineffective way.
France will be almost impossible, Ukraine an incredibly tough contest. One thing Hodgson does have to his advantage is the low levels of expectation surrounding the team are diminishing further, not rising.