London 2012: 5 Reasons Why the U.S. Men's Volleyball Team Will Win Gold
June 2, 2012

Jonathan Ferrey/Getty Images
They're without their all-world setter, Lloy Ball, ranked sixth in the world, and barely made the games after taking gold in the North, Central American and Caribbean Volleyball Confederation (NORCECA) Olympic Qualifying Tournament.
But the U.S. Men's National Volleyball Team is still stacked with the potential to defend their Olympic gold in London.
Coach Alan Knipe heads a team that, despite its visible age and lackluster international performances in recent years, is quite capable of making another run at the podium.
What does the U.S. have going for them?
#1. Experience
This team has been here before. Nearly half the roster from the Beijing games is returning to defend their medals.
Their upset of top-ranked Brazil--who, by the way, is still No. 1--was quite the stunner. Plus, the squad was in an all-or-nothing situation in May when they were faced with having to win the NORCECA games or not having the chance to repeat as Olympic champions.
They know pressure.
And the team that won the qualifying tournament was composed of nine players over the age of 30. Give me experience over raw youth any day.
#2. Momentum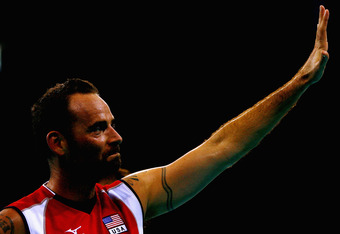 Quinn Rooney/Getty Images
Tournaments, playoffs, and championships are all about who's hot. Remember that New York Giants run to the Super Bowl?
The U.S. needed big wins down the stretch in the Olympic Qualifying Tournament and got them. Don't doubt for a second that something like that won't carry over, especially since their semifinal victory came over fifth-ranked Cuba.
#3. Outside Hitter Matt Anderson
While this team may be graying a bit, Anderson brings a youthful presence. The 25-year-old is the youngest member of the team, and also the most dominant of late.
Anderson led the team in 2011 in scoring, and played more sets than any other teammate. In the FIVB World Cup, he led the team with 158 points (139 kills, five blocks, 14 aces).
The U.S. will rely on the 6'10" (tallest on the team) former Nittany Lion and his youthful legs to carry them to a gold medal.
#4. Libero Rich Lambourne
While Lambourne leads Team USA in years (37), he still gets it done on the court. He's the team's best digger and will have to dig into any fountain of youth he can find to help slow down offenses like Brazil and Poland.
This team goes as far as he takes them. If he can keep opposing teams off the scoreboard like he's capable of (he finished pool play in the 2011 FIVB World League ranked third among all liberos), it'll help set up whoever sets and the rest of the offense.
Defense wins championships.
#5. One Last Hoorah
This team isn't getting any younger.
Outside hitter and captain Reid Priddy is 34. He finished third on the team in scoring last year, but missed a few tournaments with injuries.
Opposite Clay Stanley is also 34. He remains one of the team's best threats after being named the 2011 USA Volleyball Male Indoor Athlete of the Year but how many more Olympic games does he have in him?
And the same goes for Lambourne.
This could very well be the last Olympics for several members of this team. Don't expect them to go out quietly. These guys are looking for that swan song performance and are quite capable of pulling off another stunning run for gold.
But you can bet that Brazil wants revenge and the other top-five teams (Russia, Italy, Poland and Cuba) won't back down either. Team USA knows what they need to do to bring home the hardware, though.