Carolina Panthers: Grading the Pre-Camp Strength of Each Positional Unit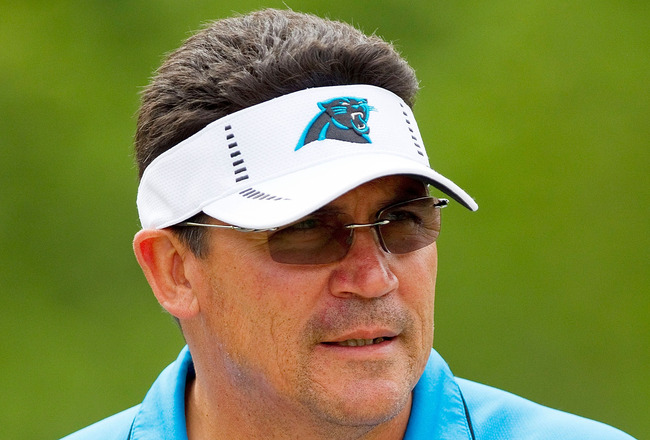 Carolina Panthers coach Ron Rivera
Brian A. Westerholt/Getty Images
The Carolina Panthers are optimistic after recently completing their first two-week session of organized team activities (OTAs), the first such offseason sessions of the Ron Rivera-Cam Newton era, but they still have a lot of work to do before they are ready for the start of training camp.
So now that the first round of mini-camps and OTAs are in the books, where does that lead them heading into training camp on July 29?
Rivera told a group of reporters that the team improved throughout the OTAs, particularly in the second week and especially on the defensive side of the ball and on the offensive line. Via Panthers.com:
You see the little things that last week they weren't doing, they're doing now. The communication aspect as far as the defense is concerned has been outstanding, [and] the adjustments you see the offensive line make have been even better.
However, Rivera noted that "you take it with a grain of salt" because the players are not in pads at OTAs.
You get the feeling that the Carolina head coach can't wait for his players to put on the pads in a couple months once training camp officially gets underway in Spartanburg, South Carolina.
Here's a look at where each of the Panthers' positional units stand with training camp less than two months away.
Quarterbacks: B+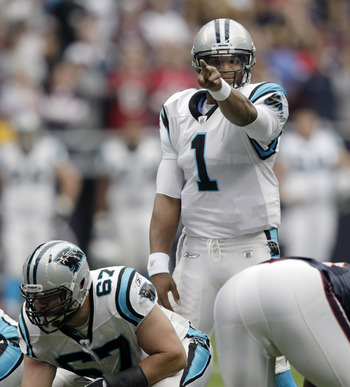 Cam Newton
Bob Levey/Getty Images
The Carolina Panthers' starting quarterback Cam Newton is not only the face of the franchise entering his second season in the NFL, but he's one of the new faces of the NFL and a future superstar both on and off the field.
Newton had perhaps the greatest rookie season of any player in NFL history, and certainly the greatest season by a rookie quarterback, but he is only scraping the edges of what he will become over the course of the next several years.
I believe Cam Newton is already a top 10 NFL quarterback heading into the 2012 NFL season.
The Panthers are solid at backup quarterback too, though Derek Anderson and Jimmy Clausen lack Newton's mobility, arm strength and pocket awareness.
Clausen, the third-teamer, played well in Carolina's first OTAs this offseason, and coach Rivera told the Charlotte Observer's Tom Sorenson that the former Notre Dame star has come a long way from being a wide-eyed rookie to a quarterback. Clausen will have an opportunity to start again in the NFL.
Newton is the guy earning a B+ in this slide though, and it is not for lack of talent, hard work or desire, because he has all three in spades.
I have said before that Newton is a football savant who sees and understands the game of football as only a handful of current elite quarterbacks and select NFL greats do or ever have.
I just believe that the ceiling is so high for this guy that it would be an insult to suggest that he's arrived at his full potential, and there are still at least six or seven quarterbacks I would pick to start a game tomorrow ahead of Newton.
However, until Robert Griffin III and Andrew Luck show what they can accomplish in the NFL this season, there is no quarterback I'd take ahead of Newton to build a franchise around.
Running Backs: A+
DeAngelo Williams
Streeter Lecka/Getty Images
The running back is the Carolina Panthers' deepest position, and "Double Trouble" will become a household moniker again in 2012.
The Panthers were the NFL's third-leading rushing team in 2011 with 150.5 yards per game, despite being mostly a passing team early in the season; however, in games in which the Panthers ran more often than they passed, they were 5-0.
Panthers' running backs DeAngelo Williams and Jonathan Stewart last ran for 1,000 yards each in the 2009 season, and there is no reason to think both players won't reach that mark again this season.
Newly acquired fullback Mike Tolbert, who led the San Diego Chargers in rushing in 2010 and hauled in 54 catches in 2011, adds another accomplished runner and receiver to the Carolina backfield.
Cam Newton remains the Panthers' best goal line runner heading into the 2012 NFL season, and his presence in the backfield with Williams, Stewart and new fullback Mike Tolbert makes the Panthers' backfield one of the best, if not the best, in the league.
If Rob Chudzinski has not yet figured this out, the Panthers must run the ball more than they pass to be a winning team in 2012.
Offensive Line: C+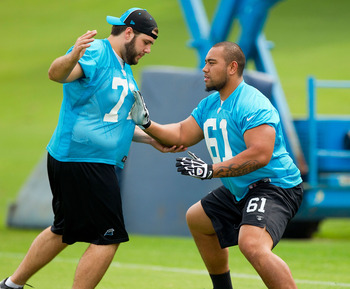 Amini Silatolu (61)
Brian A. Westerholt/Getty Images
The Carolina Panthers' offensive line has elite talent with Pro Bowlers Ryan Kalil, Jordan Gross and Jeff Otah when he is healthy.
However, Otah has already been held out of OTA drills by coach Rivera and had an MRI ordered on his oft-injured left knee after tweaking it in practice.
I am optimistic for a healthy Otah in 2012, but if the former first-rounder goes down again in 2012, Byron Bell is the Panthers' likely starter at right tackle.
Rookie second-round draft pick Amini Silatolu is being groomed for a starting guard position opposite Geoff Hangartner.
Silatolu has the physical tools to be a dominant NFL lineman, but he has struggled to pick up NFL terminology and concepts in his first mini-camp and OTA workouts.
Fortunately, he has a couple of months left before training camp.
Hangartner is a solid, if not spectacular, starting guard who the Panthers just re-signed for three more seasons.
I also like Will Blackwell's (an undrafted rookie free agent) chances to make the Panthers' roster as a third offensive guard.
I expect the Panthers' offensive line to perform at a "B" level or higher this season with at least two or three players among the NFL's best at their position.
However, a chain is only as strong as its weakest link, and inexperienced guys like Silatolu, Bell and Blackwell could each receive significant playing time on the Panthers' offensive line this season.
Tight Ends: B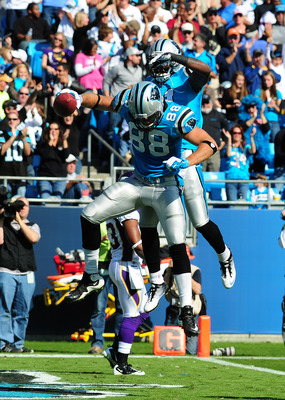 Greg Olsen (88)
Scott Cunningham/Getty Images
The Carolina Panthers' tight ends were one of the team's strongest units in 2011 with Greg Olsen and Jeremy Shockey leading the way, but Shockey is not on Carolina's active roster is unlikely to return to the Panthers in 2012.
Olsen, however, is back and will be expected to pick up most of Shockey's tight end catches this season. This could add up to some big numbers for the second-most popular No. 88 in Charlotte, N.C.
Gary Barnidge is the Panthers' likely No. 2 tight end after spending all of last season on injured reserve with a broken leg, though he only has a dozen career receptions.
The Panthers will need Barnidges' production to increase this season.
I am also intrigued by the Panthers' most recent free-agent acquisition, former UCLA Bruins' star tight end/wide receiver Nelson Rosario,
At 6'5" and 225 pounds, Rosario is too slight to line up as a blocking tight-end, but he is a big target with great hands who could prove to be a red zone matchup problem for defenses as he can line up all over the field, including the tight end position.
Rosario could be the red zone threat and hybrid tight end/receiver Panthers' fans were hoping to select in the 2012 NFL Draft in Alshon Jeffery.
Receivers: B+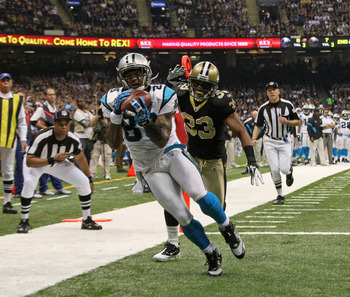 Steve Smith (89)
Scott Cunningham/Getty Images
If the Carolina Panthers had three Steve Smiths lining up to catch passes from Cam Newton, not only would they have the smallest receiving corps in the NFL, they would also have the best.
The problem is that the Panthers are still trying to figure out who their No. 2 receiver is, though the early leader is third-year player Brandon LaFell.
LaFell came on strong with a couple of big games late in the 2011 season, but he will be challenged by returning wideout David Gettis, who tore his ACL on the first day of camp last season.
The Panthers should have the ability to play more sets with an effective slot receiver in 2012 with rookie receiver/punt returner Joe Adams and second-year receiver/kick returner Kealoha Pilares in the mix along with Gettis.
Pilares reminds me a lot of the New York Giants' Victor Cruz, and he is a gamer who could find his way onto the field sooner rather than later.
I anticipate the Panthers keeping six receivers on the roster and at least two, Adams and Pilares, as special teamers. That leaves one more spot to be claimed.
Again, do not overlook undrafted rookie free agent Nelson Rosario as a red zone threat and potentially lethal weapon with great size and gifted hands.
I am just not yet sure if he is a tight end, a wide receiver or something in between.
Defensive Line: C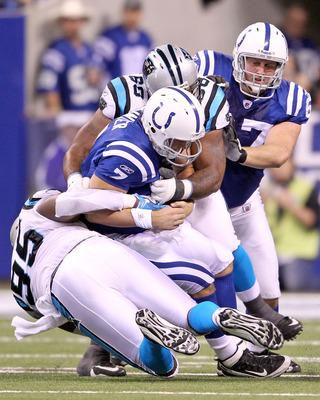 Charles Johnson (95)
Andy Lyons/Getty Images
This may be a low grade for the Panthers' defensive line since I am including the entire unit from the ends to the tackles.
Charles Johnson is an elite pass rusher at the right defensive end position, and rookie fourth-round draft pick Frank Alexander is a talented pass rusher who will challenge Greg Hardy for the other defensive end spot.
The Panthers' biggest weakness defensively, except perhaps three-quarters of the secondary, was their interior defensive line.
Many observers, including myself until just before draft day, believed the Panthers would select a top collegiate defensive tackle to solidify the front, but coach Rivera must be confident with returning veteran Ron Edwards and the two rookies Simone Fua and Terrell McClain, who started most of last season along the interior line.
Fua and McClain have an opportunity to prove themselves all over again since the Panthers didn't draft a defensive tackle in the 2012 NFL Draft.
However, I am sure Rivera has told his second-year interior linemen that they better not make him look bad by not drafting their replacements.
Because the Panthers' interior line cannot get much worse than they were a season ago, and because Carolina should have an effect pass rush from the edges without having to blitz much, I am starting the defensive line out with a C-rating.
However, I do not believe they will remain a "C" throughout the season, and it will be up to the Panthers' defensive linemen whether they improve their grade or fail for the second consecutive season.
I am betting on improvement.
Linebackers: A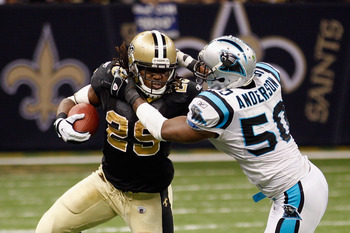 James Anderson (50)
Chris Graythen/Getty Images
On paper, the Carolina Panthers' starting linebacker corps of Jon Beason, James Anderson, Luke Kuechly and Thomas Davis (or some combination of three of those guys) are as talented as any in the NFL.
Carolina's linebackers were decimated by injuries in 2011 when Beason and Davis went down with season-ending injuries in the first two weeks of the season. But, Beason is well on his way to a full recovery, and Davis is determined to become the first NFL player to return from three ACL tears in his career.
Anderson stepped up to become one of the NFL's leading tacklers in 2011 because of his teammates' injuries, showing that he is not a weak link on the defensive side of the ball.
Though Kuechly has no NFL experience, the Panthers' 2012 first-round draft pick out of Boston College was the best linebacker in college football the past couple of seasons, and he has the chops to become a Brian Urlacher-type player for Carolina.
The possibilities are endless for the Carolina backers—if they can all stay healthy throughout the season—and I would not be surprised to see the Panthers play a 3-4 defense at some point this season, particularly if they can find an interior lineman capable of plugging up the middle and occupying more than one blocker at a time.
How great would it be to see Kuechly and Beason roaming from sideline to sideline as tandem inside-backers ala the Chicago Bears' Urlacher and Lance Briggs?
Carolina's linebackers earn an "A" rating heading into training camp as the second-best unit on the Panthers behind the running backs squad.
Secondary: D+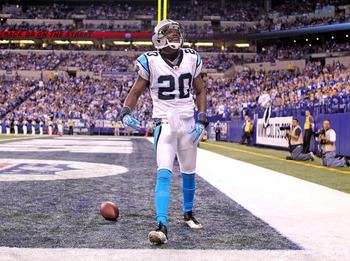 Chris Gamble
Andy Lyons/Getty Images
For all I know, the Carolina Panthers' defensive secondary may be the best in the world heading into training camp, but considering the way they played in the 2011 season, that's doubtful.
Chris Gamble proved last season that he is an elite-level cover cornerback and one of the best in the NFL at his position.
However, the rest of the Panthers' secondary was atrocious in 2011.
Captain Munnerlyn's No. 2 cornerback spot is wide-open for Brandon Hogan and Josh Norman to battle for, and either player should be an upgrade over Munnerlyn, who allowed nearly three-quarters of passes thrown his way to be completed.
The Panthers also brought in competition for Sherrod Martin's and Charles Godfrey's safety positions who were both among the NFL's worst tacklers at their position in 2011.
Martin told the Charlotte Observer's Joe Person that he knows he has to improve his tackling this season. Via the Charlotte Observer:
"A big part of the game that I messed up on last year was tackling. That's something I've got to improve on. Other than that, just coming out and working. Just constantly getting better and putting myself in better position and just finish plays."
The Panthers' secondary could be the team's weakest unit again in 2012, but they will be better this season than last. I expect them to play at least a C+ level during the regular season.
Until we see something from the Panthers' secondary players and figure out who is going to be starting back there with Gamble, it is difficult to give this unit a high grade.
Special Teams: C+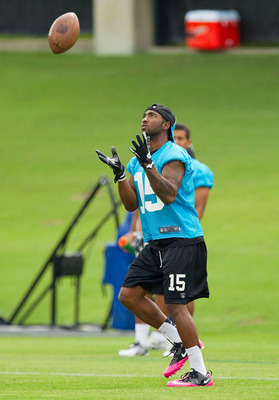 Joe Adams (15)
Brian A. Westerholt/Getty Images
After having the worst special teams in the NFL last season according to footballoutsider.com, the Carolina Panthers made one of their best decisions of the offseason by improving their coverage and return teams.
Rookie fourth-round draft pick Joe Adams led the NCAA last season with four punts returned for touchdowns, and he will take over that role from Armanti Edwards this season after the Panthers' punt returner averaged just 5.5 yards per return in 2011.
Kealoha Pilares was a solid eighth in the league in kick return average last season with 25.7 yards per run back and Carolina's first kick return for a touchdown since 2003.
The Panthers also improved their kick and punt return blocking and coverage units by adding special teams' stalwarts Kenny Onatolu, Haruki Nakamura and Mike Tolbert, which should help the Panthers cut back on the three scoring punt returns they allowed last season.
Olindo Mare returns as a solid do-it-all kicker who handles the team's kickoff and field goal/extra point duties, but he will have to improve in clutch kicking situations after missing crucial field goal attempts against the Minnesota Vikings and Atlanta Falcons in 2011.
Finally, the Panthers cut veteran punter Jason Baker in the offseason to free up salary cap space, and they drafted Brad Nortman out of Wisconsin in the sixth round to take his place.
Carolina also brought in Jaguars and Lions punter Nick Harris to provide an extra leg in camp—and to give Nortman some competition.
The Panthers should be much improved on special teams in 2012, and they will likely earn higher than a C+ rating this season. But it is difficult to give Carolina's special teams units a higher grade before seeing them play at full speed.
You can follow Jimmy Grappone on Twitter @imapone24. Also, check out Jimmy's new writer fan page on Facebook, and be sure to "like" me. I look forward to your comments.
Recent articles by Jimmy Grappone:
"Cam Newton's Chances for MVP Season in 2012"
"Panthers' Undrafted Free Agents Who Can Make the Team"
"10 Panthers Who Need To Play Big in 2012"
Keep Reading

Carolina Panthers: Like this team?