2012 Memorial Tournament Rory, Phil & Tiger Are Among the Top Stories
June 2, 2012

Scott Halleran/Getty Images
The weather is always an issue at the Memorial.  Warm sunny conditions in the weeks preceding the tournament had the course playing firm and fast on Thursday.
Heavy thunder storms moved through the Dublin, Ohio area on Friday morning and play was halted for one hour and fifty minutes.
The course played much longer after the rains and the greens were much more receptive to approach shots.
The temperature dropped especially late in the afternoon and the winds were strong. 
The players felt as if they had been transported to Scotland rather than just outside of Columbus, Ohio.
World ranked No. 2, Rory McIlroy made a quadruple-bogey at the par-3 No. 12 (his third hole) on Thursday, but battled back to post a one under-par 71.
His Thursday round included four birdies, one eagle, one bogey and the quad—probably not the consistency Rory is looking for this close to defending his U. S. Open title.
Rory could not get anything going on Friday, and never seemed to be in sync with his swing or game.
Following two bogeys in carding a 38 on his first nine holes, he completely lost his game on the back side. 
He made two double-bogeys on the second nine plus another bogey for a 41 which gave him a total of 79.  His 71-79 which equalled150 was six shots over par for the tournament and three shots over the cut line.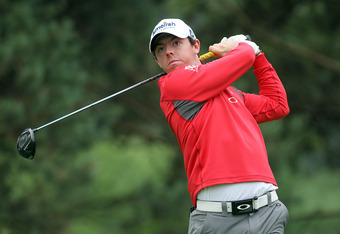 Andy Lyons/Getty Images
Looks like Rory will have some extra time to spend with his main squeeze tennis star, Caroline Wozniacki, this weekend.
Phil Mickelson made a brief appearance at the Memorial this year.  He shot a first-round 79 on Thursday, signed his card and jumped on his jet where he flew out of town, citing "mental fatigue" (via the Boston Herald).
Poor boy had just come off of a week in Europe with his wife.  Most husbands will be able to relate to his pain.
It is believed that Phil may have been making a statement to the PGA Tour concerning cell phone usage on the golf course.
He and playing companion Bubba Watson complained often to marshals about interruption from fans taking pictures with their phones.
Ricky Fowler carded a one under-par 71 playing in the same grouping with Bubba and Phil.  Cell phones did not seem to bother him however.
Central Ohio golf fans, tournament host Jack Nicklaus and sponsor Nationwide Insurance deserve more from Hall of Fame member.
Perhaps the biggest developing story involves none other than Tiger Woods. 
Tiger heads into the weekend at five under-par—just one shot behind tournament leader Rory Sabbatini.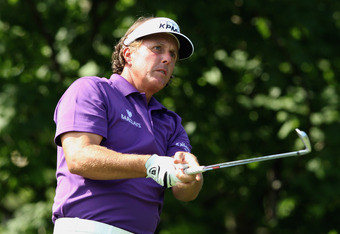 Scott Halleran/Getty Images
He has played solid golf over the first 36 holes.  He has hit 20 of 28 fairways, 26 greens in regulation and only taken 56 putts.
His only mishaps have been a double-bogey on No. 18 (his ninth hole) on Thursday, and another double yesterday at the difficult twelfth hole, a par-3. 
More importantly, he is controlling the trajectory, shape and distance of his iron shots with precision.  He has hit some magnificent approach shots onto the greens.
He is playing golf rather than worrying about his swing.  It is a beautiful thing to watch when Tiger Woods is on top of his golf game.
It he can continue to strike the ball with the accuracy and confidence that he has shown over the first two rounds, he will be tough to beat on Sunday.