The Ultimate Fighter Live Finale: Martin Kampmann and the Art of the Swarm
June 2, 2012

Jake Ellenberger is a man. A man's man. At 27, he still looks a bit like a high school fullback—the kind of gritty runner who toughed out yards, but really took pleasure in sticking it to the middle linebacker play after play.
He appears squat and muscular, despite standing at 6'0", moving with a deceptive speed when called upon. But it's not his looks that make Ellenberger remarkable. He's a dangerous, dangerous fighter.
Since losing a closely contested split decision to Carlos Condit in 2009, he rolled off six wins in a row. Against the creme—Diego Sanchez and Jake Shields were among his victims. 
When he has you in trouble, he swarms, like a collection of bees have coalesced to form his right hand. It's an explosion, one that has led to 22 stoppages in his 27 wins. Martin Kampmann felt the swarm in the main event of The Ultimate Fighter Live Finale.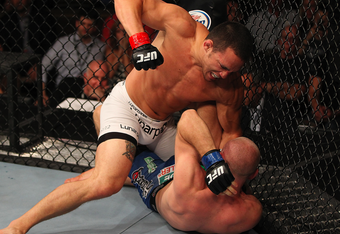 And somehow, against the odds and the laws of the universe, Martin Kampmann survived. A short punch made Ellenberger wobble, a little dance that looked like one of the worst Soul Train solos of all time. And then Kampmann unleashed a swarm of his own.
His were knees—brutal and vicious knees. The kind Wanderlei Silva used to throw. The kind that leave a man huddled on the mat, looking at his own blood, wondering where he went wrong. Usually, that path traces back to accepting a fight with Martin Kampmann.
The Danish dynamo, who actually won a close decision from current welterweight interim champion Condit, is on quite a streak of his own. Since being upset by Paul Daley back at UFC 103, Kampmann has won five of seven. And if you replace the judges for the fights he lost with people that possess 20/20 vision and average mental capacity, he'd be sitting on top of one impressive win streak.
Next up for Kampmann is Johny Hendricks, twice an NCAA champion at 165 pounds. He will test Kampmann's growing confidence in his takedown defense. But while Kampmann has to worry about the takedown, Hendricks has to be concerned as well. There's the swarm to contend with, and it can come anytime, from anywhere.