LA Angels Fast Emerging as One of the Most Fun MLB Teams to Watch
June 2, 2012

Harry How/Getty Images
Living on America's East Coast, I do not normally get the chance to watch baseball games out West. Nothing personal, this has everything to do with having to peel my eyes open to stay awake after a long duty day.  
But I have to say, the past week or so, I have found myself glued to the television at the tick of 10:00 p.m.
This is because I have come to absolutely love watching the L.A. Angels play baseball. Sure, the team got off to a rocky start this spring, but man, this team is fun to watch!
Take the Angels' 5-1 victory over the Yankees on May 29. Watching this game made me feel like a little kid all over again.
In this game, I got to see monster home runs by future Hall of Fame first baseman Albert Pujols and budding superstar Mark Trumbo. I also got to watch spectacular, eye-popping catches by ridiculously speedy young guns Peter Bourjos and Mike Trout.  
I could not help but chuckle at a sarcastically-laughing Nick Swisher, who had just watched Bourjos dart from far left center field to rob the Yankees outfielder of a triple.
Sometimes, I think ballpark officials should have a fire hose on standby when Bourjos and Trout sprint in the outfield. I say this because, one day, their spikes may light the outfield grass afire with all that speed.  
Now above .500, and having defeated the Texas Rangers 4-2 Friday night, the Angels force one to wonder where this out-of-their-minds play has come from the past few weeks.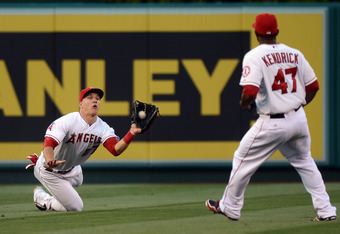 Harry How/Getty Images
"Everybody's playing loose," Torii Hunter told Alden Gonzalez from MLB.com. "When I left, after Texas, there was a little tension. But now that I'm back, it's just a lot looser. Everybody's having fun, just like it should be. ... It's very noticeable -- in the clubhouse, on the bench and definitely in the game play."
Hunter is certainly right. Perhaps riots broke out in the Angels' locker room one night after the team had hit its threshold of underachieving. Maybe manager Mike Scioscia's muse gave him a few key pointers one sleepless night in Seattle. Or just maybe Trout has fished this team from the depths of the A.L. West.
Who knows? Maybe the team just has a new masseuse.
Regardless of the reasons for L.A.'s recent ascension, one thing is for certain: The Angels have become the most fun team to watch in baseball.
Period.
Related Articles:
Mark Trumbo Proving to Be Steal for LA Angels