Johan Santana's No-Hitter Had the Feeling of a World Series Title for Mets Fans
June 2, 2012

Mike Stobe/Getty Images
After 50 years and a grand total of 8,019 games before it, the New York Mets have finally tossed a no-hitter, and I am proud to say that I was in attendance.  
The scene was electric at Citi Field as Johan Santana dazzled for nine straight innings in front of a crowd that was 27,069 strong.
The night was filled with suspense and a few minor outbreaks of rain, but not even a few rain drops could stop the Mets ace from dominating the Cardinals. 
The Mets ace fanned eight Cardinals batters on the night, which is pretty impressive considering that the Cardinals came into the game as the National League's leaders in batting.
Santana was helped with some great defense by his teammates as well. David Wright made some tough plays look easy over at third base, and Mike Baxter made an incredible catch in the 7th inning as he crashed into the wall to save the Mets no-hitter. Baxter would end up leaving the game with a shoulder injury.
As I was watching the final three innings, it reminded me of the feeling that I had for this years Super Bowl. I told myself that there was no way that Santana was going to pull this off, but that feeling faded away more and more with every out.
Then there was the ninth inning.  
Santana retired Matt Holiday and Allen Craig, but he still had to face last years World Series hero David Freese.
Santana threw three straight balls before fighting back in the count to strike him out on a change-up, and then Citi Field erupted.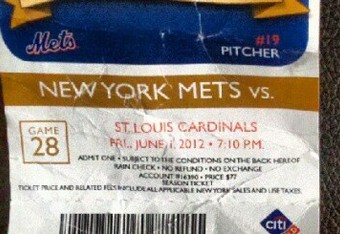 It was truly an amazing moment and it is one that I will never forget. 
Santana's gem goes right up there with the greatest moments in Mets' history, which includes the World Series titles in 1969 and '86, and Mike Piazza's game winning home run against the Braves that was just days after the attacks of September, 11th.
Santana's accomplishment was even more special because of the wait. It was something that Tom Seaver, Jerry Koosman, Jon Matlack, Nolan Ryan, David Cone, Dwight Gooden and all pitchers before him could not do as Mets, which will forever grace him in the hearts of the fans. 
I also have to mention that the irony in this game was almost unbearable. 
Carlos Beltran, who is a former Met, almost broke up the no-hitter when he ripped a ball down the third base line. The ball should have been called fair, but it was ultimately called foul by third base umpire, Adrian Johnson. Met killer Yadier Molina was the batter that hit the ball that Mike Baxter caught, and he is the same player that smashed the game-winning home run to beat the Mets in the 2006 National League Championship series. The pitcher that struck out Beltran in that NLCS game to win it for the Cardinals was Adam Wainwright, who also happened to be the pitcher that started against Johan Santana Friday night.
There could not have been a better script. 
As soon as it happened, I received numerous phone calls and texts from people that know what I have gone through with the Mets, which made the experience that much more special. It was also great to see what this game meant to my uncle, as he has been a Mets fan from day one. 
This was truly an amazing moment for the Mets and their fans, and who knows if this game sparks a rally for the rest of the season "You Gotta Believe!"