Dear Justin Turner, a No-Hitter Is Not the Time for a Shaving Cream Pie
June 2, 2012

Mike Stobe/Getty Images
The shaving cream pie thing in baseball is amusing at certain moments. But there's a time for goofy mischief. Maybe the afterglow of a no-hitter is not one of those occasions.
Johan Santana had just thrown the first no-hitter in the 50-year history of the New York Mets. It was also the first no-hitter of his career, a signature moment in what's been a tremendous career. How about letting him have that moment to enjoy for himself?
Instead, teammate Justin Turner shoved a cream pie in Santana's face during an interview with SNY. As Santana said, at least Turner used whipped cream instead of shaving cream. 
OK, it was a time to celebrate and everyone was in the mood for some frivolity after a fantastic moment for the team and franchise. But this felt, well, a little bit inappropriate. Let the man savor his accomplishment while he's talking about it with the TV broadcast crew.
Shaving cream pies are a good-natured way to keep a player humble. For instance, giving a rookie a pie in the face during his first postgame interview. Or the guy who drove in the walk-off run. (Michael Morse got Xavier Nady good a couple of weeks ago.) It's a reminder that baseball is a game and everyone is meant to have fun.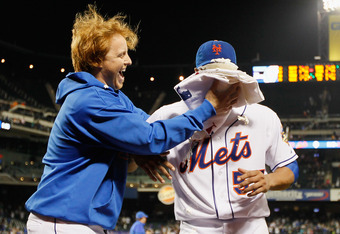 Mike Stobe/Getty Images
So is it taking things a bit too seriously to suggest that Turner showed some bad judgment by covering Santana's face in cream while he was taking his achievement in? Yes, it probably is.
Maybe it's because Turner seemed to take it upon himself to break up the moment. Would it have felt different if a group of teammates doused him in champagne (as they later did in the dugout during a radio interview) instead? It probably would have. 
Or maybe it's because it was Turner who brought out the pie. If David Wright had done that, who would've questioned the team leader and face of the franchise goofing around? So there shouldn't be a double standard. 
Boys will be boys. There's nothing wrong with that when we're talking about a game. Besides, Santana maintained his dignity, even with a face covered in whipped cream. Such a silly gesture wasn't going to ruin his moment. 
Follow @iancass on Twitter