Toronto Maple Leafs Trade Rumors: 5 Reasons Toronto Shouldn't Deal Luke Schenn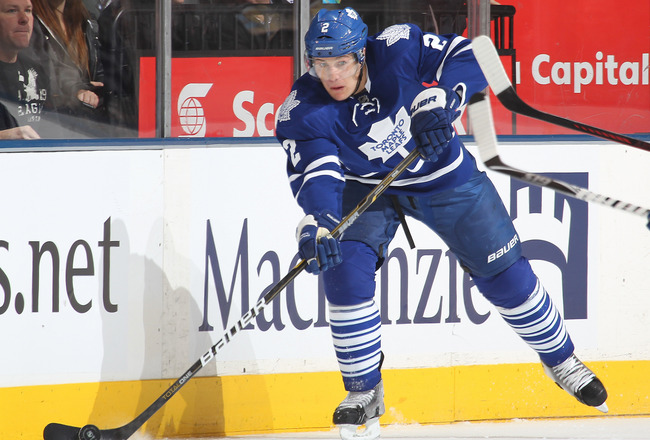 Claus Andersen/Getty Images
For months we've been hearing Luke Schenn's name swirling in trade rumors.
Whether it's been in a potential deal for Edmonton's first overall selection in this year's entry draft, or back at the trade deadline when there were whispers about moving the big defenseman for Philadelphia's former second overall selection in James van Riemsdyk, Schenn's name has been included in nearly every rumor surrounding Toronto in 2012.
From impatient fans, to long-tenured sports media personalities, everyone seems to want to move the 22-year-old Saskatchewan native.
There are, however, still plenty of valid reasons to keep Luke Schenn playing in Toronto.
Let's take a look at the five most important.
His Age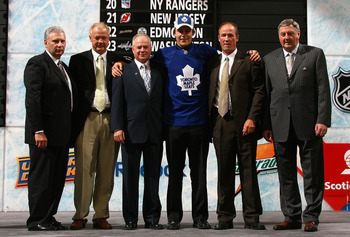 Bruce Bennett/Getty Images
As I alluded to earlier, Luke Schenn is still just 22 years old, and will not turn 23 until November of this year.
As Luke was immediately thrust into action because Toronto's group of defensemen was in absolute shambles, he began playing at the ripe age of 18.
Giving up on a 22-year-old, especially a defenseman, who tend to reach their potential later than forwards, would not be fair to Luke, nor would it be good for the organization's long-term success.
His Role on the Team
Whether or not you're a fan of Luke Schenn's play on the ice, he is one of the only stay-at-home, shutdown defensemen the Maple Leafs have.
While Dion Phaneuf looks, at times, like he can play solid defensive hockey, he looks lost in his own zone at other times.
Then there are Luke Schenn and Toronto's favorite whipping boy, Mike Komisarek.
After that, you've got Cody Franson, who plays more of a hybrid game, and Jake Gardiner, John-Michael Liles and Carl Gunnarsson, who are all smaller, more offensive defensemen.
That's one thing people often overlook when they throw Luke Schenn's name around in trade rumors.
Moving Schenn would mean Toronto would either have an incredibly soft defense, or be forced to play Mike Komisarek, who seems to be a magnet for mistakes every time he touches the ice, every game (and even then the Leafs would lack some serious toughness on the blue line).
While Luke Schenn may be a valuable piece that could net Toronto some serious return, it would not be wise to move him for the short-term or long-term success of the franchise.
He's Shown Glimpses of How Good He Can Be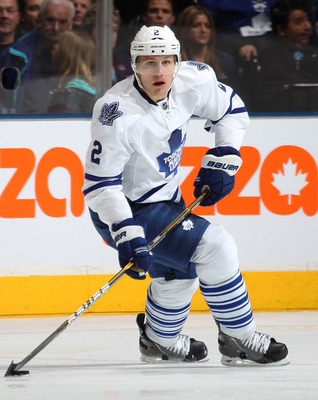 Claus Andersen/Getty Images
Though the times haven't always been easy for the young Luke Schenn, there have been moments in which he's shown why the Maple Leafs traded up to draft him with the fifth pick in the 2008 draft.
Like just about any other defenseman his age, Luke still needs to work on his positioning in his own end, but there are plenty of positives for fans to take away from Luke's first four seasons.
First, while many see his career rating of minus-23 as a major negative, it can also be interpreted as a fairly decent number, considering he was minus-12 as an 18-year-old rookie, and Toronto has had a sad group of defensemen since Luke's arrival.
Secondly, and most impressive of all, has been the fact that Schenn has shown he is among the best in the league when it comes to hit totals.
In his four career seasons at the NHL level, Schenn has finished with less than 200 hits in only one of them, totaling more than 250 hits in each of the last two.
Schenn has shown that he's only getting better as each year goes on, whether it seems like it to the everyday fan or not, and hopefully management sees that.
There Are Other Players to Deal That Wouldn't Hurt as Much in the Long Run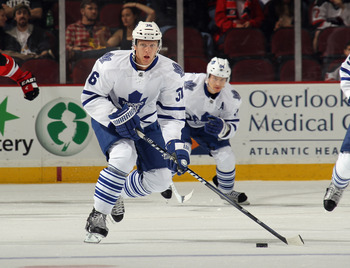 Bruce Bennett/Getty Images
After taking control of the Toronto Maple Leafs a few years ago, Brian Burke was determined to build the team for both "the now" and the future.
While he has failed miserably at building the team for success in the present, at least he has re-stocked what was a depleted Toronto farm system with a few valuable pieces.
At this point in time, it may be smarter to use a player like Carl Gunnarsson in a trade instead of Luke Schenn, and add a prospect or a pick to sweeten the deal for a potential trade partner.
That way, Toronto will be able to keep one of their only shutdown defenseman, trade from their strength (quicker, puck-moving defensemen), and acquire a potential No. 1 overall pick or a James van Riemsdyk-type player without depleting their farm system or moving the talented Luke Schenn.
His Development Is Ongoing and He Should Not Be Given Up on Yet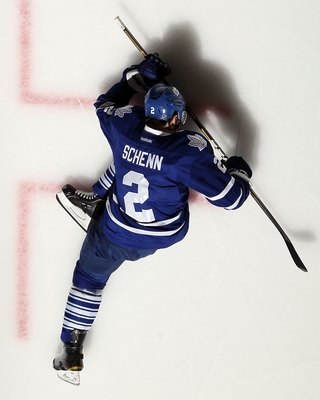 Jim McIsaac/Getty Images
As I mentioned earlier, Luke Schenn was called upon to play in the NHL the same year he was drafted. After just three to four months of preparation following the NHL entry draft in June, Schenn was expected to jump from junior hockey, where he played against boys as young as 16, to the NHL, where he was expected to shut down players like Ilya Kovalchuk, Jason Spezza and the rest of the Eastern Conference on a regular basis.
Considering some players return to junior hockey, then play a year or two in the AHL to further hone their craft, what Schenn has been able to do is impressive.
Imagine trying to develop your game as an 18-year-old against the world's best hockey players every single game.
Even today, Luke is still learning the game and has plenty of time before he'll even reach his prime.
There is absolutely no reason to believe that Schenn's growth as a player has stopped and that he should be dealt now before his value diminishes.
Heck, even if he does peak at this point, at least he's no Thomas Hickey, right?
Keep Reading

Toronto Maple Leafs: Like this team?