8 Reasons the Mets Cannot Trade Johan Santana After His No-Hitter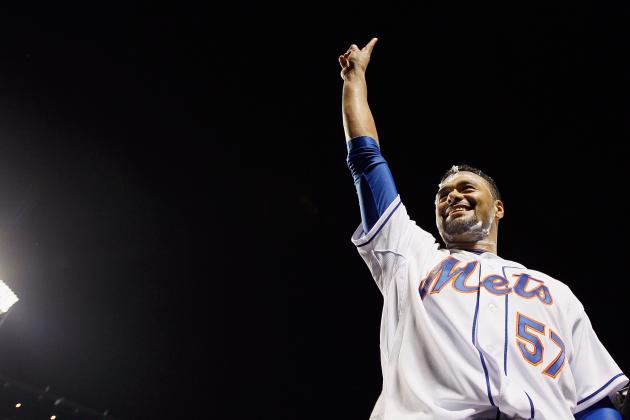 Mike Stobe/Getty Images

Fresh off a complete game shutout in his last start against the San Diego Padres, Johan Santana really outdid himself on Friday night.
In the 8,020th game in New York Mets franchise history, Santana tossed a no-hitter—the first in the team's 51-season history.
It was by no means an easy game for Santana, as it took him 134 pitches and five walks issued before recording the final out.
Santana has officially entrenched himself in Mets history, and this game will definitely rank amongst the team's most memorable ever.
There have been some trade rumors in the past regarding Santana—some as recent as May—but Ken Rosenthal of FOX Sports thought it unwise for the team to trade away its ace.
Now, after his no-hitter, I have to say that I agree with Rosenthal. Here are eight reasons why.
Begin Slideshow

»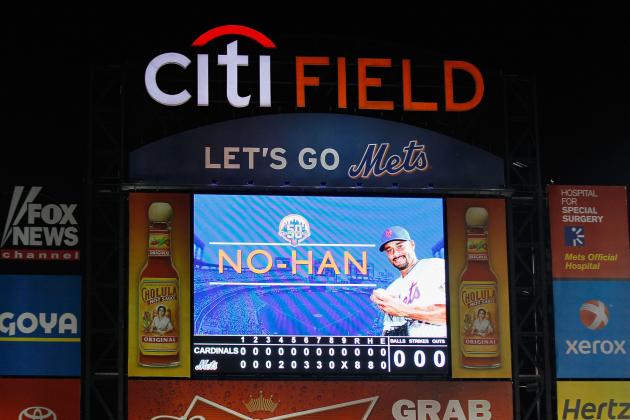 Mike Stobe/Getty Images

Santana's no-hitter was the first in Mets history, like I mentioned earlier.
Even before the no-hitter was completed, Santana achieved another Mets first—he was the first pitcher not named Tom Seaver to even take a no-no into the ninth inning.
That was a feat that Seaver accomplished three times (thanks to ESPN Stats & Info for that interesting little tidbit).
RT @ESPNStatsInfo: #ELIAS #Mets have previously taken 3 no-hit bids into 9th inning. All were by Tom Seaver. This is the first non-Seave ...

— Adam McCalvy (@AdamMcCalvy) June 2, 2012
It would be unfair to Santana to honor him by shipping him to another team sometime next month.
It's not like we're talking about an average-at-best pitcher who just threw a no-hitter, we're talking about Johan Santana, a guy who's won two career Cy Young Awards.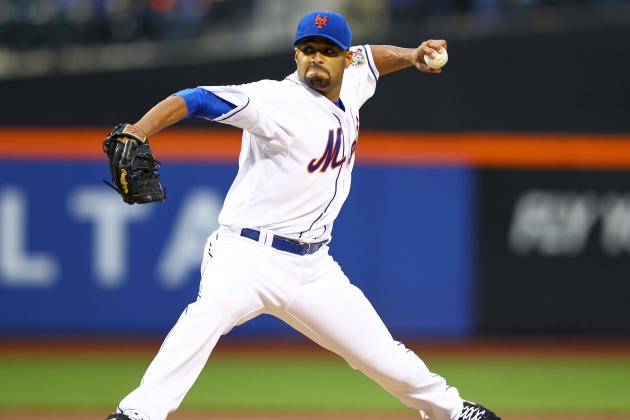 Al Bello/Getty Images

Santana underwent surgery in September of 2010 to repair a torn anterior capsule in his pitching shoulder, and after some issues regarding durability in his first few starts this season it appears as if he's back to his old self.
On the season, Santana is 3-2 with a 2.38 ERA and 68 strikeouts in 68 innings.
While many people will point to his health as a sign that it may be time to trade him, the Mets should view his health as a sign of things to come for the rest of his contract.
For a pitching-deprived team like the Mets, having a healthy ace is invaluable.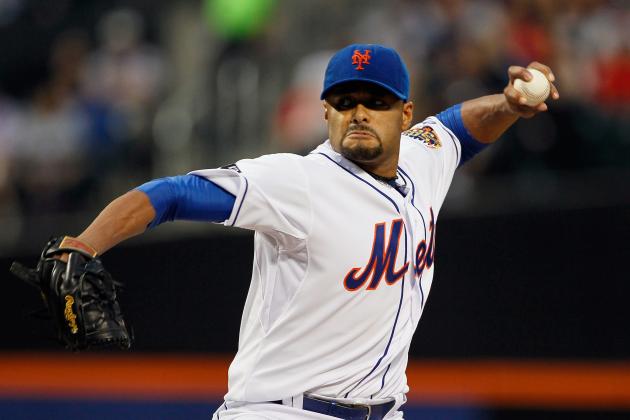 Mike Stobe/Getty Images

Santana is no doubt the ace of the Mets staff, and his no-hitter should silence any doubters who believed otherwise.
R.A. Dickey, Jonathan Niese, Dillon Gee and Jeremy Hefner currently comprise the rest of the rotation, and Dickey is the only one out of the bunch with above average numbers—7-1, 3.06 ERA.
In a division that features four other solid pitching staffs, the Mets will undoubtedly need a bona fide ace to compete during the summer months.
Who would you feel more comfortable with going up against the likes of Gio Gonzalez, Anibal Sanchez, Brandon Beachy or Cole Hamels: Dickey or Santana?
Santana? That's what I thought.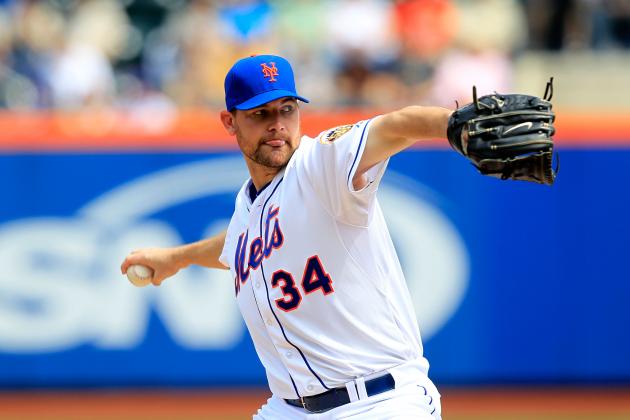 Chris Trotman/Getty Images

With Mike Pelfrey and Miguel Batista both on the disabled list, the Mets are lacking some serious pitching depth.
Subtracting Santana and asking another young starter like Jeremy Hefner to pitch in the bigs for the remainder of the season would not be wise for general manager Sandy Alderson.
It would be a lot to ask a young pitcher to pitch more innings than he is accustomed to, and it could end up doing more harm than good.
A trade of Santana would likely net the team a top-tier pitcher in the minors but, again, it wouldn't be wise to rush him to the majors either.
It's best for all parties for the Mets to just ride Santana's hot streak and replenish the farm system some other way.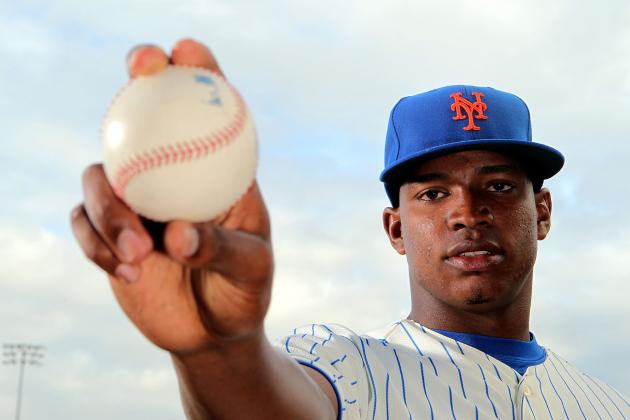 Marc Serota/Getty Images

Zach Wheeler, Matt Harvey, Jeurys Familia and Jenrry Mejia are four of the Mets top pitching prospects.
While each pitcher will be promoted at their own pace, we should start to see one or two of them in the majors within the next season or so.
While all of them are right-handed hurlers, Santana, a left-hander, can still teach them a great deal.
Simply put, Santana knows how to pitch—no-hitter, duh—and can help the Mets franchise several years after he's gone if he can teach these kids how to pitch.
Maybe he won't be able to pass on his incredible changeup, but he could definitely pass on his knowledge of how to attack big league hitters and how to adapt from start to start.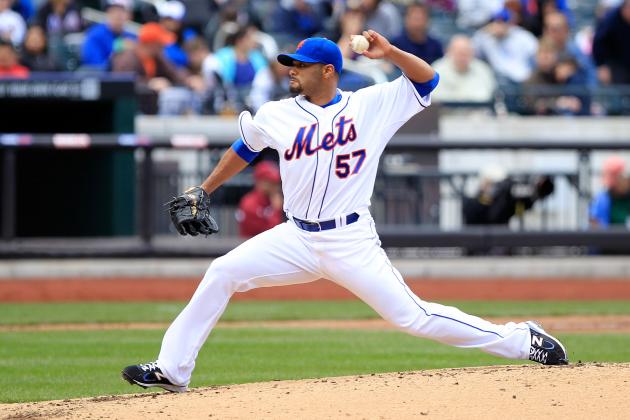 Chris Trotman/Getty Images

While Santana's value may have increased after his incredible performance, the fact that he's guaranteed $24 million this season and $25.5 million next season will definitely scare some suitors away.
The Mets would have to eat a sizable chunk of his salary—possibly up to $15 million per season—for teams to be interested. With a team trying to compete in the next few seasons, it would be better for Sandy Alderson to keep his ace.
The money they would save each offseason would not be enough to bring any top-tier talent to Queens, so keeping Santana and his contract would be the most logical choice.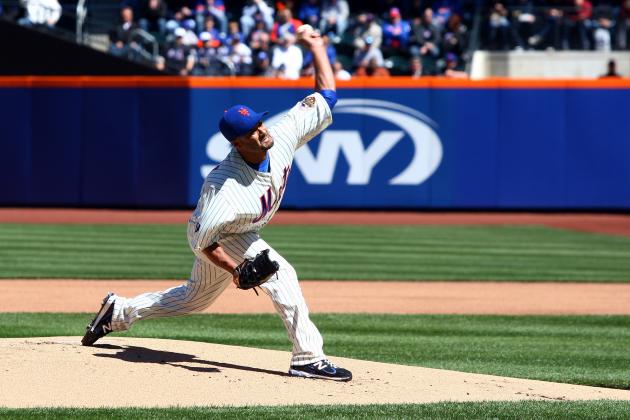 Chris Chambers/Getty Images

After Friday night's game, the Mets are 29-23, tied with the Miami Marlins and just one game back of the division-leading Washington Nationals.
The NL East is a ridiculously competitive division—each team is at least three games over .500—so it will definitely be difficult for the Mets to stay in the top-half of the division.
That being said, they're on the right track thus far.
Decent pitching and timely hitting has gotten the job done for the Mets through 52 games, and there's no reason to believe that they can't keep it up as the season progresses.
If the Mets trade Santana, their playoff hopes will take a sharp dive.
The pitching would instantly get worse, and the inability to match up with another team's ace would really hurt the team in a short playoff series—like I mentioned earlier.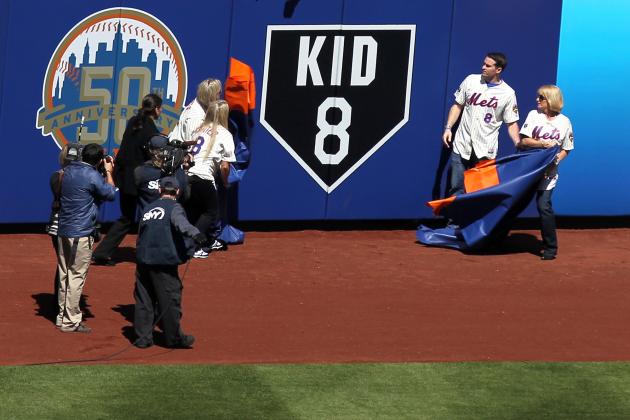 Nick Laham/Getty Images

Friday night's game was filled with eights by the Mets—eight hits, eight runs scored and eight strikeouts by Santana.
Fittingly, I will end my slideshow here on the eighth slide.
With the unfortunate death of Gary Carter, No. 8, in February, the Mets were given a little something extra to play for in 2012.
The fact that such a magical moment happened with so many "eights" on the stat sheet can really only be summed up with one word—destiny.
Whether the destiny refers to the Mets season or just this individual performance remains to be seen, but it would be unfair to us baseball fans if Sandy Alderson trades Santana without us finding out.
For now, we'll congratulate the Mets ace.
We'll worry about all those trade rumors at a later date.