New York Giants: Osi Umenyiora Agrees to Restructed Deal, Drama Can Finally End
June 2, 2012

Al Bello/Getty Images
The drama between Osi Umenyiora and the New York Giants had been an on-going situation for nearly two years now.
On Friday night, the drama finally ended, as the Giants and Umenyiora agreed on a restructured deal; terms of the deal have not been announced yet.
Umenyiora had been upset about his current contract and had been hoping to get something taken care of with the Giants, something he had been very vocal about.
There's a possibility that Osi could have the same length on his deal, but still be making more money, which is fine with me.
This gives me peace of mind, definitely," Umenyiora said in a statement released by the team. "We just resolved a situation. It really was affecting me in a bad way. Because I didn't like all the negativity that was surrounding the whole situation. I couldn't stand it, because if you know me, you know I'm not that type of person. I'm just happy all that is over with and I'll be there. I'll play out this contract, I'll play this year and I'll play my heart out.
At 31-years-old, Umenyiora is still one of the top defensive ends in the NFL and combined with Jason Pierre-Paul and Justin Tuck, the three defensive ends form one of the best defensive lines in the entire league.
And with the new deal, Umenyiora will now report to the Giants' Organized Team Activities on Monday and begin his preparation for the 2012 season.
Earlier in the day, Umenyiora decided to make a change by letting go of his agent, Tony Angone, and by negotiating the deal on his own with the Giants. It probably helped move the negotiations along.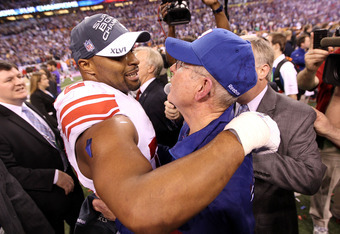 Jamie Squire/Getty Images
Umenyiora's current deal was for a six-year extension worth $41 million, which he signed back in December of 2005.
Since then, Osi has helped the Giants win two Super Bowls and will look to help them win a third one in 2012.
Overall, getting this deal taken care of in June is great news for both the Giants and for Umenyiora, who can now concentrate on football and making the Giants a better defense.
But now as the Giants prepare to defend their Super Bowl title, they don't have to worry about a disgruntled Umenyiora anymore.
Stay tuned, Giants fans.