NHL Salary Cap to Be Temporarily Set at $70.3 Million, Will GMs Take the Bait?
June 2, 2012

Christian Petersen/Getty Images
According to James Mirtle of Globe and Mail, the NHL off-season salary cap will rise to $70.3 million.
In all the chatter regarding the Stanley Cup Finals and the NHL Draft later this month, this tentative cap rise could be easily overshadowed.
This cap is only temporary and could change a substantial amount after the current Collective Bargaining Agreement expires in September.
The big risk this off-season of course is that some teams will be tempted to overspend and come close to the cap again.
Other teams could sit back and wait to make moves for players that cannot play because their team has overspent and then faced repercussions when the salary cap potentially falls after the new CBA is set in place following the end of the current CBA on September 15th.
Mirtle writes that because the current player share of the revenue is so large at 57 percent is that "if the NHL succeeds in bringing down the players' share of revenues significantly and the CBA functions similarly, the cap could drop sharply."
Mirtle speculates that "the league's first offer in negotiations will be under 50 per cent. That kind of a drop in the players' share would mean a cap of $63-million or lower under the current system."
This is significant, but for fans it is significant really only for salary cap purposes.
Allow me to compare the NFL to the NHL for a minute.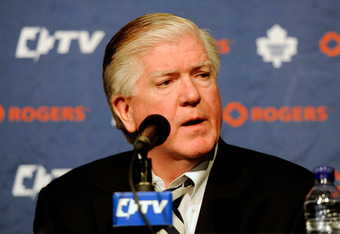 Richard Wolowicz/Getty Images
Last year in the NFL lockout, the players finally gave in to the owners demands that the players get between 46-48 percent of the revenue.
If that happened to the NHL, the salary cap for next season could be even lower than it was this season.
But if the NHL some how keeps the salary cap high for the remainder of next season, the teams that didn't end up spending big bucks for fear of the potential "roll back" will be kicking themselves next season.
This will likely not be the case.
This is because as of right now, CapGeek.com is reporting that 22 teams would be below the cap floor of what would be $54.3 million.
You can view the 2012-13 tentative cap floor as of right now here.
And fire up the trade rumor mills again!
For more article updates, Follow @isaacesmith91