Chicago Bears: Shea McClellin's Keys to Success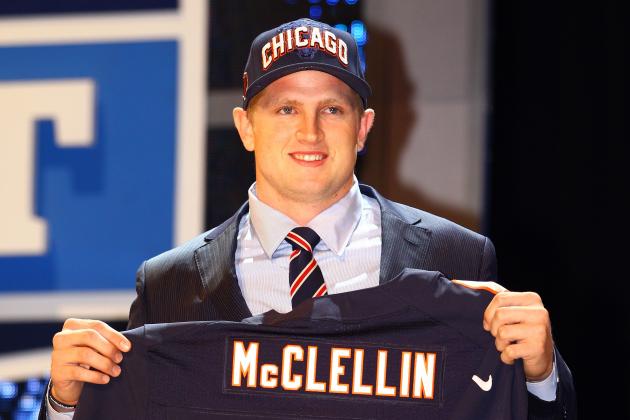 Al Bello/Getty Images

Shea McClellin comes to the Chicago Bears after an under-the-radar career at Boise State and there are three keys to his success as a rookie. After an impressive combine and pro day, McClellin was shooting up draft boards and ultimately was selected 19th overall by Chicago.
McClellin has the ability to start from day one on a terrific Bears defense and he has the chance to make an impact on the Bears' performance defensively in 2012.
The Bears are Super Bowl contenders this year and Shea McClellin could be a big part of why that will hold true.
To understand what will be essential to McClellin's success, I'll take a look at the three keys that will make him a stud in 2012.
Begin Slideshow

»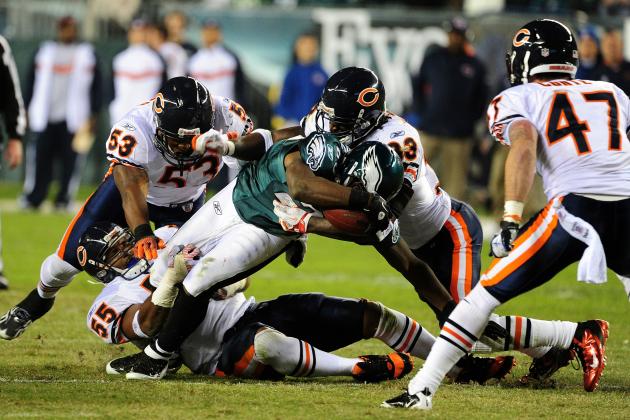 Scott Cunningham/Getty Images

Many people thought Shea McClellin projected as a 3-4 OLB in the NFL. However, after examining tape, it became clear he would be better served as a 4-3 DE. When the Bears picked McClellin with their first-round pick, they were bringing him into a perfect situation.
The Bears have long been known to run a Cover 2 scheme with the 4-3 as their base formation. They run variations in coverage, but stay with the four down linemen look for the majority of plays.
Chicago is known to rely on its front four to create pressure in order for the Cover 2 to work properly. This means the ends and tackles have an instrumental role in the success of the system. McClellin figures to be a factor right away.
He may not start, but with the Bears' less-than-stellar depth at DE, he will most likely be in a rotation with Israel Idonije to play opposite of Julius Peppers.
Shea McClellin is a player who will make the most of his opportunities and, given the Bears' propensity to let their D-Line make plays, he could have one hell of a year.
There are numerous examples of McClellin's pure athletic ability, but what goes unnoticed is his relentless motor. McClellin is a player who gives 100 percent on every play and knows the importance of always playing at full speed.
The video attached shows some great examples of McClellin's knowledge of the game and his athleticism.
McClellin shows his ability to quickly react to an offensive lineman's first step, specifically his ability to read an react to a pass-block setup, down block and reach block.
The highlights above show his skill in fighting over the top of the down block and quickly exploding outward to prevent a reach and maintain the edge. He also shows finesse in the pass rush to go along with his bull rush.
He has the tools to be a mainstay at DE for the Bears.
It is too early to really draw comparisons, especially to NFL stars, but McClellin plays with a similar ferocity and heart as Jared Allen does. It is unclear whether he has the talent to ever be as good as Allen, but you know what to expect from a guy like McClellin. A player with a high football IQ, above average strength, great athletic ability and non-stop motor.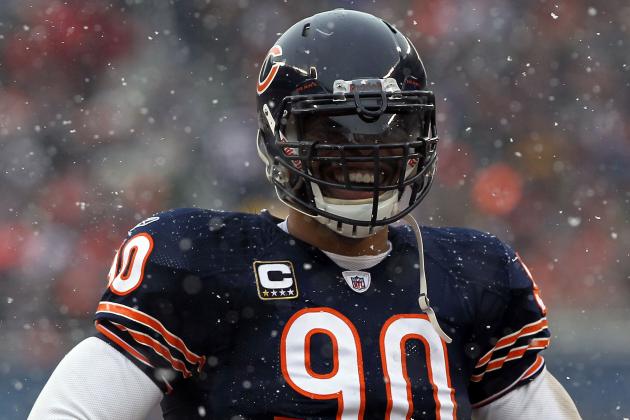 Doug Pensinger/Getty Images

The biggest key to Shea McClellin's success as a rookie is the man he is going to be playing opposite of...Julius Peppers. Peppers is the complete package—elite pass-rushing skills, plus run-stopping ability and amazing athleticism. When a player has all of these tools, he is going to require attention.
The attention Julius Peppers receives will be the key to McClellin making a big impact as a rookie.
Peppers, on a regular basis, needs two blockers dedicated to him and, when he's on, it is not out of the question for him to see three blockers. This is something that is going to give McClellin a lot of opportunities as a rookie.
McClellin will be matched up with one blocker on the majority of his snaps on the field, giving him a chance to thrive. With his ability to get off of blocks and his relentlessness in pursuit, it will put teams in a tough spot.
It is not out of the question for McClellin to become a force in his rookie season. If everything falls into place, McClellin could end up with 35-40 tackles and somewhere around the 10-sack range.