Arsenal: 7 Reasons Alex Oxlade-Chamberlain Will Be Gunners' Best Player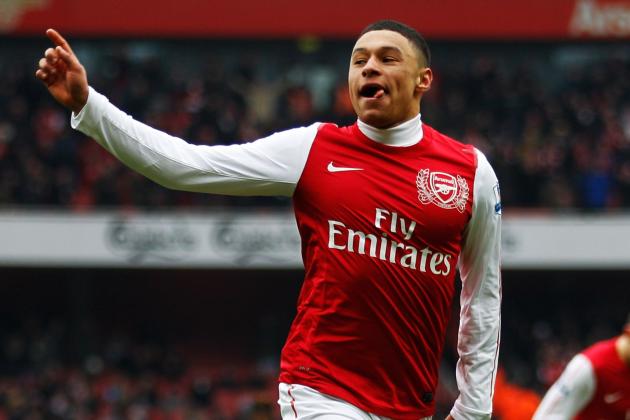 Paul Gilham/Getty Images

Alex Oxlade-Chamberlain is the most exciting man on the Arsenal roster.
Yes, you have the brilliance of Robin van Persie, the technical ability of Mikel Arteta and the passing excellence of Alex Song, not to mention everything else that is brought by the other players on the squad.
But, there is something inherently unique about this brilliant 18-year-old, formerly from the ranks of Southampton and their youth system.
He has this game-changing ability that really hasn't been seen since Thierry Henry and his legendary speed, shooting and skill were framed by an Arsenal shirt. That kind of comparison is among the reasons why Alex Oxlade-Chamberlain will be Arsenal's best player.
Read on to discover the rest.
Begin Slideshow

»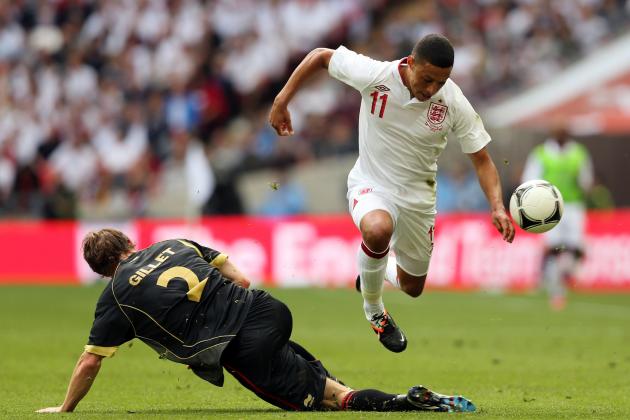 Ian Walton/Getty Images

Though he played a largely limited role this year, his electrifying pace was something to see.
With speeds comparing to both Henry's and Theo Walcott's, he is a true danger to defenses around the world because he not only has control over it, he manipulates it fantastically.
Walcott is blindingly fast, there is no denying that. He has the problem of having a long touch on the ball sometimes, which allows defenders to step between him and the ball, and he always seems to be running on the edge of control, which is exciting, but worrisome. He ends up running into the corner or down to the end line, which makes it much easier for defenders to manipulate his crosses, which are weak at best.
The Ox, as Alex is affectionately known, doesn't seem to have this problem. He streaks in from the flanks.
He streaks up the middle of the park, if he feels like it!
And he has complete control over the ball in front of him. No long touches. No stumbling as he reaches speed.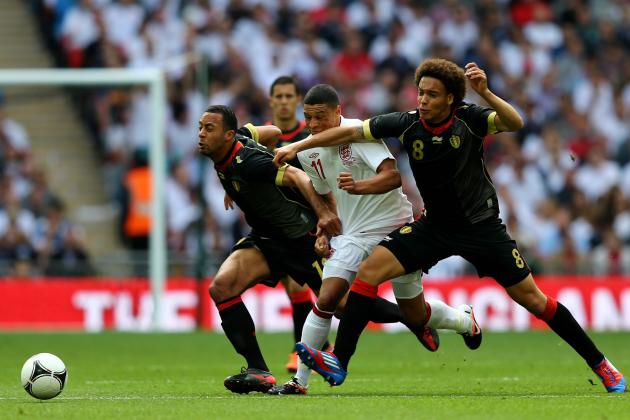 Clive Mason/Getty Images

The Ox doesn't merely go for the ball and then back off because he can't get to it.
He fights for it.
He goes into a challenge 100 percent, expecting to win the ball and not backing down or leaving the defender alone until that ball is his.
Not many Arsenal players fight like he does for the ball. It's always some sort of misplaced pass by the other team that gets the ball back for the Gunners. A misstep on the other team's behalf works fine and dandy, but that method isn't efficient against teams who control the ball extremely well: your Barcelonas and Manchester Uniteds, if you will.
Alex Oxlade-Chamberlain has the brilliance of having not "learned" to back down and tactically place himself for the ball, like a lot of his elder English counterparts. He can, yes, but he chooses not too.
He has that youthful flair and exuberance to never give up and to never back down when on the pitch, which is something the Gunner faithful have long missed from their favorite side.
Laurence Griffiths/Getty Images

Probably the marquee reason why he will be Arsenal's best player is his ridiculous control of the ball.
This is a young kid. Two years younger than me, as I write this. And it is absolutely unfathomable to think of what he does with the ball against the world's best opposition.
If I hadn't seen it with my own eyes time and time again, I never would believe it.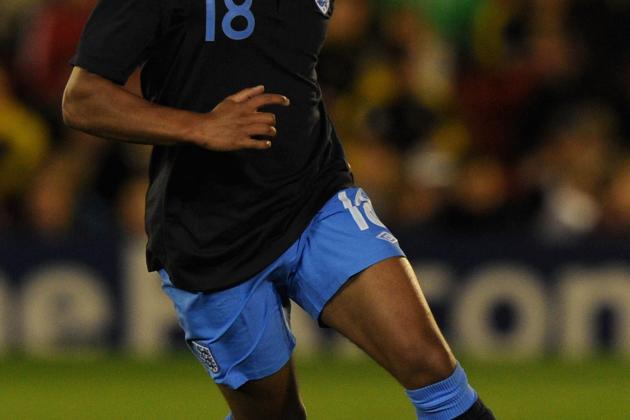 Gareth Copley/Getty Images

There are few very good deliverers of the ball into the box on the Arsenal squad.
You have van Persie, who has a sweet left foot, which is why he takes the corners. But, we really need him in the box, winning the ball for us, not on the other end delivering. Arteta and Song do fairly well, but it isn't consistent. Gervinho and Walcott are always hit and miss, so they aren't reliable enough.
Oxlade-Chamberlain is fairly reliable though!
In his few starts and several cameos coming off the bench, he has helped to take balls down the flank and either poke in balls across the box on the ground or put in a few driven crosses.
It's nice to see someone who doesn't just drill it into the side of the net, time after time. And he's only bound to get better as he gets more and more training and game-time this summer with England.
With four goals in 26 appearances for Arsenal (15 starts, 11 substitutions) in all competitions this season, it is pretty easy to see why he was included into the England squad for this summer.
A soft first touch and superb placement make him a potentially deadly poacher for Arsenal next season, perhaps coming in off the wing in a streaking run, as he is so keen to do.
The above video shows his excellent shooting boots in training, perhaps as a sign of things to come for the Three Lions this summer and the Gunners next autumn?
We shall see.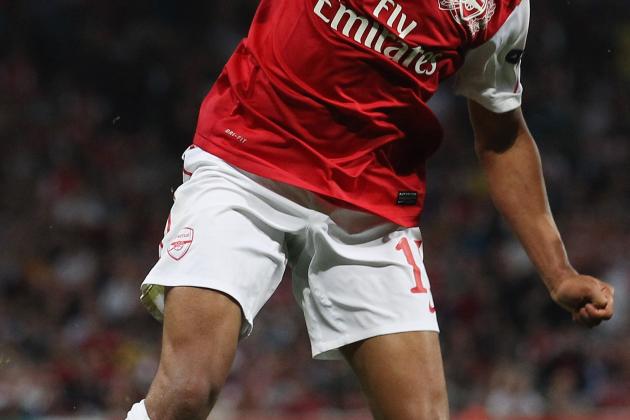 Clive Rose/Getty Images

He has the touch.
He has the shot.
Turns out, he can pass too.
Rounding out the epitome of a professional footballer, Oxlade-Chamberlain seems to have the three main things needed to be successful. As well as speed. And a never-say-die attitude.
His incisive passes have led to quite a few goal-scoring opportunities for Arsenal, including this gem against Manchester United (starts at 48 seconds in).
If he continues to be this kind of influence when he comes to play, especially in big games like the Manchester United match and the AC Milan second-leg match, then he will rocket up the ranks of the lists of best footballers in the world.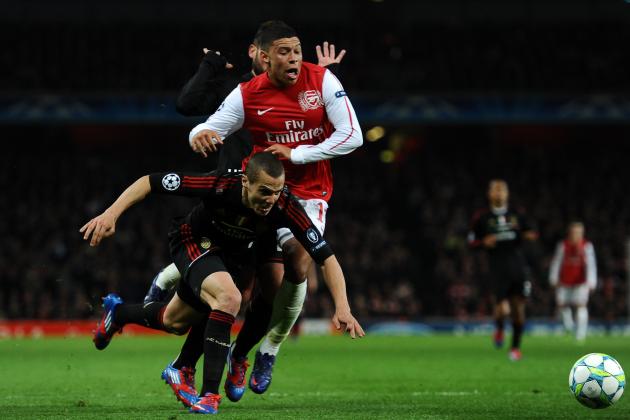 Laurence Griffiths/Getty Images

An 18-year-old with all of these tools at his disposal is a wonderful thing. Especially since he plays for Arsenal!
But, he is a little rough around the edges. Which is to be expected of a starlet so young.
There are instances where he holds on to the ball for a little too long, times where he should have gone of the simple pass or taken the shot himself, but it's to be expected.
He shows a lot of confidence and maturity that a lot of footballers five or even 10 years older than him don't even have. It's an excellent canvas for The Professor himself, Arsene Wenger, to work with: a lot of raw, natural ability and an incessant drive to get better.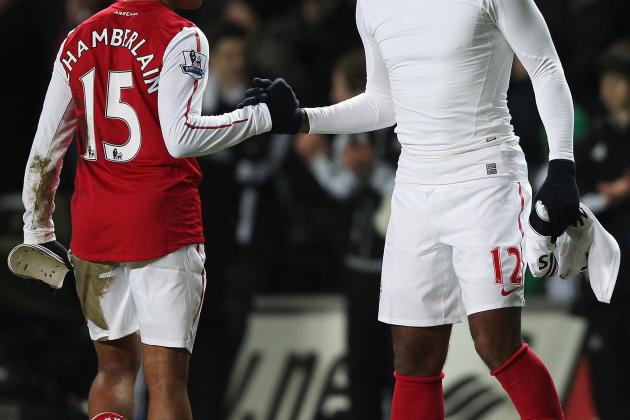 Michael Steele/Getty Images

Alex Oxlade-Chamberlain has the framework of a potential great.
He has the poise, skill and the natural ability about him to be something truly spectacular and help Arsenal back to its former ranks at the top of the league and the top of world football.
If he stays healthy and fit, as he is now, and continues to improve in leaps and bounds, then you will have someone who compares in rank to the Lionel Messis and Cristiano Ronaldos of the world.
Only time will tell for this bright, young Englishman.
Follow me on Twitter for updates and news on Arsenal and football all around the world.