Pacquiao vs. Bradley: After Bradley, Who Will Manny Pacquiao Fight in November?
June 2, 2012

Ethan Miller/Getty Images
Other than Juan Manuel Marquez and Floyd Mayweather, no one is being mentioned as Manny Pacquiao's possible opponent when he returns to the ring in November.
Pacquiao's choice for his next opponent is very limited as Bob Arum, his promoter, will only consider money-making fights or matches that can generate enough pay-per-view (PPV) sales for a viable fight.
If Arum's primary yardstick is profitability, then he won't look beyond Marquez and Mayweather. But the unbeaten champion won't be out of jail until after August and he may not be able to prepare well for a November fight.
This brings back Marquez as the sole aspirant for Pacquiao's November schedule, unless Timothy Bradley is lucky enough to beat Pacquiao on June 9 for a mandatory rematch, as provided in their contract. 
Arum knows there is still a lot of money to be made in a Pacquiao vs. Marquez rematch. Fans of Pacquiao and Marquez are still clamoring for a fourth fight to determine once and for all who among these two great ring stars is the better fighter.
In 2004, Marquez and Pacquiao fought to a controversial draw in a featherweight bout (126 pounds). Pacquiao would have won on a split-decision if not for a scoring error committed by one of the judges, who scored a round at 10-7 instead of 10-6 for Pacquiao's three knockdowns of Marquez.
In 2008, at super featherweight (130 pounds), Marquez and Pacquiao clashed in a hotly contested rematch. Pacquiao earned a split-decision, as Pacquiao's third-round knockdown proved to be the clincher in the bout.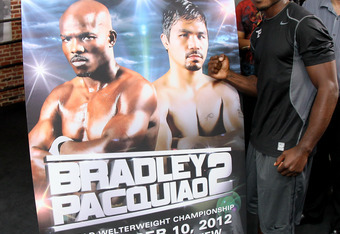 Stephen Dunn/Getty Images
In their third fight at the MGM Grand in Las Vegas last November, Pacquiao won via a controversial majority decision.
In protest of the judges' decision, Marquez walked away from the stage right after the fight to dramatize his displeasure on the outcome of the fight. He said he was clearly robbed of victory (from the Independent).
In all three fights since 2004, Marquez said he was the consistent winner. But some critics and observers said he clearly lost the fight during their first encounter in 2004, but due to the scoring error (acknowledged by the judge), the fight was declared a draw.
The Mexican counter-puncher earlier hinted he will no longer fight in July. Marquez, who is likewise being promoted by Arum, was being lined up for a clash with either Brandon Rios or Mercito Gesta on July 14, but the plan fizzled due to uncertainties on PPV revenues as Gesta is still unpopular.
Critics say not many people will bother to watch a fourth fight between Pacquiao and Marquez, as they are of the opinion that it will just be a "remake" of the last three fights.
Still, fans who clamor for another fight say the Pacquiao-Marquez dispute must be settled and Pacquiao must knock out Marquez to stop him from complaining.
They can finally settle their differences in order to end their rivalry so they can move on with their lives outside the ring.
But what if the fourth fight will end up the same? Will the fans still buy a fifth fight?
No one knows for sure.