Odds Each of the Chicago Bears' Undrafted Free Agents Make the 53-Man Roster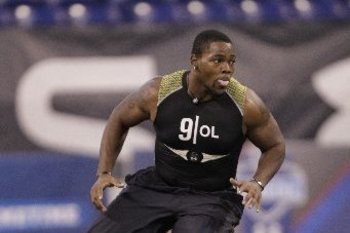 Former Troy offensive lineman James Brown. Michael Conroy / The Associated Press
Shortly after the 2012 NFL Draft, the Bears signed 11 undrafted free agents. Some of these players will get a look but either injuries or poor performance will make them go away.
Meanwhile, there could be a couple that make the practice squad. But the real question is: how many will actually be good enough to make the Bears 53-man roster?
The odds contained within this article do not reflect each player's talent level. Rather, they judge the need at the position, as well as take into account just how difficult it is for undrafted free agents to make a team. Even though teams keep UFAs all the time, they usually do not consume more than five percent of an NFL roster.
So while the odds may be stacked against these guys, I'm betting that a couple will make it. In fact, the betting lines are posted.
Offensive Tackle James Brown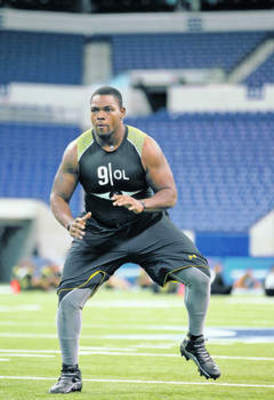 Photo courtesy of www.suntimes.com
Brown was ranked as the second best undrafted free agent available by NFL.com senior analyst Gil Brandt and Scouts Inc. The 6-3½, 306-pounder was a three-year starting left tackle at Troy.
According to Pro Football Weekly's 2012 Draft Preview, Brown has the frame to support 330 pounds, is extremely athletic, and plays on his feet with good balance and body control. The publication reports that he possesses starting-caliber traits at both tackle and guard.
The Bears are so desperate at tackle that they are considering moving Chris Williams back there. J'Marcus Webb was the worst starting left tackle in the NFL last season, while right tackle Gabe Carimi is still not fully recovered from last year's injuries.
Brown can also play guard, which makes him versatile. In fact, many scouts feel he lacks the quickness to play tackle in the NFL and could be better suited at guard.
This kid could be a steal and has to be the favorite to earn a job.
Odds: 2-1
Defensive Tackle Ronnie Cameron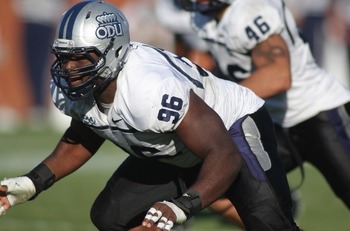 Cameron, a defensive tackle, played his final two seasons at Old Dominion after transferring from Hofstra. Last year he compiled 73 tackles, 17 tackles-for-loss and 6.5 sacks.
Surprisingly, the Bears did not draft any DTs, despite losing Amobi Okoye to free agency and releasing Anthony Adams, so this is a position of need for Chicago.
If you get a chance, check out my colleague Jake Perper's interview with Cameron here.
Odds: 4-1
Wide Receiver Chris Summers
I would rank Summers higher except for all of the receivers the Bears already have. But he has great size and was a highly productive player at Liberty.
The knocks against him are that he didn't always play to his height, and he did not play against top competition.
Summers, a receiver from Liberty, posted back-to-back 1,000-yard seasons, catching 76 passes for 1,081 yards and 15 touchdowns as a junior in 2010 and 64 passes for 1,014 yards and seven TDs as a senior in 2011.
He has already impressed the coaches in OTAs. I like his chances better than the other wideouts the Bears brought in as free agents.
Odds: 6-1
Safety Jeremy Jones
Jones, a safety, was a highly productive four-year starter at Wayne State. Last season he registered 106 tackles, nine interceptions, 12.5 tackles-for-loss and 6.5 sacks. PFW describes him as a "short, intense, athletic Division II ballhawk with an energetic playing temperament who supports the run."
The Bears need help in their secondary. Chris Conte is pretty well set at free safety, though he's hardly truly proven yet. But there are major questions about Major Wright at free safety. Jones has a shot.
Odds: 8-1
Safety Trevor Coston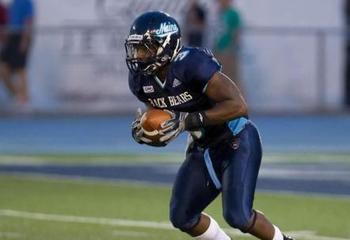 Photo courtesy of www.goblackbears.com
Coston, a safety, was a first-team all-conference selection as a punt returner and a second-team choice as a defensive back last season when he averaged 9.7 yards per punt return and recorded six interceptions.
The fact that he can return punts could help him, though I like Jones slightly better as a safety. Again, he does have a chance.
Odds: 10-1
Linebacker Ronnie Thornton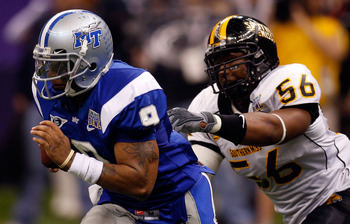 Chris Graythen/Getty Images
Thornton, a linebacker, led Southern Miss with 111 tackles last season while also amassing 8.5 tackles-for-loss, one sack, two interceptions and a forced fumble. In four seasons, he compiled 290 tackles, 25 tackles-for-loss, four sacks, five forced fumbles, three fumble recoveries and two interceptions.
The team could use some linebacker depth, though it's more likely that if he sticks, it will be with the practice squad.
Odds: 12-1
Linebacker Adrien Cole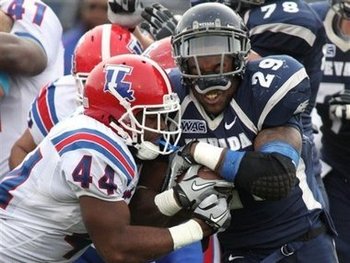 Photo courtesy of www.al.com
Cole, a linebacker, was a three-year starter and team captain at Louisiana Tech. Last season he recorded 128 tackles, 13 tackles-for-loss, one interception that he returned 45 yards for a touchdown, two sacks, five pass breakups, one forced fumble and three blocked kicks.
PFW reports that Cole is thickly built with good strength and possesses good instincts, but lacks ideal height and length as well as the speed to cover tight ends down the middle of the field.
Odds: 13-1
Offensive Tackle A.J. Greene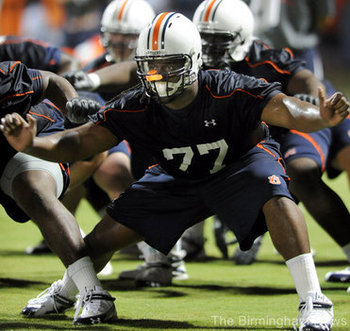 Photo courtesy of www.al.com
Greene, a tackle from Auburn, rebounded as a senior after missing most of his junior season with a broken ankle.
He was invited to the NFL Scouting Combine, but skipped it because he wanted to focus on his music and no longer wanted to play football, according to Gil Brandt of NFL.com. I guess he must have changed his mind.
Despite being an OT, which the Bears need, I get scared off by any player who loses his desire. Still, any tackle has a better than average opportunity.
Odds: 18-1
Running Back Alvester Alexander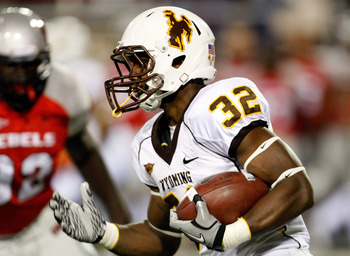 Ethan Miller/Getty Images
Alexander rushed for 2,127 yards and 27 touchdowns on 477 carries in three seasons at Wyoming, including 695 yards and six TDs on 152 attempts last year as a junior.
On some teams, this kid might have a solid chance to stick. But with the Bears already having three sure things at the position, I just don't know if he could stick unless they keep four backs.
Odds: 20-1
Wide Receiver Brittan Golden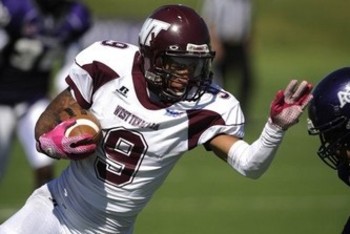 Golden, a receiver, caught 55 passes for 1,076 yards and 12 touchdowns as a senior at West Texas A&M, the same school that produced Bears 2010 seventh-round pick J'Marcus Webb.
Again, as a wideout, he could be a victim of the numbers game.
Odds: 25-1
Wide Receiver Terriun Crump

Terriun Crump's Pro Day

Crump, a receiver from the Chicago area, attended Rich Central High School and College of DuPage before enrolling at Western Illinois, where he had 135 receptions for 2,067 yards and 11 touchdowns in three seasons. Last year as a senior, he caught 61 passes for 944 yards and 6 TDs.
Again, another receiver in a crowded field.
Odds: 30-1


Keep Reading

Chicago Bears: Like this team?