Memorial Tournament 2012: Rory McIlroy Flames out in Columbus
June 1, 2012

Warren Little/Getty Images
Two weeks away from returning to the U.S. Open, the tournament that saw the greatest performance of his young career, Rory McIlroy is in shambles on the golf course.
The world No. 2 continued his recent run of bad results in Columbus, missing the cut after collapsing to a second-round 79.
The Northern Irishman gamely fought back from an early quadruple bogey Thursday to put together an impressive one-under-par 71, but he couldn't find the same energy in round two. McIlroy missed great birdie chances on the first two holes and then the mistakes started rolling in.
First was a three-putt bogey on the fourth, then another dropped shot on the eighth after a poor bunker shot that failed to find the putting surface.
And as the round went on, his mistakes only got worse.
On a lay-up on the par-five 11th, McIlroy inexplicably found a lateral hazard. His ball luckily stayed up on the bank, but instead of dropping back 10-15 yards and taking the stroke penalty, McIlroy made an even graver error.
What seemed like a simple chip out turned into a nightmare, as McIlroy's ball hit the bank and shockingly flew backwards into the water. McIlroy slumped over in disbelief as the unbelievable gaffe handed him a devastating double-bogey 7 for the hole.
Oh, but there was still more.
Another three-putt on 13 meant yet another bogey and after finding the water on his tee shot and airmailing the green with a wedge on 14, McIlroy put up his second double bogey in four holes.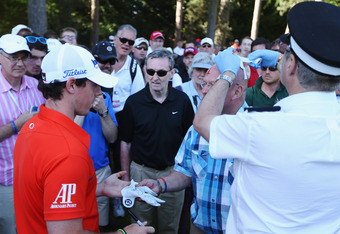 Warren Little/Getty Images
Altogether, three bogeys, two double bogeys, not a single birdie, and just more frustration.
This was McIlroy's third straight missed cut, after early exits at the PLAYERS Championship and the BMW PGA Championship.
His flameout at Wentworth was even more notable as McIlroy missed the cut by eight shots and at one point threw his club in frustration (an action that was admittedly overplayed).
This shocking stretch of horrid play has come as somewhat of a surprise after a fast start to the season in which McIlroy placed in the top five in his first five tournaments and closed out an impressive victory at the Honda Classic in March.
Two solid rounds to start the Masters made another high finish a likely outcome, but a Saturday 77 ended McIlroy's bid and, besides a runner-up finish at the Wells Fargo Championship, his game hasn't been the same since.
McIlroy hoped this week would be the one to break his slump, as he ramped up his practice to stem his recent (admitted) lack of work on his golf game.
But in a week where he found more water hazards (six) than under par holes (five), the frustration continued and with just the FedEx St. Jude Classic to go, McIlroy is running out of time to pull his game together for Olympic.
Maybe he can return to form next week or can pull a Mickelson and go from stone cold to red hot in a major championship.
After all, for the final 14 holes of his first round (which he played in 5-under-par), McIlroy did look like the No. 2 ranked player in the world.
But he still has a great deal to fix, and barring a quick turnaround, the 23-year-old won't be in any shape to defend his U.S. Open title.
McIlroy can still play hot golf, but until he loses those ghastly cold stretches, he won't capture his second major championship any time soon.