Top MLB Draft Prospect Lance McCullers Prepared to Bring the High Heat
June 3, 2012

For some baseball players, following in the footsteps of a father who played Major League Baseball for seven seasons would be a daunting task. 
Lance McCullers Jr., the 18-year-old flamethrowing, right-handed pitcher from Jesuit High School, is not your average ballplayer.
In fact, he is going to do his father one better when Monday's draft rolls around. 
The elder McCullers was a second-round pick of the Philadelphia Phillies in the 1982 draft. Unless something drastic changes, Lance is going to be a first-round pick in the 2012 draft. 
But don't think that there is a friendly rivalry between the father and son. I had the opportunity to speak with Lance earlier this week, and he was quick to credit all of his success to the love and support that his father has given him over the last 18 years. 
"My dad has been the biggest part of my success so far," McCullers said. "He's someone I go to as a mentor. He's someone I go to as a friend."
Despite receiving so much media attention—his name was first bantered about in this draft two years ago, at age 16, when his fastball was clocked at 97 mph—and accolades, McCullers is keeping his priorities in order:
I play the game of baseball because I love it, and I want to be the best. It's great when people recognize you...but you have to realize, if you are okay with where you are as a player, if you are satisfied with what you are doing, that's when the game will teach you a lesson. You have to respect the game if you want to be better; that's always been my mindset.
McCullers certainly sounds as though he is ready to leave his mark on Major League Baseball. He has the pedigree and the stuff that scouts look for in a first-round talent.
With all of his work this season done, he does not feel the pressure of Monday's draft weighing on his mind:
I've done all I can do. My senior year of high school, I played to the best of my ability, given it all I had. Whatever happens, happens. Wherever I end up, it's where I'm supposed to be. And if a team comes along and they're willing to recognize me as someone who could be in the front of their rotation and treat me fair, that would be something I'd be interested in and consider.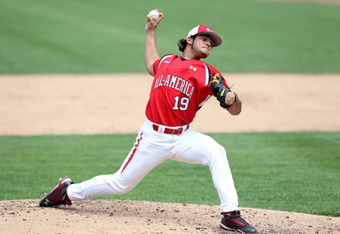 Therein lies the dilemma that teams are facing as they finalize their draft boards: Is McCullers someone who will be willing to accept an offer which gets him out of his strong commitment to the University of Florida?
Growing up in Florida, McCullers has close ties with the state. He committed to the Gators after his sophomore season, and there has been no indication that he plans on budging on his college career. 
"My commitment to Florida is solid," McCullers said. "This is not one of those things that I'm just kind of using my leverage [to get a better deal from a major league team]."
One of the big factors working against major league teams in this year's draft is the new collective bargaining agreement. 
In the past, teams could spend as much as they wanted to, though MLB tried to curtail spending by putting "recommended slot bonuses" on picks.
Teams were not afraid to break the rules, and did so with regularity. 
Now, all of that has changed. The new CBA gives teams a set amount of money they are allowed to spend on their first 10 picks, and if they exceed that amount they will be penalized by the commissioner. (A full list of what each team can spend is available on Baseball America.) 
McCullers may not have a set number that it would take to get him away from Florida, but he is going to have it figured out before Monday night. 
"Me and my family are going to sit down, probably Sunday; gather some information; and get down to crunching numbers and decide what it would take to sign me away from Florida," McCullers said. 
A common criticism of McCullers prior to the draft has been regarding his delivery and mechanics. It is easy to look at a fastball that touches 100 mph and a hard, sharp-breaking curveball that will miss big league bats, but without the delivery to control it and the ideal pitcher's frame —he is listed at 6'2" —there is going to be some skepticism about what his future role will be. 
McCullers has heard all of that and thinks he has done enough to answer all the questions to ease those concerns.
He did make some small adjustments this spring to control the movement in his delivery, and his increased workload this season would seem to support that:
My motion has smoothed out so much from previous years. My arm motion is clean —it's solid. I threw 77 innings this year, about four starts a month. Every week, I was 97 [mph] in the first [inning], 97 [mph] in the last [inning]. I'm a starter, and if a team doesn't believe it now, they'll believe in the future.
This was his first season as a starter, after three years as a reliever, so he does need to stretch out his arm to handle the increased workload if he wants to remain a starter in pro ball. McCullers believes that is another reason to attend college, saying, "That is definitely something I would discuss with my family."
McCullers' father told Adam Berry of MLB.com that he sees no reason why his son can't be a starter at the next level:
Everyone's a starter until they tell you you're not a starter anymore," said McCullers Sr. "I think he can start. He maintains velocity, gets stronger as the game goes on, worked on his changeup a lot and he's really throwing it well. He's got three plus pitches that will help him down the road as a starter.
After a stellar senior season at Jesuit High School, which saw him go 13-0 with a 0.18 ERA, 140 strikeouts and 30 walks in 77 innings, McCullers was named the 2012 Gatorade National Baseball Player of the Year. 
McCullers looks at the list of players who have won that prestigious honor in the past —including Alex Rodriguez (1993), Zack Greinke (2002), Justin Upton (2005) and Clayton Kershaw (2006) —and finds it hard to believe that he is in the same class as them:
I watched [Baltimore Orioles pitcher] Dylan Bundy with it last year, and I was just thinking how awesome it would be to win that award. For me to win such an award with Hall of Famers, future Hall of Famers, the best people to play the game in my lifetime, it's special to me and something I will cherish forever.
The only thing left for McCullers to do is live up to the lofty standards that those players have set, though he is not going to put any extra pressure on himself to do so. 
"I hope to do great things and hope to stay healthy; to just keep a level head on my shoulders and one day be in the conversation with them as being a great major leaguer," he saidd
McCullers will have his chance to show everyone what he can do very soon, if he decides that now is the time to start his big league career.
All the questions will be answered after the draft on Monday. 
For more news and analysis on the MLB Draft, prospects and all the other baseball information you can handle, be sure to follow @adamwells1985

Adam Wells is a Featured Columnist for Bleacher Report. Unless otherwise noted, all quotes were obtained first-hand.